Operation Flashpoint: Red River gets detailed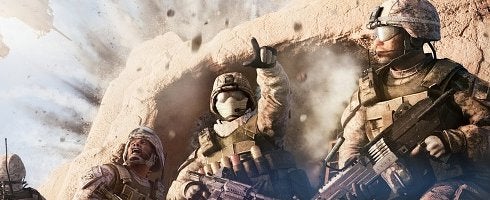 During Develop, Operation Flashpoint: Red River was outed by Codemasters, and according to IGN's preview of the game, "it's still more military sim than straight-up shooter".
However, according to the preview, it will fit in well with expectations of a "modern first-person shooter", as US forces and the People's Liberation Army of China fight over Tajikistan in Central Asia.
The game's campaign has 200km of terrain, and compared to Dragon Rising it has more "believably delivered" marine chatter, tattered military equipment, a more realistic human environment, and smarter AI.
Gun handling has been improved, there's still an option to "fight without a safety net", long range has a sticky aim slowing reticules , mid-range has a "snap-to-aim" CoD players should be familiar with, and then the z-lock helping those in strafe.
Players can now choose between a rifleman, grenadier, scout and auto rifleman, each with their own M4A1 along with special weapons and attributes.
There's no competitive multiplayer, as the focus is on co-op, and the radial menu has been reworked to make giving out orders easier.
You can check out the full preview through here which also includes shots of the game.
Operation Flashpoint: Red River is out in 2011 for PS3, Xbox, and PC.