Nvidia RTX 2080, 2080Ti and 2070: meet the powerful new next generation GeForce RTX hardware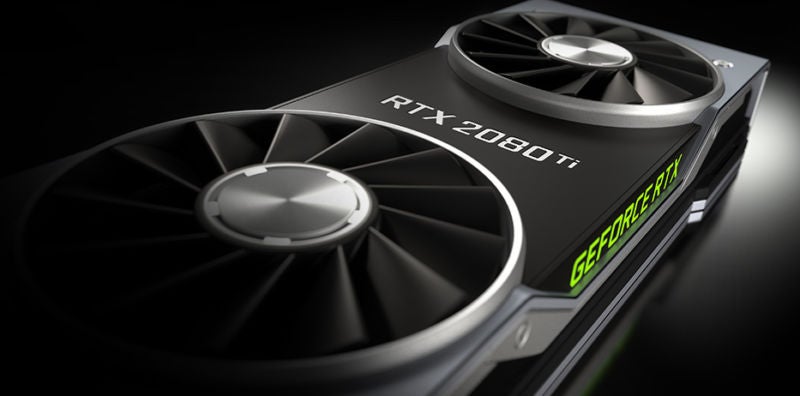 The Nvidia GeForce RTX series brings real-time ray tracing, artificial intelligence, and programmable shading together for a new PC gaming experience.
The GeForce Gamescom keynote was where we expected Nvidia to unveil its new PC gaming technology, and on that front it didn't disappoint. It was here that the manufacturer introduced GeForce RTX, next-generation hardware that promises up to six times faster performance than previous generation video cards.
On this page we're going to run down all the basics for the Nvidia GeForce RTX series: the models, the specs, the price, the launch date and what to expect from them. Let's get to it...
Nvidia Turing RTX 20 Series specs and performance
According to Nvidia itself, the GeForce RTX cards combine Turing GPU architecture with a brand-new RTX platform. Along with the usual speed and enhanced graphics that entails, this also means GeForce RTX supports real-time ray tracing in supported games - including Battlefield 5, Shadow of the Tomb Raider, and Metro Exodus.
We wrote about Ray Tracing (alongside some other new high-end Nvidia technology) back at GDC 2018. At the time, I said the new real-time lighting technology powered by ray tracing looked like the future: and now it's a reality even at the consumer end of things thanks to the RTX series of cards.
In terms of the lightning, the new RTX 2080 cards can provide up to 10 Giga Rays of lighting for ray tracing. For comparison's sake, the 1080 Ti - the top card on the market right now and one of the top picks on the VG247 Gear List - can only manage 1.21 Giga Rays per second. That's something in the region of an eight-fold improvement.
While the buzz around these new cards is mostly about the ray tracing technology powering them, they're also a general step-up from the cards on the market right now. Nvidia's G-Sync feature means titles running under the card will have tear-free gameplay, refresh rates of up to 240 Hz, HDR, and 4K. The RTX series also dedicates a significant level of support to advanced VR rendering, which is good news for anyone running a device on their PC.
The Nvidia GeForce RTX 2080 Ti is a beast - clocking in with 11GB of GDDR6 RAM and clocked at 14Gbps. It's also capable of kicking out the aforementioned 10 Giga rays per second and 78 trillion RTX operations per second.
If that's a bit rich for you - and you'll likely need a 4K, 120hz monitor to make the most of it in many games - there's also the RTX 2080 which features 8GB of GDDR6 RAM and other slightly reduced specs and thh RTX 2070 - a weaker still card but still one that outstrips almost everything on the market right now.
As part of the event, Nvidia revealed some impressive technical demos of a bunch of games running on this new hardware. Take Battlefield 5, for instance - the technology in the RTX series cards allows for enhanced detail. A tank firing off-screen might now be able to be seen directly, but with the RTX ray tracing enabled you'd be able to see the reflection of the explosion rendered in real time by reflective surfaces across the map. Car bodywork, windows, puddles, even the metal accents on your soldier's weapon - all will use ray tracing to paint realistic, real-time reflections.
In Shadow of the Tomb Raider, meanwhile, the technology is being used for Shadows. Which is appropriate, when you consider the name of the game and all. Lights interact and blend with each other in real time in a highly realistic fashion, and shadows are cast in a more natural way, with shadows appearing smoother when ray tracing is enabled.
Metro Exodus, meanwhile, uses the new Nvidia GeForce RTX series cards to significant enhance its lighting. In the demo shown at Nvidia's event the company demonstrated how the ray tracing technology could be used to more evenly distribute light throughout a room, ensuring there's no need for unrealistic spotlights or global lighting to ensure things are even - instead, light rays bounce around the room naturally to light it as in the real world, leaving corners darkened and open areas brighter and safer.
We saw several of these demos at Nvidia's RTX Series launch event, and even got to play and capture a couple of the games in question with the settings cranked up and the new technology on show. We'll revisit all of that in the coming days.
Nvidia RTX 2080 Release Date
Of course, for users the main question is when the cards themselves will be available. The good news is that the hardcore won't have long to wait at all.
The RTX 2080 and 2080 Ti will launch for September 2018, while the RTX 2070 has no release date just yet, but will land around October time if all goes to plan. Preorder options are available from Nvidia's website... if you can afford it. So, let's talk about that:
Nvidia RTX 2080 Price
These new cards are expensive, but they're actually nowhere near as expensive as we'd anticipated and feared going into the event, with the cheapest option clocking in at just $499. Here's the prices:
GeForce RTX 2080 Ti - $999 USD
RTX 2080 - $699 USD
RTX 2070 - $499 USD
The Founder's Edition cards will cost a little more than this, but these basic prices are a pretty decent starting point for a hugely powerful card that will clearly last you years.
UK Pricing is currently an unknown, but we'll report back on much more about these cards as we get it.