Nvidia reveals GeForce GTX 1080 and GTX 1070, both faster than Titan X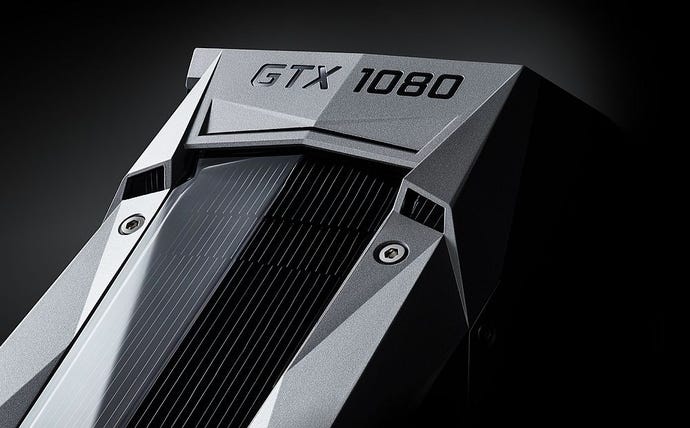 Nvidia has announced its new GeForce GTX 1080 and GTX 1070 cards based on the firm's new Pascal architecture.
Nvidia reveals GeForce GTX 1080 and GTX 1070, both faster than Titan X
After floating around rumorville for a while, the 1000 series are faster and three times more energy efficient than both the GeForce GTX 980 Ti and GeForce GTX TITAN X.
According to Nvidia, the GeForce GTX 1080's "unprecedented performance" will allow PC users the horsepower to "play the newest games with settings maxed out." Whether played with a monitor or in Virtual Reality.
The GTX 1080 has a 16nm FinFET chip with 8GB of GDDR5X memory and due to the high bandwidth memory, the company promises the card won't be bottlenecked by "memory-related operations in the most demanding games." It is also surrounded by a redesigned vapor chamber, fan, and a backplate to dissipate heat from the back of the card. This means you can overclock without issue and noise.
Ars Technica said the GTX 1080 will "push around 9 TFLOPS of performance." In comparison, the GTX 1080 is built around 7.2 billion transistors, while the Titan X pushes 7 TFLOPS from 8 billion transistors.
Nvidia also announced the GTX 1070 with standard GDDR5 memory, but didn't provide further specs for it. The company promises more information at a later date. It's reported to push 6.5 TFLOPS.
With the Pascal architecture, the cards also include Ansel, Simultaneous Multi-Projection, VRWorks Audio, VR PhysX, and VR Touch. Previous cards sported DSR, G-SYNC and HairWorks.
Ansel promises high-quality game photography without the need for specialist tools. It allows users to "capture jaw-dropping screenshots from any angle using timestop and freecam controls." They can also apply filters, customize the framing and take shots in resolutions 32 times larger than the computer's display.
It also has the ability to capture 360-degree screens for Virtual Reality headsets, Google Cardboard, and desktop photospheres. There is more information on Ansel in this Nvidia blog post.
The GeForce GTX 1080 will release on May 27 for $599/£450 and Nvidia will release the GeForce GTX 1070 on June 10 for $379/£270.
There are Founder's Editions available for $699 and $449, respectively. I can't seem to find information on either as of press time, other than edition for 1080 contains "more overclocking headroom" (thanks, reddit). Ars Technica said the new cooler will also only be featured in the Founders Edition cards bought directly from Nvidia.
The lower priced cards will be sold through partners such as ASUS and MSI, each with their own cooler designs.
Glamour shots of the GTX 1080 are below.