Nintendo Switch: hands-on with Nintendo's unique and pricey new console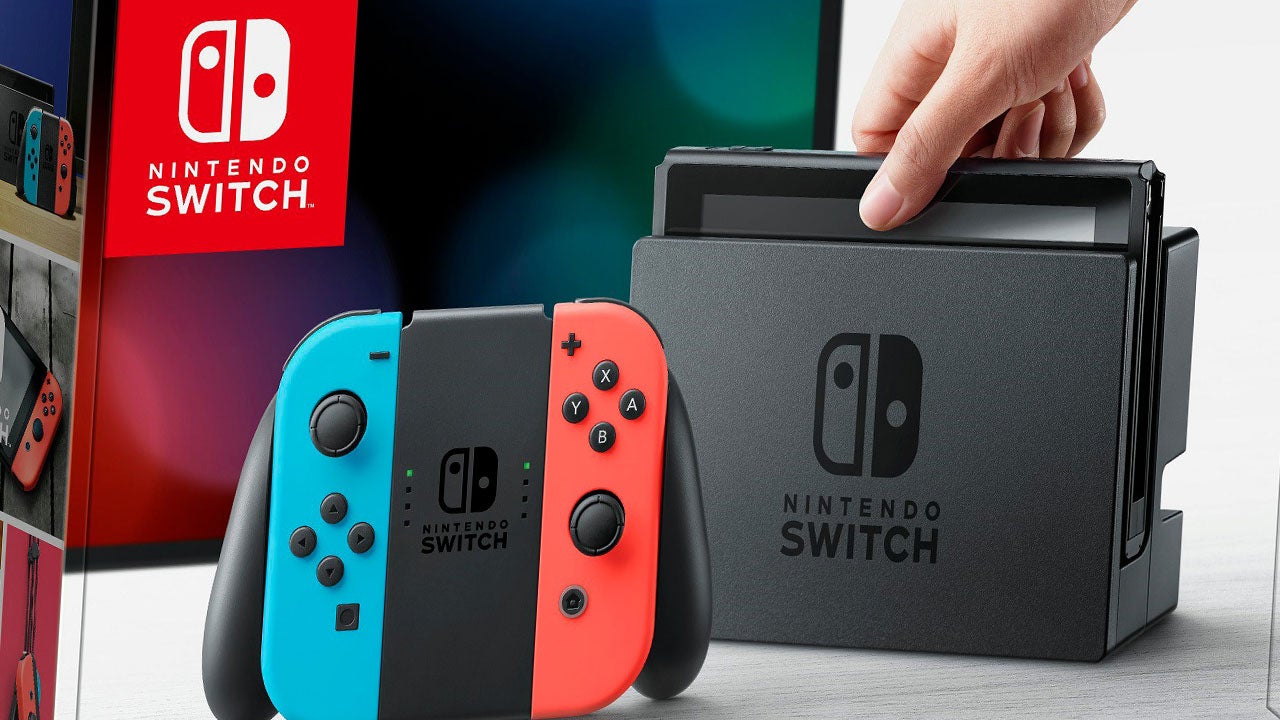 Is Nintendo's new games console another Wii U?

"I'd hold off on pre-ordering unless you absolutely positively need to play new Zelda on a portable, because at the price of the console and an extra mark-up for the Switch version, that's a big dent in anyone's wallet."
I was optimistic about Nintendo's Switch after its big reveal early this morning. The first half of the event clearly got across what Nintendo's new gaming tablet is all about, its controllers and vision, and the first-party games looked neat enough. It does wrap together a lot of the distinctive features that have made previous Nintendo consoles stand out from the crowd.
We knew about Zelda of course, but it was a genuine surprise to see a new direction for Mario, alongside a new Splatoon, some random cute mini games, and even an entirely new project in what looks like a spiritual successor to Super Punch Out with Arms. That price point looks a little steep, especially for those of us in Europe, but consoles are always over-priced at launch. It won't stop it selling out.
After a morning observing, playing and prodding around with the Nintendo Switch in its various configurations I walked away feeling a little deflated. Nintendo's London event didn't have Super Mario Odyssey at all, and knowing Splatoon 2 and Super Mario Kart 8 Deluxe aren't launch titles for a console that comes out in less than two months has taken some of the shine off. I also have reservations about the device itself, and its long term comfort as a portable console.
But I want to start on the positives. Arms was the most instant fun I've had on the Switch so far. It's a simple one-on-one boxing game where the Joycon controllers are used as motion controllers, so you throw punches and hooks with your hands, and lean them left and right to move around the arena. The buttons help you deliver super attacks and jump and as a party games its great fun, with quick bouts of gameplay a toddler will understand.
You can twist as you throw a punch to get your character's arms to hook left and right and bend a little. It's difficult to assess the sensitivity and lag at a hands on event like this, and I have to admit mashing and throwing punches wildly got me better results in my second round instead of trying to be subtle and tactical in my first. It's not the sort of game you'll play for hours on end but as a laugh and a time waster it's up there with the best games Wii Sports had to offer. It's might be asking too much as a full price game though. My other problem with it is the Joycon controllers are small and lack the heft and weight of the old Wiimote. Gripping them in both hands they kind of sink into your palms a little too much, and it feels at odds to throw punches holding dainty gadgets.
"It's a shame to restrict the beauty of Zelda to a 6.2 inch screen."
If Arms is designed as a party game to pass around, The Legend of Zelda: Breath of the Wild is the exact opposite. I've not played the Wii U version so this was my first time with Link's latest, but it felt like a return to form. It's a beautiful game to look at, and the first sweeping landscape panoramas are breathtaking. I can't wait to get lost in this world come March. Playing on the big screens felt natural, and I got a chance to use the Pro controller, which felt like a decent classic games controller, complete with triggers, analog sticks and all the other buttons we're used to.
Swapping to the Switch screen instead of TV was jarring, and I began using the Joycons attached to the tablet. It felt like a noticeable downsize in every way. It's a shame to restrict the beauty of Zelda to a 6.2 inch screen, and it does the game no justice when everything has been shrunk. Again, the Joycons feel fiddly and just a little bit too small, the triggers and shoulder buttons especially. I don't have particularly big hands either. Despite that, the game is better than the technology it's running on, so once I hit the end of the demo I felt a pang of disappointment. I want to carry on playing. Although it's disappointing to see the Switch version is £20 more expensive than the Wii U version - that's going to make Switch players feel like they're being taken advantage of, surely?
While we're on the subject of overpricing, 1-2-Switch is a collection of mini games that are cute and fun, but you wouldn't want to pay full price for them. Ideally they would be a pack-in with the console itself. Asking £40 for them is beyond cheeky, and into piss-taking territory. Don't get me wrong, they can be fun. Samurai Training has one player trying to catch a sword blade as the other player tries to chop it down on your head. But that's all it is. Gun Fight is the fastest on the draw and another game has you roll around the Joycon trying to guess the number of balls inside it. There's also a game that has you milking a cow, which is hilarious because you have to do the "wanker" motion, and there's a dance mimic thing too. As a little demo of the various Switch features they're cool in a Warioware kind of vibe, but they also feel like the first generation of apps on an app store and novelty like that should be free. I imagine there are already numerous version of these games out there and they won't cost you 99p, let alone ask you for a serious wedge of cash.
"Third-party support feels like a token effort, and doesn't instil confidence in the future, at least not for the big game franchises we know and love."
I didn't get to play Splatoon 2 unfortunately, but it looks very much like the last one. That's to say it's a cracking Nintendo shooter. Mario Kart 8 is the port you'd expect it to be. As for third party games, the titles available to play today were all pretty uninspired. Don't get me wrong, Super Street Fighter 2 will never get old, but it's not something you're going to rush out and buy a new console for. It was good to see Konami making games again with the return of Bomber Man and Sonic Mania looks okay, but as it's multiformat I suspect it doesn't matter what system you play that on. I really don't need another Just Dance game (although I concede my daughter might) and I can't even remember the name of the basic WipeOut clone that no one was queuing for. As a first impression of third-party support it all feels like a token effort, and doesn't instil confidence in future support, at least not for the big game franchises we know and love.
There's always a buzz around getting your hands on a new gadget for the first time, and you could feel a palpable sense of excitement at today's event. Nintendo did a great job of presenting the console, demoing its capabilities and showing off its games, but stepping back from it, it all feels a little flat.
I have no doubt the first batch of Switches are going to sell out, and it will have as successful a launch as its possible to have in March. It should even get a more robust line up of games as the year rolls on, and by Christmas 2017 I'm hoping we'll see some decent bundles at a lower, more reasonable price. But that's in the future.
These impressions are based on three hours or so with the console and that's a big caveat, because it really deserves more careful attention. There was no way for me to assess the battery life nor was I able to pick the console up and truly get portable with it (most were chained up for security reasons, understandably). There also wasn't any touch screen functions on display in the games on offer, and although we played multiplayer, no way to assess the so far vague online functions and services.
Right now, less than two months until launch, my interest has cooled and I'd advocate holding off on putting down a pre-order unless you absolutely positively need to play new Zelda on a portable, because at the price of the console and an extra mark-up for the Switch version, that's a big dent in anyone's wallet.