Nintendo Labo: here's every good, bad and asshole opinion about Nintendo's new cardboard toys you'll see today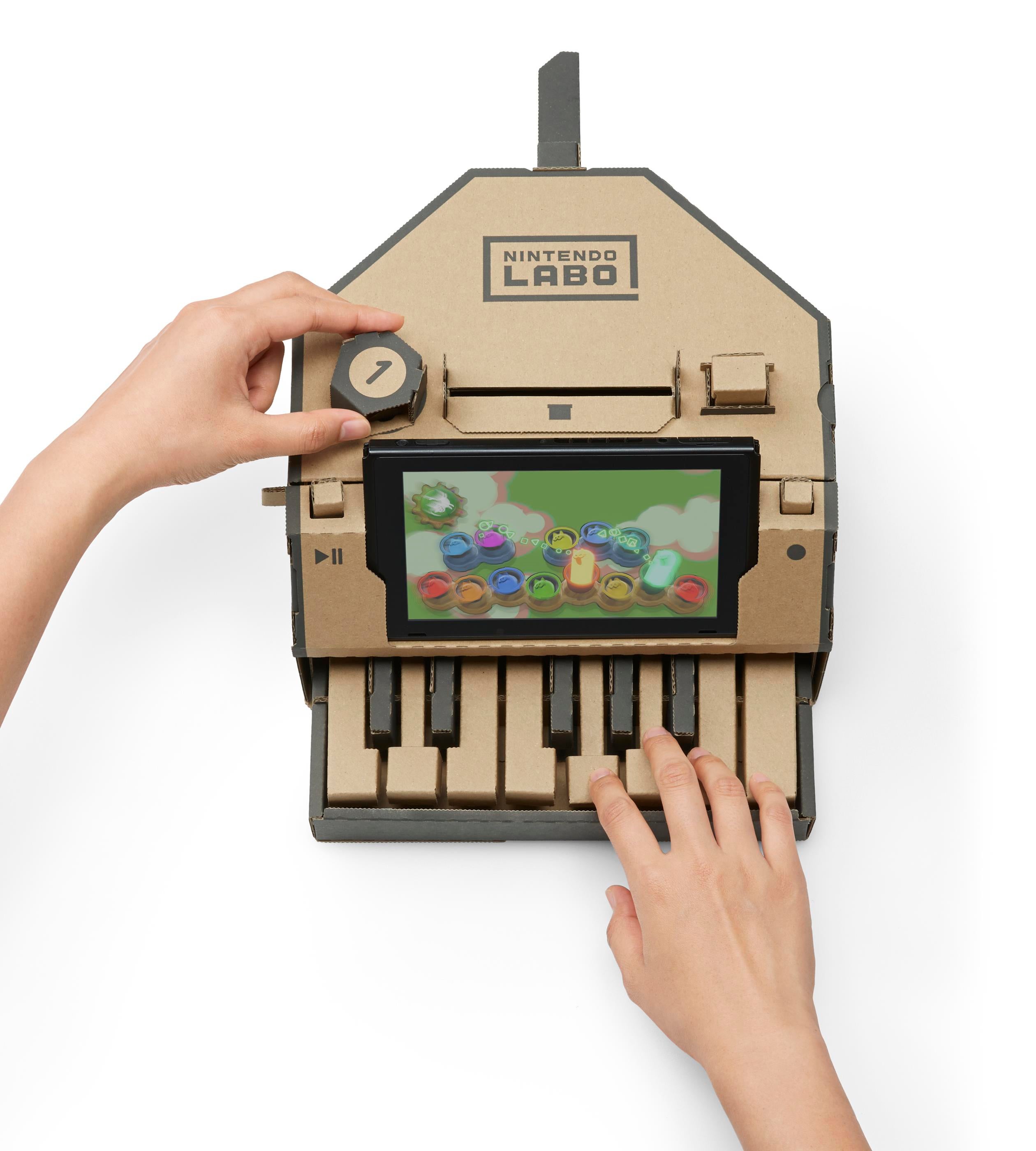 It doesn't take much to freak the gamer community out.

Cardboard toys? Priced at $70? From Nintendo?
That's all it takes. A genuine surprise. An out of the blue announcement that takes Nintendo's hit Switch console and flips ideas of what a game and toy can be.
It takes balls and free minds to come up with something like that. Everyone else has been too busy chasing Battle Royale modes.
So here we have Nintendo Labo, a set of card construction kits that turn the Switch into a robot suit, VR vehicle, musical instrument, fishing rod and more.
Combine that surprise with the need for everyone in 2018 to have an opinion and the snake-filled shitpit that is social media, and you'll find all of these unwelcome hot takes endlessely spewing up on your timeline for the next 24 hours.
Well done, everyone.
Let's start with the new and and innovative ways people are thinking of using the Nintendo Labo.
Testing out the dev kit for Nintendo Labo pic.twitter.com/du5sAHxb6Z

— Kaycee ✨♥️? (@vanillavial) January 18, 2018
Imagine: Playing Time Crisis using a Nintendo Labo Foot Pedal. pic.twitter.com/4U1AWDx4zR

— ラナン2018@ゴ魔乙2018/タイムクライシ5 (@DaRanunonFire) January 18, 2018
Ready to play some Doom on my Switch #NintendoLabo pic.twitter.com/qqWLDhbp40

— Niche Gamer (@nichegamer) January 18, 2018
Physical/digital/playful/interactive cities should definitely become a thing on the Nintendo Labo. Can't help but imagine wondrous cardboard cityscapes coming to life via the Switch.

— Konstantinos D. (@gnomeslair) January 18, 2018
#NintendoLabo looks crazy pic.twitter.com/MsPE4UQdx5

— Loyal Space Marine (@AGhostlerer) January 18, 2018
You can always rely on games journalists to strike a blazing hot take.
*Nintendo slowly slides $70 cardboard box across the table*

Games press: "Good lord those wizards have done it again!"

— Tim Clark (@timothydclark) January 18, 2018
April 21: Yep, The Nintendo Labo Tastes Terrible
April 22: YouTubers Are Eating Nintendo Labo Kits

— James O'Connor (@Jickle) January 17, 2018
Nintendo's Labo solves the age old problem of spending loads on your kids at Xmas only to watch them play with the empty boxes.

— Kirk McKeand (@MckKirk) January 18, 2018
Urgh...
#NintendoLabo? More like #NintendoLabio! pic.twitter.com/p9quVUoc2X

— Martin Lo-ther Ping @ Pax South & E3 (@GamingAndPandas) January 18, 2018
Here's some hip-shooting', straight talkin'
everyone pooping on Nintendo Labo is a joyless fuck

— Amanda??Lafrenais (@AmandaLafrenais) January 18, 2018
All these tech nerds talking about blockchains and cryptocurrency while Nintendo is printing money selling cardboard.

— Fork Parker (@ForkParker) January 17, 2018
For anyone that is calling #NintendoLabo an overpriced pack of cardboard, I have one thing to say to you.

Adult colouring books pic.twitter.com/2yzIYQkLmk

— John Reid (@JohnSReid) January 18, 2018
The ones who complains of 70$ for cardboard are the same people that said me I couldn't make a living of my drawings or that the computer makes the job for me. This looks SO good for people with kids and open infinite possibilities for the future. #NintendoLabo

— toni infante (@toni_infante) January 18, 2018
Here's a brilliant aspect to #NintendoLabo: it's the polar opposite thinking of Sony and Microsoft. Labo isn't concerned 4K or processing power. It's purposefully low-fi, yet has no less scope in terms of application. #NintendoSwitch

— Dom Reseigh-Lincoln (@furianreseigh) January 18, 2018
Where would the internet be without a moggy or two?
Me strutting into GAME to preorder #NintendoLabo pic.twitter.com/5awuiMOqC1

— GAME Shrewsbury (@GAMEShrewsbury) January 18, 2018
The joke here is you get a piece of cardboard and draw a console on it and then it looks like a cardboard console that idiots would spend too much money on, you see?
BREAKING: Prototype of Nintendo Labo being sold on eBay pic.twitter.com/3h9rkiQ31v

— Akfamilyhome (@akfamilyhomeak) January 18, 2018
Looking forward to the Labo #NintendoLabo pic.twitter.com/4yB1XZ2Cef

— Lime (@The_Great_Lime) January 18, 2018
#Nintendo what are we going to do with all these Wii U empty boxes?#NintendoLabo pic.twitter.com/iwDrG3jFOG

— Twit ter-Pan (@BarrancoBushido) January 18, 2018
Hey, Twitter isn't all sniping and outrage. Some of it is genuinely funny.
— Dan Douglas (@dandouglas) January 18, 2018
Double nerd joke!
This. #NintendoLabo #NintendoSwitch pic.twitter.com/xeQmLjcTLX

— Cornyzuka (@Cornyzuka) January 18, 2018
#makesuthink
i do find it amusing that with labo that people are like "nintendo is just taking cheap raw materials and putting their name on it and selling it at a marked up price" like that's not every consumer good

— REAL MIKI COLLECTOR (@ABCBTom) January 18, 2018
Haha credit to Tim-of-legend for posting this on r/gaming #labo #nintendo pic.twitter.com/VXwgnEbOc9

— GR3ATF3LLOW (@GR3ATF3LLOW) January 18, 2018
And finally, this one's worth the wait...
— KangarooBeard (@KangarooBeard) January 17, 2018
Do you have a hot take you'd like to share? Please, put it on social media and not in the comments section below so we don't have to see it.