Nintendo Addresses the Metroid: Samus Returns Amiibo Controversy
So you can unlock a hard mode in the game, but...

This article first appeared on USgamer, a partner publication of VG247. Some content, such as this article, has been migrated to VG247 for posterity after USgamer's closure - but it has not been edited or further vetted by the VG247 team.
At a preview event for Metroid: Samus Returns, Nintendo finally clarified amiibo support for the game, especially with regards to how Hard Mode will work in the game. As it turns out, this probably was a case where better communication could have cleared up the whole problem.
Here's the lowdown of what Nintendo told USgamer. When I asked Nintendo representatives at the preview event if hard mode was locked behind amiibos, they were clear to make the distinction. "Fusion Mode," they corrected me. Yes, Fusion Mode—which will give players access to Samus' Fusion Suit as well as a more challenging difficulty in the game—is indeed locked behind the Metroid amiibo. This content will not be offered as a separate DLC in Nintendo's digital eShop. However, there will be a standard hard mode that will be unlockable once players complete the game on regular difficulty. This mode, which is confusingly separate from the Fusion Mode's harder difficulty, is said to be harder than the standard difficulty but not as hard as that found in Fusion Mode.
Metroid: Samus Returns Difficulty Modes
Standard Mode (No amiibo required)
Hard Mode (No amiibo required)
Fusion Mode (amiibo required)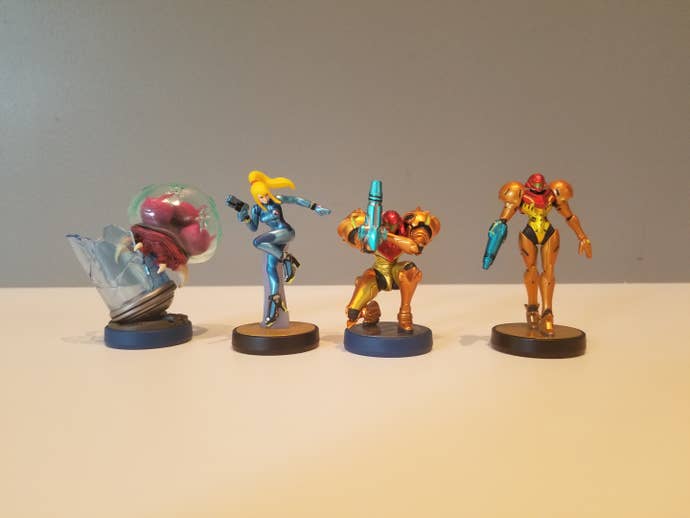 It was previously reported that an amiibo tie-in for Metroid: Samus Returns will unlock hard mode for the game. In fact, purchasing the amiibo would be the only way for players to access the Fusion Mode content, making it a mandatory accessory if players wanted to access everything Samus Returns has to offer. This is still the case, only Nintendo failed to explain that the Fusion Mode difficulty is separate from a standard Hard Mode. Nintendo's attempt to explain the situation—pointing media outlets to the vague Facebook post—certainly didn't help assuage worries about how fans could only access the game's full content by purchasing the amiibo set.
In our preview of Samus Returns, we mentioned that amiibo support for the game is completely optional, which is still technically true. However, it's also technically true that there are bonuses in the game, from image galleries to the aforementioned Fusion Mode which can only be accessed via amiibo support. So if you really do want to see everything Samus Returns has to offer, you will have to pick up some amiibo to go with it. Luckily, the amiibo aren't tied to any specific account, so you could just borrow your friend's amiibo to unlock the content in your copy of Samus Returns if you're so inclined.
Correction 5:38 am: The post has been updated to make it clearer that Fusion Mode is even harder than the unlockable hard mode