Naughty Dog, Wargaming, Rooster Teeth, more participating in Operation Supply Drop's 8-Bit Salute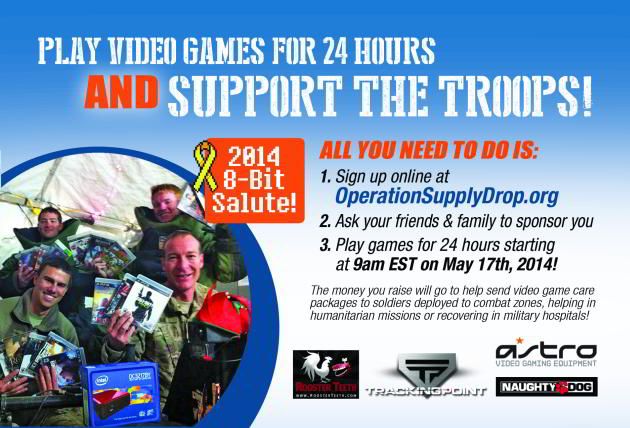 Operation Supply Drop's third annual fundraising event, the "8-Bit Salute", will take place May 17 - 18, 2014 and gamers can play all day and night to help raise funds to send video game equipment and titles to US troops deployed to combat zones or recovering in military hospitals. Naughty Dog, Wargaming America, Rooster Teeth and ASTRO Gaming will be part of the charity event.
The developers referenced have pledged significant support and will field fundraising teams via the Operation Supply Drop website.
Those who wish to participate can log into the Operation Supply Drop website to either join the current teams or create teams of their own to raise funds for the troops, while having a chance to win a variety of prizes.
More than a dozen additional video game developers and publishers will be fielding fund-raising teams, supplying donations and video games.
Founded in 2010 by Army Airborne Ranger, Captain Stephen "Shanghai Six" Machuga, Operation Supply Drop is a public charity that sends video game themed care packages to US military troops both deployed to combat zones and recovering in military hospitals.
To date, Operation Supply Drop has raised more than $700,000 in games and gear and has helped approximately 2,500 servicemen and women worldwide.