Metarama Gaming + Music Festival to feature Snoop Dogg, Ninja, Shaquille O'Neal, more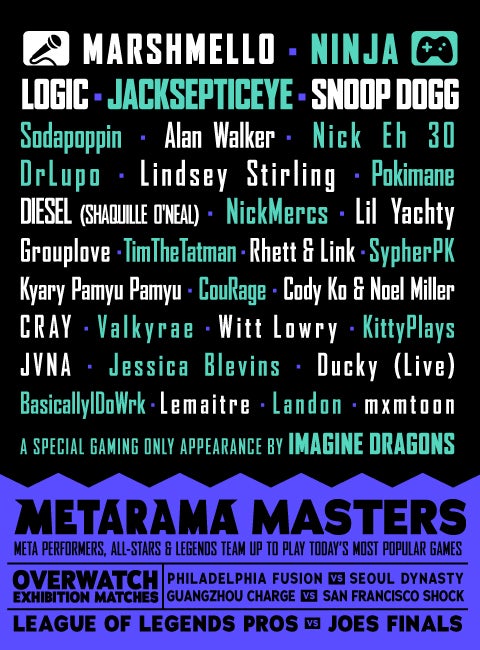 Details for the inaugural Metarama Gaming + Music Festival have been released, and the lineup is a rather impressive mix.
The Metarama Gaming + Music Festival takes place October 19-20 in Las Vegas, and it will feature two days of streaming, music, cosplay, and all sorts of other fun activities.
The hybrid music,gaming and esports festival is being brought to life by the folks behind Lollapalooza and Austin City Limits.
Not only will the lineup include streamers such as Ninja, Sodapoppin, and Nick Eh 30, but musical acts Marshmello, Logic, Snoop Dogg, DJ Diesel a.k.a Shaquille O'Neal, and a special gaming only appearance by Imagine Dragons as well.
The full lineup is in the image below.
There will be two outdoor stages featuring various musical acts, esports events such as Overwatch League exhibition matches, and a celebrity Pro-Am tournament called Metarama Masters where musicians and streamers will "play some of today's top games together."
Metarama will also have a large Streamer Zone, where fans will have an opportunity to play with streamers, as well as a LAN Center, and day-long amateur tournaments. There will be gaming, VR and tabletop zones, free-to-play games, a vintage arcade area, and more.
Sounds like a load of fun, honestly.
Metarama Gaming + Music Festival tickets are on sale now. For more information on the festival visit the official website.