Halo Wars 2 has an all-new mode called Blitz that's a mix between tactical combat and card-based strategy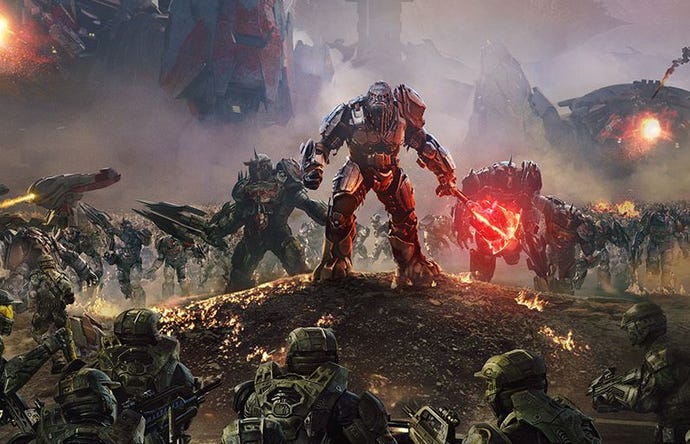 In the video below, 343 Industries and Creative Assembly discuss the multiplayer modes in Halo Wars 2 along with Blitz.
Along with multiplayer modes such as Deathmatch and Dominion playable across eight maps, Blitz is is more of a "hybrid card-collecting" game mixed with real-time strategy.
Players will pick a leader, build their deck of 12 cared earned playing through Halo 2's campaign, and start the battle. Cards can also be earned through daily challenges, and every leader has access to the shared pool of cards.
Each leader can have up to three decks with each card representing a unit when can be sent onto the battlefield in real-time during a match. There is an energy cost associated with the units. The more powerful it is, the more energy it will use, but it can be replenished during matches by collecting energy canister drops.
"What we wanted to do is make this a non-intimidating mode," said Blitz's project lead at Creative Assembly, Oli Smith. "It was important that if a player wanted just one deck to pick their favorite units, that should be a viable strategy.
"We didn't want to start where, 'For this map I'll need this deck, and for this mode I'll have to have this one.' A lot of the depth comes into the deck building, so we didn't want to overwhelm people by having too many other variables."
Firefight and PvP are two variations to choose from when playing Blitz. Firefight is a PvE mode that's wave-based and can be played with up to two friends or solo. PvP will be 1v1, 2v2, or 3v3 with custom ranked and unranked matches.
If you head over to Xbox.com you can read up on more regarding Blitz and find out more about the game's campaign.
Halo Wars 2 is slated for release on February 21, 2017 on Xbox One and Windows 10 PC.