Half-Life 2 game Prospekt continues the story of Opposing Force from a new perspective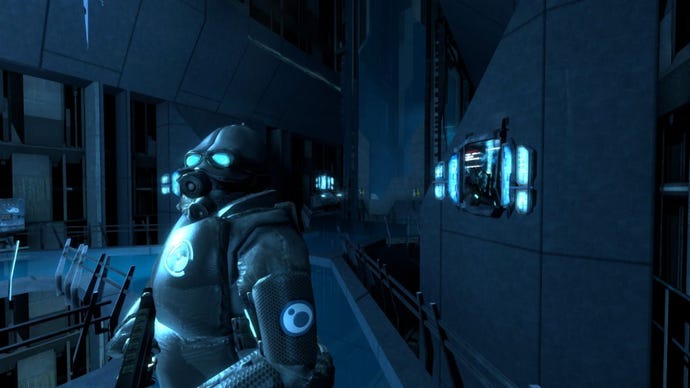 Prospekt is a Half-Life 2 game which continues the story of the Gearbox Software-developed Opposing Force, and it is now available for pre-order on Steam.
The title was a solo development project created by indie developer Richard Seabrook, who quit his QA job two years ago to start his own studio Seacorp and to develop the game. Eurogamer had a chat with Seabrook last year, chronicling his story.
After 2,500 hours of development using the Source engine, he sent an early version of the Prospekt to Valve boss Gabe Newell in a nifty Half-Life themed briefcase complete with his university dissertation. His project was given the thumbs up by Valve and it will now be released on the Steam service.
"I'm hugely grateful for the immense support from the Half-Life 2 and PC gaming community", said Seabrook. "I can't wait to hear what they think of the finished game and work the feedback into my next project, no doubt developed while we all wait for Half-Life 3.!"
Prospekt is comparable in length to Half-Life 2: Episode One and does not require a copy of Half-Life 2 to run as it is a standalone title.
The game covers the original Half-Life 2 story, but told from the perspective of the Marines.
While Gordon Freeman is cornered and being overrun by soldiers in the Nova Prospekt prison, the player will take control of Marine Adrian Shepherd as he's teleported in by Freeman's Vortigaunt allies to help fight back.
The title contains 13 new levels featuring fully-scripted puzzles and action sequences completely integrated into the Half-Life 2 story.
It has features "substantial graphical updates" over the original game, including the following:
New Textures
New Models
Updated high resolution combine soldier skins with improved normal mapping
Updated high resolution textures
Updated lighting
Higher resolution models
Increased cube mapping
Over 20 new particle effects
Modded HUD
Modded VGUI
New player model skin
Return to Xen
New voice acting
New music
New AI improvements, such as soldiers attempting to undo the player's actions
Prospekt will be released on February 11 for £7.50/$9.99/€9.99. Starting today, if you pre-order before release, you can take 10% off the standard price and only pay £6.75/$8.99/ €8.99.
If you head through the link, you can check out the new video for it.