Forza Motorsport 7 Review: A Beautiful Ride, But The Tires Need Some Air
Turn 10 Studios returns to the track with Forza's more technical racer.

This article first appeared on USgamer, a partner publication of VG247. Some content, such as this article, has been migrated to VG247 for posterity after USgamer's closure - but it has not been edited or further vetted by the VG247 team.
I do not play simulation racers on a regular basis. I enjoy the occasional racing game in that style, having touched previous Forza Motorsport games, a few Gran Turismo titles, DriveClub, and some of the GRID franchise, but for the most part, that's not where my 4-wheeled heart likes to frolic.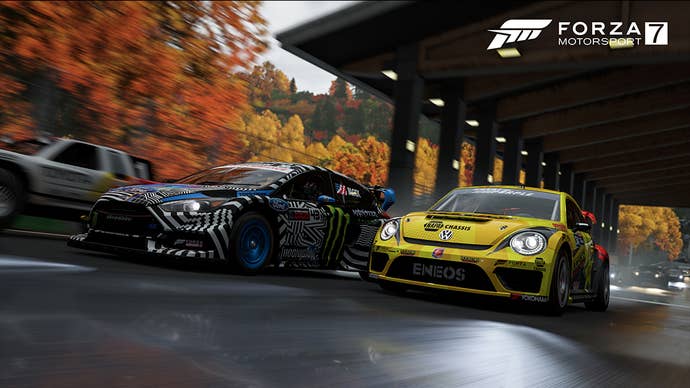 I'm an arcade racer at heart: pedal to the floor, drifting into a corner at full speed, and a bit of damage does me right. I love games like Burnout and Need for Speed. Mixing that arcade racing feel with real world cars is my sweet spot, which is why I'm a huge fan of Forza Motorsport's sister series, Forza Horizon.
Forza Motorsport and Forza Horizon share some DNA and it's clear that their respective studios, Turn 10 Studios and Playground Games share the same love for the idea of racing. Forza Motorsport 7 sports more than 700 vehicles in total, all lovingly rendered inside and out. There are standard rides like the Subaru WRX '04, BMW Z4, and the 2012 Challenger; exotic picks like the MacLaren F1, Bugatti Veyron, and Maserati GT-S; and off-brand options like the Alfa Romeo P3, RZR 1000, and the Ford F-100.
The cars fall into a host of different divisions within the full roster. You have your Hot Hatchbacks, like the mighty sexy 2016 Honda Civic Type R, or Sport Touring cars like the Audi RS 4 or the Infiniti G35 Coupe. You got Supercars, Hypercars, Racing Trucks, NASCAR, Rally racers, Formula cars, and a whole host of vintage rides.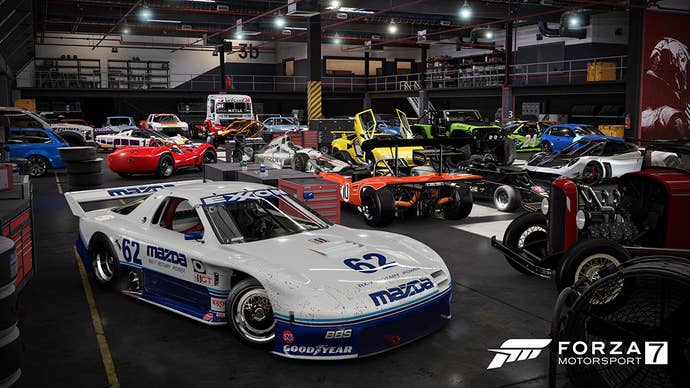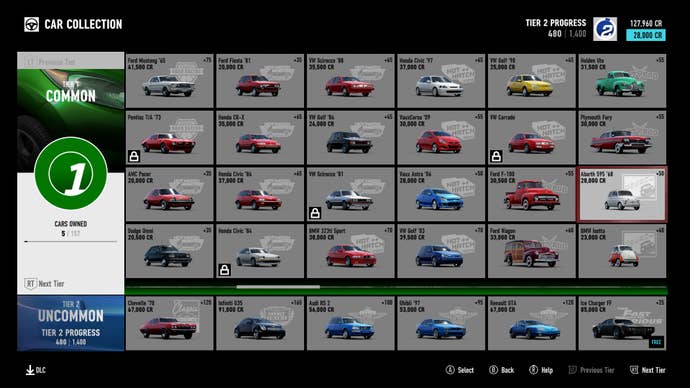 Every metallic curve, the wood-paneled dashboards on some classic cars, the soft-touch leather; it's all here. Turn 10 Studios did a fantastic job translating things over into the digital space, building on their work in previous Forza titles. I am missing the full ForzaVista experience as car history narration is gone, but as the car list skews higher, I knew something had to fall off and that was it. I also wish Photo Mode and ForzaVista were more accessible, like being able to jump straight from your garage straight into car porn mode. It's an odd little oversight.
The stunning level of detail in the vehicles is extended to the tracks. There are 32 total tracks in the game and though the list isn't full of all-new tracks for series veterans, there's a lot of variety. Dubai is the all-new race track, a course around desert curves and rocky mountain cracks as the city looms in the background. You have some tracks that return from Forza Motorsport 6, like the Top Gear Test Track, and a trio of fan-favorites return from Forza Motorsport 4: Mugello, Suzuka, and Maple Valley.
Forza Motosport 7 features day and night versions of tracks plus dynamic weather, through those options aren't available on every track: while Le Mans has day, night, and rain versions, a track like Lime Rock is stuck on day only. Around 12 of the tracks feature the dynamic weather options. When it's available, racing through the pouring rain as lightning flashes and water puddles on the track is a sight to behold. All running at 60 frames-per-second at 1080p on Xbox One. (The PC version is likewise impressive, but some folks ran into the occasional microstutter on their rigs. No such issues on my end, though I did suffer the longer load times.)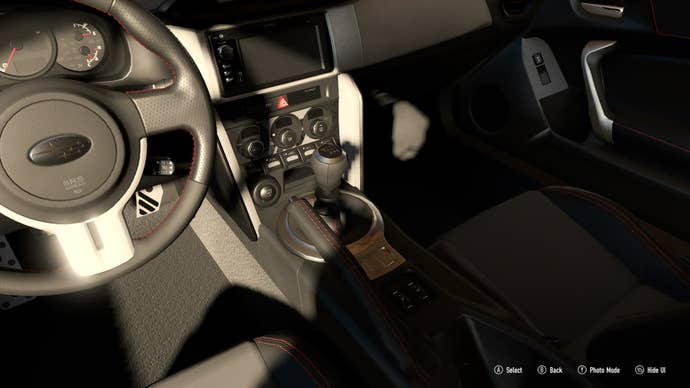 While Forza Motorsport 7 is a sim racer, I find that in practice, it's not as hard sim as some recent titles. Whereas you might believe that Forza Horizon and Forza Motorsport are opposite ends of the racing spectrum, in practice, they aren't that far from each other. Think of it as one body with each foot placed on different sides of the field. Horizon isn't Burnout and Forza Motorsport isn't Assetto Corsa, the latter of which I personally couldn't get into at all.
There's definitely some give in the physics, leaning a bit closer to drivers having fun, rather than a full-on simulation. Turn 10 also added the Homologation system, allowing you to tune vehicles to stay competitive within their class; it's a rather arcade-style addition to the series that lets you stay with your favorite cars a bit longer.
Forza Motorsport 7 begins with all of its assists on–suggested driving line, assisted steering and braking, stability control, and damage off–but I found that to be a fairly sluggish, unenjoyable experience. Turning off some of the assists immediately improve the feel of driving, though I never went as far as turning everything off. I urge you to shut off some of the assists if you really want to enjoy Forza Motorsport 7; if killing just one ruins the experience, you're probably better off sticking to Forza Horizon.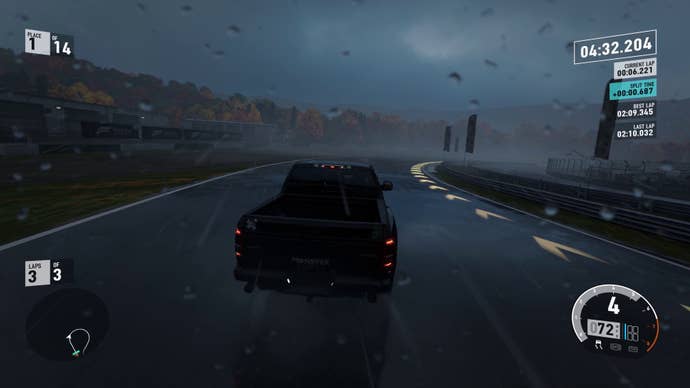 So if the cars, the tracks, and the technical aspects are on point, where does Forza Motorsport 7 falter? I'd point directly to the new progression system. The single player campaign is the Forza Driver's Cup, pitting you against six racing championships. Each championship has a number of focused series within it, alongside a few showcase races that switch the game up with things like themed challenges, homages to classic racing world moments, and weirder options like Limo Bowling. Racing earns SP and you have a SP marker you need to reach to challenge each champion. Pretty straightforward.
There's more though. Everything in Forza Motorsport 7 is about collecting cars. The vehicles are spread across five Tiers, from Common to Legendary. In the beginning, you can only buy cars in Tier 1, with most costing CP, the in-game currency you get by winning various races. Others you unlock via specific races and challenges, while some are given to you when you level-up your driver. Every vehicle you acquire gives you CR (not CP). Get enough CR and you move up a tier, allowing you to purchase cooler rides. To compete in some races, you'll need to buy new vehicles straight up. This means CR is everything in moving forward in Forza Motorsport 7, but you can't just save up to buy that supercar you have your eye on.
It's a horribly uneven experience. I was leveling at one point and I had my eye on a free Subaru I was going to get for my next level. Unfortunately, I acquired a new car, which bumped me up a tier, which changed the free car I got for my next level. No Subaru for me.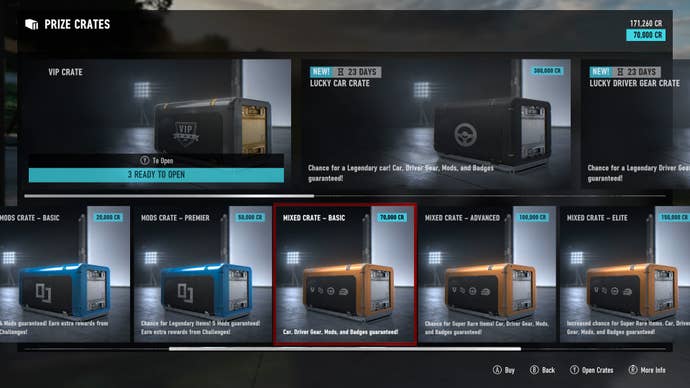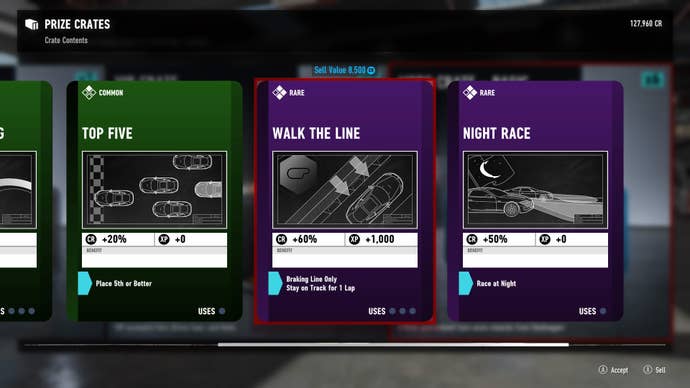 This is further hurt by Forza Motorsport 7's Mod card and Prize Crate system. Prize Crates cost CR and function like the Loot Boxes you'll find in a number of other games, like Overwatch: open them and you have a random chance of getting stuff. Different levels of crates costs different CR. The lowest level gives you Mod Cards only, while higher versions offer a chance at clothes for your drive, mods, badges, and even cars, all with different levels of rarity.
You want cars, which cost CR, and you want Prize Crates, which cost CR. CR rewards are variable, you get more for longer races, but sometimes it feels like the effort put forth doesn't always match the reward. So, you turn to Mod Cards. As the name suggests, these cards modify different aspects of your races and challenge you to try something different. Race at night, turn off specific assists, or cross the finish line at a certain speed. Completing the mod card's objective gives you bonus CR or experience. The issue is mod cards are consumable, with between 1-5 uses.
This creates a loop in Forza Motorsport 7 where you're spending CR to make more CR. You use the mod cards to maximize CR gain, so you can buy better crates, so you can get more mod cards, to maximize CR gain... you get the idea. Forza was previously more straightforward: race and get rewards, working your way up to the rides you wanted. I like the idea of mod cards, but Forza Motorsport 6 actually offered some unlimited use mods and I prefer Forza Horizon 3's more straightforward system with straight CR gain and the leveling wheel. This system is more obtuse and unsatisfying with no real gain for the player.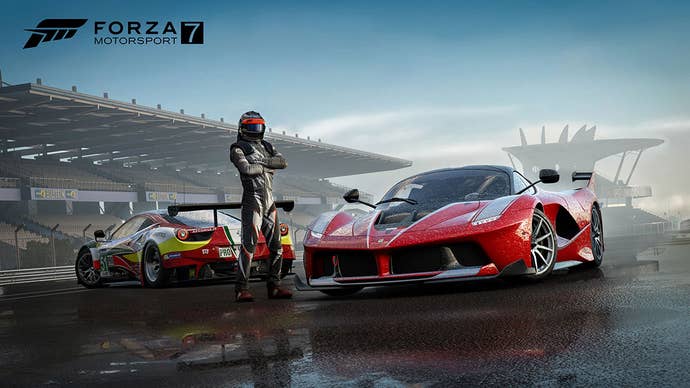 The rest of Forza Motorsport 7 is more up to the series' previous pedigree, with the same bells and whistles that populated previous entries. There's a PhotoMode to take snapshots of Turn 10's hard work. The Livery Editor lets you shine up your ride just how you like it, or download the best car skins made by talented creators. And this is all before features like the Auction House, Leagues, and Forzathon go live soon.
Forza Motorsport 7 is a great racing game. It might not entirely be my cup of coffee, but it's close enough to what I like that I'm not going to turn up my nose at it. Turn 10 Studios has created another winner, but there's a creeping specter in the form of consumable mod cards and Prize Crates that undermines the more straightforward experience in previous titles. The latter threatens the soul of Forza and I hope they don't build upon those aspects in Forza Horizon 4 or Forza Motorsport 8.
ConclusionForza Motorsport 7 is another great racing game from Turn 10 Studios. More than 700 vehicles across 30 divisions can race on 32 different tracks. Dynamic weather has improved and overall Forza Motorsport 7 is still a stunner. Turn 10 muddies the progression this time around with loot box-style Prize Creates, but they don't completely kneecap the rest of the amazing experience.