Far Cry 5 week 1 sales estimated to be 5 million copies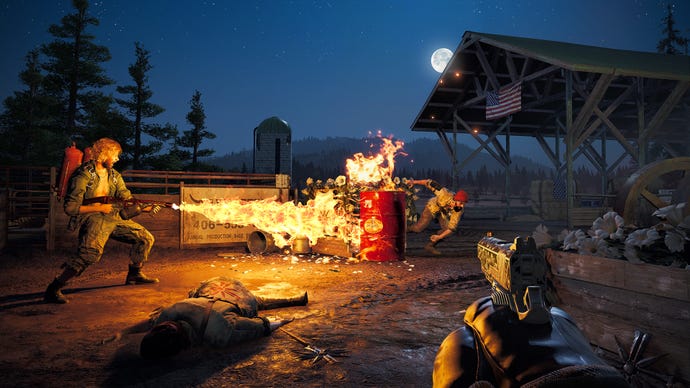 Far Cry 5 is estimated to have sold 5 million copies on its first week on sale.
more
It's very clear now that Far Cry 5 is a hit. The game is selling faster than any previous entry, and is already one of Ubisoft's biggest launches ever.
Ubisoft did not reveal hard sales data, but according to investment firm Jeffries Group's estimates, the game has sold 5 million copies in its first week.
Tim O'Shea told French site Boursier that Far Cry 5 is the first big launch since the Fortnite craze took over the world.
According to O'Shea, investors feared Fortnite's explosive success would overshadow upcoming big releases like Far Cry 5. By comparison, Far Cry 4 sold 8 million in its first year, which means Far Cry 5 is already on track to beat that number.
It's certainly been doing good on PC, too, judging by the high number of concurrent players on Steam alone.
Thanks, @DomsPlaying.