Evolve will be free to play on PC and Xbox One this weekend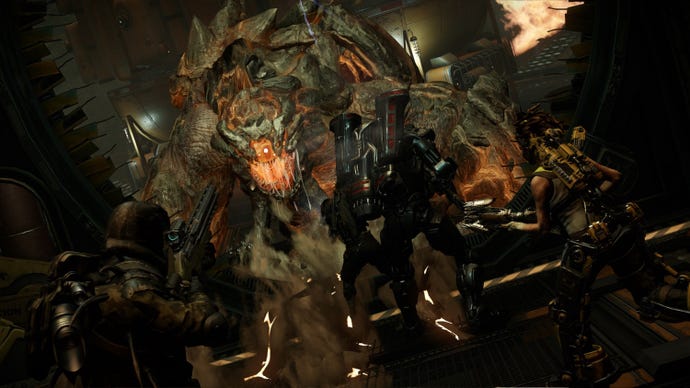 Turtle Rock Studios' asymmetrical four-on-one shooter is getting a free weekend, unless you're playing on PlayStation 4.
Evolve has struggled to maintain player numbers, so this free weekend is likely an attempt to rectify that. Players will have access to four monsters, five modes, eighteen hunters, and nineteen maps across the weekend, while the DLC will be available on alternating days - Saturday for Season 1, Sunday for Season 2. Players who go on to buy Evolve after the event will be able to continue on with any progress they made during the weekend.
Evolve pits four players against a single opponent who controls an enormous monster. The four hunters must try to work together to kill the monster, while the monster must either kill all of its opponents or complete secondary objectives. The monster is able to evolve by killing other creatures across the map, and if it reaches its final form it becomes incredibly difficult to kill.
Evolve was well received at launch, but has been criticised for its aggressive DLC release strategy.
Thanks, IGN.