Every Spider-Man Suit We Spotted in the PS4 Game - There Are a Lot
Suits menu screen suggests there are 25, including the Scarlet Spider and Homecoming outfits.

This article first appeared on USgamer, a partner publication of VG247. Some content, such as this article, has been migrated to VG247 for posterity after USgamer's closure - but it has not been edited or further vetted by the VG247 team.
Spider-Man is right around the corner and fans have been asking which costumes will be in the game. While Sony has been marketing Marvel's Spider-Man with the new Insomniac-designed Advanced Suit on the cover and trailers, we do know more Spider-Man outfits will be available. Pre-ordering nets you the Spider-Punk, Iron Spider, and Velocity Suit costumes, while Insomniac itself confirmed that the Spider-Man Noir outfit would be in the game.

A few weeks ago at San Diego Comic-Con 2018, Sony and Marvel showed off a new story trailer for Marvel's Spider-Man for PlayStation 4. The trailer showed a brief tease of the classic Steve Ditko design, letting fans know it would be around in some capacity.
From our preview of the first few hours of Insomniac's Spider-Man, I can confirm that the classic suit is the costume players will use in an early part of the game. Even better, you can use that suit for the rest of the game if you so desire.
There looks to be a total of 25 different costumes to unlock. Most of them were blacked out in my demo, but the new outfits that did appear include the aforementioned Spider-Man Noir, Secret War, the Scarlet Spider (classic hoodie version), Spider-Armor Mark II, the Spider-Man: Homecoming suit, and that film's home-made costume. One outfit also carried the distinct silhouette of Spider-Man 2099's costume.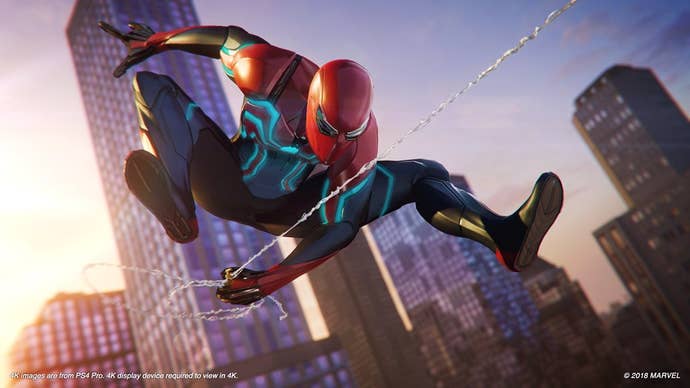 Unless you're going obscure, I'd hazard your favorite costumes will likely appear in Insomniac's Spider-Man. The last Spider-Man title, 2014's The Amazing Spider-Man 2, included the updated Scarlet Spider, Superior Spider-Man, Miles Morales' costume, the Big Time Stealth Suit, and the original Symbiote costume. The game before that, The Amazing Spider-Man, also featured the snazzy white Future Foundation outfit. I'd expect many of those costumes to return here and all of them wouldn't even fill out the 25 slots that appeared in my demo.
Check out our preview for more details about Marvel's Spider-Man for PlayStation 4, or our guide hub for just the concrete details. Marvel's Spider-Man will be coming to PlayStation 4 on September 7, 2018.
If you're looking for help with Insomniac's Spider Man, head on over to our Spider Man PS4 Guide. That should give you all the info you need and guide you towards other helpful articles, but if you're after something specific, one of our guide pages below should hopefully do the trick.
If you're still on the fence about buying Spider-Man on PS4, we've got a tempting link to buy Spider-Man PS4 on Amazon, just here.