EB Games gets Homefront Collector's Edition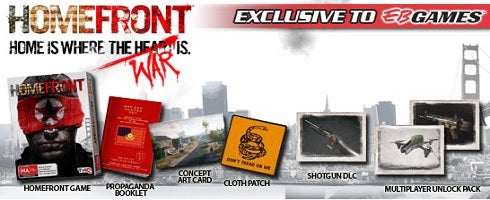 EB Games Australia has listed up a Collector's Edition for THQ's Homefront.
The SKU is exclusive to the retailer and includes a Propaganda Booklet, Shotgun DLC, Concept Art Card, Cloth Patch and Multiplayer Unlock Pack.
There is currently no word if this edition or a similar edition will release in Europe.
Homefront releases on March 8 in the US and March 11 in the UK for PC, PS3, and Xbox 360. The Australian edition releases on March 10.