EA Sports Couldn't Get Joe Rogan to Record New Commentary for UFC 3 Because He Hates Voiceover Work
Instead, UFC 3 had to reuse Rogan's actual commentary from Pay-Per-View games.

This article first appeared on USgamer, a partner publication of VG247. Some content, such as this article, has been migrated to VG247 for posterity after USgamer's closure - but it has not been edited or further vetted by the VG247 team.
Joe Rogan is one of the most popular names associated with the Ultimate Fighitng Championship (UFC). So it's only natural that EA tapped Rogan to be the commentator for its line of UFC video games. The only problem is that Rogan apparently hates recording voice lines for video games so much, that EA was forced to re-use Rogan's real-life, pay-per-view commentaries for UFC 3.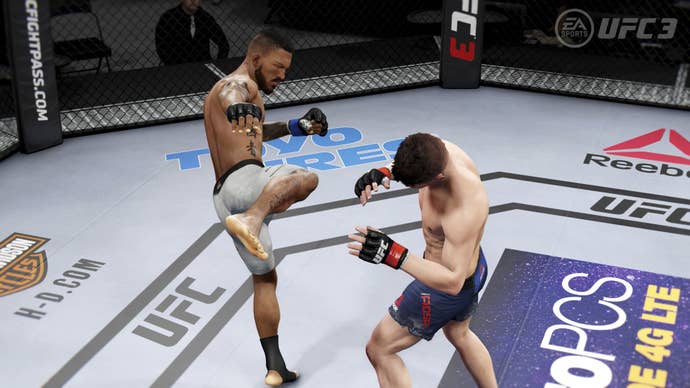 According to UFC 3 creative director Brian Hayes, Rogan's hatred of doing voiceover work is both upfront and well-known. "Joe Rogan absolutely hates doing voiceover for the game," said Hayes. "We've basically come to an agreement that we're not going to ask [Rogan] to do it anymore because he hates it."
While Rogan did record voiceover commentary for UFC 1 and UFC 2, he apparently couldn't bring himself to go through voiceover recordings again for the third game. Instead, EA had to be creative and find other ways to get Rogan's voice into the game. "So all of the Joe Rogan stuff we have [in UFC 3] is from mining in-game broadcasts," Hayes revealed. "We don't have the ability to get him in the booth, we have to scour through hours and hours of Pay-Per-View and hopefully finding a clean sample of him saying it in a fight."
This seems like a lot of trouble just to get Rogan's voice into the UFC games. When asked why EA didn't simply go with another commentator, or even just a fictional one, Hayes said it came down to authenticiy. "Joe Rogan has been with the organization for so long that he's the voice of the UFC."

Rogan did briefly discuss his time doing voiceover work for EA's UFC games on an episode of his podcast, The Joe Rogan Experience back in 2016. In the NSFW (language) video clip, Rogan dove into his feelings about his voiceover work telling his guest, "Dude we did a fuckload of hours. It was hours and hours and hours."
Rogan's quick to point out that he's not regretful of the work that he did, only that the work took a toll on him. In fact, he even agreed to give his likeness to be used in UFC 2, just so he could get out of more voiceover work. "I did this so I could get out of doing more commentary because there was so much to do. It was a constant grind. I put my full effort into it because I wanted it to be good."
Ultimately, the new solution to get Rogan's voice into UFC 3 without actually getting Rogan to be in a recording booth appears to have been enough. Hayes said, "I actually appreciate Joe Rogan's honesty with us from the get-go. He said, 'I absolutely cannot stand doing this stuff.' And he did some really good work with us for the first two iterations of the game. But moving forward, for your own sanity, it made sense for us to go with the approach we did."
EA Sports UFC 3 is coming out on February 2 for PlayStation 4 and Xbox One.