Dante's Inferno Super Bowl ad to provide "big punch"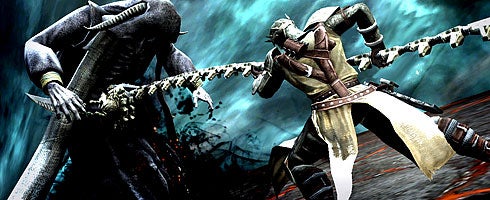 EA's announced it'll be airing a Dante's Inferno ad during the Super Bowl this Sunday.
It'll take place during American Football's biggest match, which will also be the company's first ever commercial during the event.
It's hoped it'll provide a "big punch", according to Visceral.
"As someone who makes games it's very exciting and a real pleasure to see the marketing side of the organisation step up and put so much emphasis into launching this product so we can get it out to a new audience," said the studio's senior VP, Nick Earl, speaking to GI.
The game's out in the UK on Friday and next Tuesday in the US for PS3 and 360. A PSP version is also due, but no exact date's been given.
Go buy it. No, seriously, go buy it.
Super Bowl PR below.
EA SENDS FOOTBALL FANS TO HELL WITH 'DANTE'S INFERNO' IN COMPANY'S FIRST SUPER BOWL COMMERCIAL
30-Second Spot Introduces 100M Viewers to Hell in Fourth Quarter of Super Bowl XLIV
Guildford, UK. – February 1, 2010 – As the New Orleans Saints make their Super Bowl debut, so does Electronic Arts (NASDAQ: ERTS). On Super Bowl Sunday, two days before the game hits store shelves, EA will introduce football fans to Dante's Inferno, a third-person action-adventure videogame, with the company's first-ever Super Bowl commercial. The hellish 30-second spot features Dante's Inferno, a stunning HD game inspired by the first part of 'The Divine Comedy' written by 13th Century Italian poet Dante Alighieri. The ad entitled "Hell Awaits" premieres during the fourth quarter of Super Bowl XLIV broadcast on CBS on Sunday, Feb. 7, 2010. Dante's Inferno from EA will be in stores on Feb. 9, 2010.
As traditional advertisers withdraw from this year's big game, EA – a leading interactive entertainment software company – will use the Super Bowl as a platform to expose nearly 100 million viewers to Dante's Inferno within the coveted 18-34 year old male demographic. EA joins perennial advertisers Anheuser-Busch and Mazda as well as other newcomers to the Super Bowl advertising scene such as Time Warner cable channel TruTV, Sprint Nextel's Boost Mobile and Kia Motors.
"Even within the spectrum of live sports events, the Super Bowl stands apart, almost as a national holiday," said Frank Gibeau, president at EA. "The Super Bowl is a bull's-eye in terms of cross-over to our core demographic and the reach is outstanding. Not only does it draw 100 million viewers, but most people watch the Super Bowl live, a rarity in the world of DVRs. While digital outreach to Facebook, Twitter, and online bloggers is a core part of our marketing strategy, we felt that advertising during the Super Bowl is an excellent way to introduce this new IP to a massive cross-section of people who are likely already familiar with the dark and twisted "Divine Comedy."
EA's Super Bowl advertisement caps off a breakthrough marketing campaign crafted to cut through the noise and support the launch of this all-new videogame property amongst 18-34 year old action fans. With a focus on engaging fans, EA used digital media, bloggers and community for the Dante's Inferno marketing campaign. The company brought the tagline "Go to Hell" to life using several innovative programs:
• 'Go to Hell' Facebook App – With over 4.5 million active users, this free app takes the poem's nine circles of hell and brings them into everyday life. With the click of a button, anyone can send a friend foe, place, product or brand to one of the nine circles of hell. Angry at your mom for grounding you? Send her to 'Treachery'. Mad at your ex- for cheating? Send them to 'Lust'.
• Special Edition Book – EA is releasing a special edition of Dante Alighieri's "Inferno" in partnership with Random House and Del Rey Books. The book features an introduction written by the EA executive producer Jonathan Knight, and a 16-page, full-color art insert showcasing the evolution of characters and environments from the classic poem to the video game.
• Animated DVD Feature – EA is releasing a full-length animated feature developed in partnership with Starz Media, Film Roman, and Anchor Bay Entertainment. The movie features six unique art styles created by five of the best animation studios in the business (DVD/Blu-Ray)
• Comic Book – An exclusive six-issue comic miniseries created by DC Comics/WildStorm Productions features the highly stylized artwork of Diego Latorre and written by esteemed comic book writer Christo Gage.
• Collectible Action Figure – A collectible figurine of the hero Dante created by NECAis available as a pre-order bonus at select retailers* and for sale beginning 2/9/10.
• Dante's Nine Circles Hit the Blogosphere – Beginning in June 2009 at E3, EA brought the game's nine circles of hell to bloggers, one month at a time. "Limbo" was illustrated with a mock protest. "Greed" was illustrated by bloggers being asked to cash a check for $200. "Heresy" was demonstrated through a fictitious game called "Mass We Pray". Each stunt set fans buzzing about the core themes of 'The Divine Comedy' and Dante's Inferno, the game.
• Hidden Messages – Dante's Inferno online advertising will contain hidden source code and ASCII art, further bringing to life the world of Dante's Inferno and the hell that lies beneath.
With unique and visual representations of the nine circles of hell, once only experienced in the pages of the timeless classic, Dante's Inferno offers a fully animated experience in which players assume the role of Dante, who descends into hell after returning home to find his beloved Beatrice murdered, with Lucifer seducing her soul into the underworld. As in the poem, players will descend through Dante's unique nine circles of hell: limbo, lust, gluttony, greed, anger, heresy, violence, fraud and treachery. Each circle will showcase distinct environments, enemies and story elements befitting of the sins committed by their inhabitants. Developed by Visceral Games™, an EA studio, and built on the same technology as the award-winning Dead Space™, Dante's Inferno will deliver a fast, fluid and responsive combat experience running at 60 frames per second, a must-have for the action adventure genre.
Dante's Inferno is available for the PlayStation®3 computer entertainment system and Xbox 360® videogame and entertainment system beginning February 4th in Europe and on February 9th in North America and is rated M for mature with an MSRP of $59.95. Dante's Inferno will also be available for the PlayStation Portable (PSP) on February 23rd with an MSRP of $39.99. For more information on Dante's Inferno, please follow Dante's Inferno on Twitter at www.twitter.com/danteteam, and visit the game's official web site at www.dantesinferno.com.