Call of Duty's Latest Update Reignites Complaints About Its Huge File Footprint
The PC version lacks options for picking which parts you do and don't want.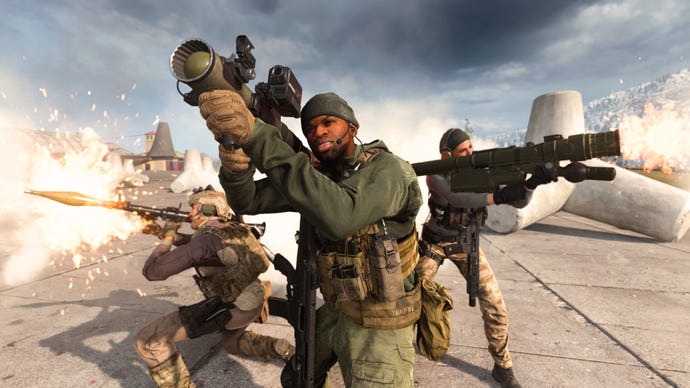 This article first appeared on USgamer, a partner publication of VG247. Some content, such as this article, has been migrated to VG247 for posterity after USgamer's closure - but it has not been edited or further vetted by the VG247 team.
Ever since the launch of Warzone, the ballooning file size of Call of Duty: Modern Warfare plus its battle royale component has been a constant sore point for players. Now, after the release of yesterday's Season 4 Reloaded update that brought 200-player lobbies to Warzone, some PC players are fed up about not being able to cut back on Modern Warfare's growing footprint.
On the Warzone subreddit, one PC player claims that Modern Warfare's file size on PC now sits at 209 gigabytes after installing the most recent update. USgamer hasn't been able to independently verify this exact number, and it may vary system-to-system (another user claims 222 GB as of today). Still, given that the total install size for both Modern Warfare and Warzone already sat just shy of 200 GB on all platforms and that yesterday's patch hovered around 20-30 GB, players on all platforms need more than 200 gigabytes free to accommodate Modern Warfare and Warzone plus the space needed for patches pre-installation.
The post about the PC file size gained over 7,000 upvotes and garnered hundreds of replies by the time of publication. One of the top responses to the post led to a subthread about a feature Modern Warfare has on consoles that it lacks on PC: options for deleting certain parts of the game.
Earlier this month, Activision's support page even created a dedicated post on the subject for console players, describing how PS4 and Xbox One owners can (depending on their system) at least delete files needed for Campaign or Special Ops from their installs. No such option is available on PC.
Even if you're just playing Warzone on PC or console, you need well over 100 GB available for its standalone file size while also leaving room for hefty patches. Given Warzone's stunning success it seems like it's a sacrifice plenty are willing to make, but especially for players on PC, the longer their Warzone enthusiasm lasts the more likely it is they'll have to do some not-so-fun space management.