Call of Duty: Infinite Warfare's final piece of DLC, 'Retribution', releases next week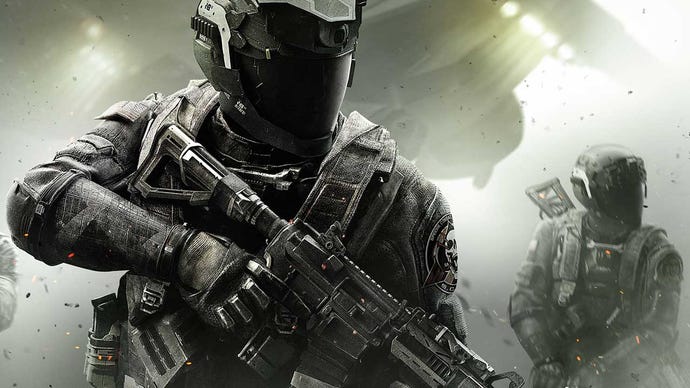 Infinite Warfare, 2016's iteration of Call of Duty, is finally wrapping up next week with the release of its fourth and final map pack.
As usual there are four new standard multiplayer maps included, along with a new co-op zombie experience, 'The Beast From Beyond', seen in the trailer below.
It looks like it's set within a research base of some kind on an unidentified planet. If you're a CoD zombies fan, you know, more or less, what to expect by now, but here's what the press release has to say:

The Beast from Beyond, the final chapter of the five-part Call of Duty: Infinite Warfare zombies experience, features the return of Willard Wyler, the enigmatic movie director villain portrayed with voice and likeness by Paul Reubens (Pee-wee's Big Holiday, Gotham). Wyler once again has trapped the four protagonists inside an all-new horror film, now set in a desolate military station on a distant ice planet.
As players begin to discover more and more infected crew members, they'll need to battle hordes of the undead to uncover the truth and escape Wyler's films once and for all. The Beast from Beyond also features new weapons, traps and more, in addition to the hallmark Call of Duty action, with Seth Green (Robot Chicken, Austin Powers) as "Poindexter;" Ike Barinholtz (Neighbors, Suicide Squad) as "AJ;" Jay Pharoah (White Famous, Saturday Night Live) as "Andre;" and Sasheer Zamata (Saturday Night Live, Inside Amy Schumer) as "Sally," all making a return from the ongoing story.
The new maps are:
Carnage – A post-apocalyptic race track along the California coast, Carnage features long sightlines and environmental hazards including a fire trap players can activate on command to roast their enemies.
Heartland – In Heartland, teams will go head-to-head in a simulation of small town America that is a re-imagining of the classic Call of Duty: Ghosts map, Warhawk. Players can pop into the local ice cream shop for a treat, and then take out enemies down the street with a Black Hole Generator.
Altitude – Set in a high-end, sky high shopping mall located on the edges of the universe, Altitude pushes teams around a chaotic centre where quick flank routes are key to victory. Additional features include floating lush waterfalls that border the map.
Depot 22 – Depot 22 is a watering hole at the end of civilisation that focuses on mid-ranged encounters waged in a medium-sized, three-lane map. Players can battle in the cantina for close-quarter combat or engage with enemies wall-running off of a moving train.
If you're keen for a fresh Call of Duty experience, Call of Duty: WW2 launches for PS4, PC, and Xbox One on November 3.