Black Desert Online publisher teases three new games: Plan 8, Crimson Desert and DokeV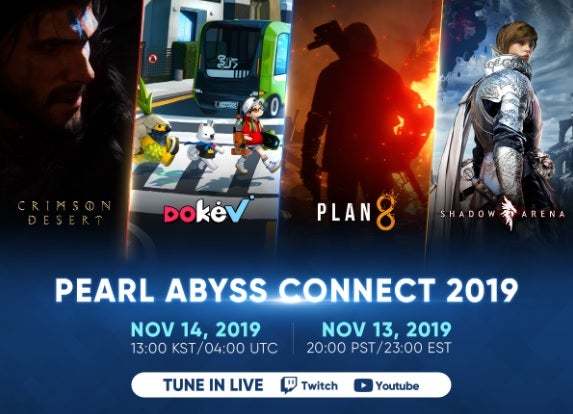 The G-Star 2019 Expo begins next week on November 14 and we've had our first glimpse at three new titles from leading MMO developer Pearl Abyss.
We had our first look at Plan 8, Crimson Desert and DokeV today, and you won't have long to wait for the upcoming trailers at G-Star next week. You'll be able to watch live streams of the reveals on the Pearl Abyss Twitch and YouTube pages if you can't make it along to Busan.
You can subscribe to each game's website for more information but for now, let's take a look at what we know about these new titles.
Plan 8
Plan 8 is an exosuit MMO shooter, lead by the former environment art director of Black Desert Online, Seung-ki Lee and the co-creator of Counter-Strike, Minh Le. You can sign up to receive more info as it comes on the Plan 8 website here and will be able to view a trailer during the G-Star Expo.
Crimson Desert
Next up we have Crimson Desert, an open-world fantasy MMORPG. You'll play as one of three tribes fighting for survival and control of the Pywell continent.
Jason Jung, the former game design director of RYL Online has been producing Crimson Desert since 2018, alongside Dae-il Kim, the founder of Pearl Abyss and Eter Lee, the former lead combat designer of RYL Online.
DokeV
The third new title is the colourful DokeV, a collectible MMORPG that's fun for all ages. Sang-young Kim and Suh Won Choi, the former animation director and game design director of Black Desert Online respectively, are leading this project, so you can expect it to be massive in scope.
You can also sign up for the closed beta test for Shadow Arena and G-Star attendees will be able to experience hands-on gameplay next week.
The stream begins at 11 pm ET/ 8 pm PT on November 13 and 4 am GMT/ 1 pm KST on November 14, depending on your time zone, so make sure to tune in then to see the latest trailers.