Assassin's Creed 3 Remastered features improved stealth, overhauled UI and more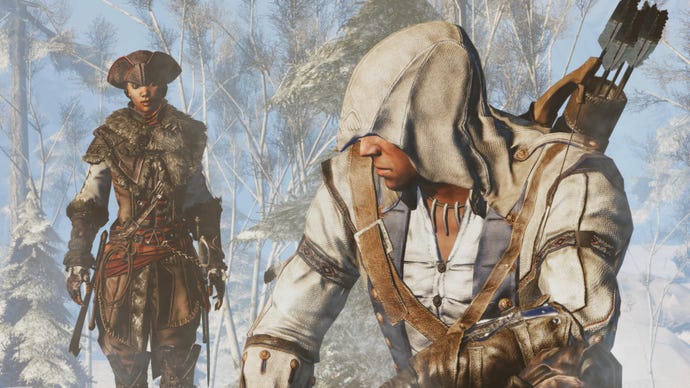 Ubisoft has detailed some of the biggest updates in Assassin's Creed 3 Remastered compared to the original.
Assassin's Creed 3 Remastered will, of course, look better thanks to the implementation of physically based rendering (PBR), upgraded texture resolution, better model quality, as well as better lighting and material properties.
It'll also support 4K, and HDR, but perhaps the more interesting additions have instead been saved for its gameplay. In a blog post, Ubisoft confirmed that the game's UI has been overhauled to meet the standards expected in modern games.
This UI update also includes colourblind options. The remaster's in-game economy has been revamped, too, making it easier to see what you need for upgrades, and crafting.
The biggest change, though, is the upgrade to the game's stealth mechanics. Like in modern Assassin's Creed games, you'll be able to hide in bushes, whistle to call enemies, and even perform double assassinations. This should make the transition easier for players who missed the original game.
As previously announced, Assassin's Creed 3 Remastered is also coming to Switch in May. Ubisoft has made Switch-specific improvements, such as the addition of HD Rumble, touch screen support when navigating the UI, and motion control support when using ranged weapons. The Switch version also comes with a few other UI changes designed to help the game fit both docked, and handheld setups.
Assassin's Creed 3 Remastered is out March 29 on PC, PS4, and Xbox One. It's available standalone, as well as part of Assassin's Creed Odyssey's season pass.