Apple Arcade launches with a strong lineup and one month free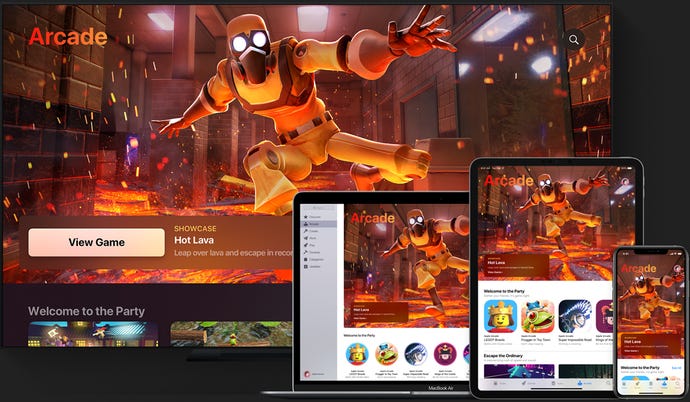 Apple Arcade launches today with over 50 titles and you can get one month free.
Apple has launched it subscription game service, Apple Arcade, and for $4.99 per month you can play over 100 titles ad-free.
If you are on the fence regarding signing up for another subscription service, you can try Apple Arcade for one month free.
The service also offers family sharing for up to six users. You can also start playing on one Apple device and pick up on another and play on or offline.
It's available now on iPhones running iOS 13, and coming soon to iPad, Mac, and Apple TV. You can even use your PS4 and Xbox One controller to play games when running on iOS 13.
The launch includes a large amount of titles developed by studios Capcom, Capybara Games, Devolver Digital, Annapurna, Sega, Konami, Gameloft, Ubisoft, Square Enix, WayForward, Zen Studios, Bandai Namco, usTwo and others.
Apple Arcade launches with over 50 games but you will eventually be able to play over 100. Below is a list of what's available from today.
Apple Arcade launch titles
Agent Intercept
Assemble with Care
Atone: Heart of the Elder Tree
Ballistic Baseball
Battlesky Brigade: Harpooner
Big Time Sports
Bleak Sword
Cat Quest 2
ChuChu Rocket Universe
Cricket Through the Ages
Dead End Job
Dear Reader
Decoherence
Dodo Peak
Don't Bug Me!
Dread Nautical
Exit the Gungeon
Explottens
Hot Lava
Frogger in Toy Town
Grindstone
Jenny LeClue - Detectivu
King's League 2
Kings of the Castle
LEGO Brawls
Lifeslide
Manifold Garden
Mini Roadways
Mutazione
Neo Cab
Oceanhorn 2: Knights of the Lost Realm
Operator 41
Over the Alps
Overland
Pac-Man Party Royale
Patterned
Possessions
Projection: First Light
Punch Planet
Rayman Mini
Red Reign
Rosie's Reality
Sayonara Wild Hearts
Shantae and the Seven Sirens (formerly known as Shantae 5)
Shinsekai Into the Depths
Skate City
Sneaky Sasquatch
Sociable Soccer
Sonic Racing
Spaceland
Speed Demons
Spek
Spelldrifter
Stellar Commanders
Super Impossible Road
Tangle Tower
The Enchanted World
The Pinball Wizard
Things that Go Bump
Tint
Towaga: Among Shadows
Various Daylife
Way of the Turtle
What the Golf?
Where Cards Fall
Word Laces