Animal Crossing: New Horizons cherry blossom season | Full recipes list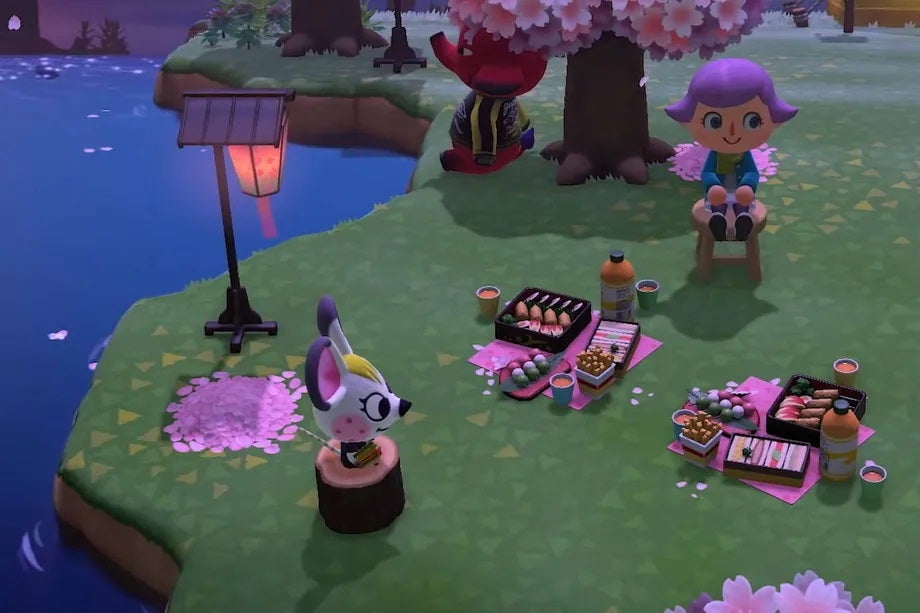 It's April 1st, and if you're already tired of dodging April Fool's pranks, here's something wholesome to focus on instead: Cherry Blossom Season is back in Animal Crossing: New Horizons!
From today until April 10th (which also happens to be the date of this year's Spring Fishing Tourney, just FYI...) you can catch cherry blossom petals as they waft by gently on the island breezes. During this ten-day period, you can also collect 14 cherry blossom themed DIY recipes to help you get in the mood for spring.
These dates apply to the northern hemisphere only. Players in the southern hemisphere will get their chance to admire the cherry blossoms from October 1st-10th instead.
How to catch cherry blossoms in Animal Crossing: New Horizons
If you've been playing Animal Crossing: New Horizons for a while, you'll probably be familiar with airborne crafting ingredients. Over the past few months we've seen maple leaves, snowflakes, and feathers dancing past on the breeze.
And now, with the game's one-year anniversary just behind us, we've come full circle and are seeing the return of cherry blossom petals.
Every fruitless hardwood tree on your island (including money trees) will sport gorgeous pink petals instead of leaves throughout Cherry Blossom Season. However, you won't actually be able to collect the blossoms from these trees themselves. Instead, you'll be catching the ones that have "fallen" — a.k.a. spawned randomly to float around in the air.
You catch cherry blossoms just like you would flying bugs. Should you happen to spy a delicate pink petal drifting past, don't hesitate to pull out your net and start swinging.
Cherry blossom petals aren't super rare in ACNH, but neither are they overly common. Couple that with the fact that they're only available for an incredibly short ten-day period out of the whole year, and it's really worth trying to catch every single one you see.
How to get cherry blossom DIY recipes in Animal Crossing: New Horizons
You'll receive your first cherry blossom recipe — for the Outdoor Picnic Set — from Isabelle during her morning announcements.
She won't hand this over on days when she has other news to impart (such as villagers' birthdays, building upgrades, etc.) so you might not get it the first time you play during Cherry Blossom Season. But unless you have a terribly busy island, you'll get it eventually if you check back every day.
The remaining 13 can only be obtained by popping balloons with your slingshot.
For the ten-day duration of Cherry Blossom Season, any balloon present that spawns on your island (with the exception of special Bunny Day balloons — this year there will be a four-day crossover between the two events) has a chance to contain a cherry-blossom crafting recipe.
Unfortunately, there's really no way to ensure you get the full set other than to grind a bit. Not every balloon will contain a recipe, and with only one spawning every five minutes, you'll be spending a lot of time running around looking at the sky if you want to get your hands on all of them in just ten days.
All cherry blossom recipes in Animal Crossing: New Horizons — Cherry-Blossom Wand, Blossom-Viewing Lantern, and more
| Recipe Name | Item type | How to obtain... | Crafting ingredients |
| --- | --- | --- | --- |
| Blossom-Viewing Lantern | Furniture | From balloon presents | 6x Cherry-Blossom Petal 4x Hardwood |
| Cherry-Blossom Bonsai | Furniture | From balloon presents | 6x Cherry-Blossom Petal 3x Clay 3x Clump of Weeds 2x Hardwood |
| Cherry-Blossom Branches | Furniture | From balloon presents | 8x Cherry-Blossom Petal 5x Clay 4x Tree Branch |
| Cherry-Blossom Clock | Furniture | From balloon presents | 5x Cherry-Blossom Petal 1x Iron Nugget |
| Cherry-Blossom Flooring | Flooring | From balloon presents | 10x Cherry-Blossom Petal 20x Clump of Weeds |
| Cherry-Blossom Pochette | Clothing — Bag | From balloon presents | 6x Cherry-Blossom Petal |
| Cherry-Blossom Pond Stone | Furniture | From balloon presents | 3x Cherry-Blossom Petal 10x Stone |
| Cherry-Blossom Umbrella | Clothing — Umbrella | From balloon presents | 7x Cherry-Blossom Petal |
| Cherry-Blossom Wand | Wand | From balloon presents | 3x Cherry-Blossom Petal 3x Star Fragment |
| Cherry-Blossom-Petal Pile | Furniture | From balloon presents | 5x Cherry-Blossom Petal |
| Cherry-Blossom-Trees Wall | Wallpaper | From balloon presents | 10x Cherry-Blossom Petal 5x Hardwood |
| Outdoor Picnic Set | Furniture | Given by Isabelle during morning announcement From popping balloon presents | 10x Cherry-Blossom Petal |
| Sakura-Wood Flooring | Flooring | From balloon presents | 5x Cherry-Blossom Petal 10x Wood |
| Sakura-Wood Wall | Wallpaper | From balloon presents | 5x Cherry-Blossom Petal 10x Wood |