Animal Crossing: New Horizons - How to get gold nuggets and craft Golden tools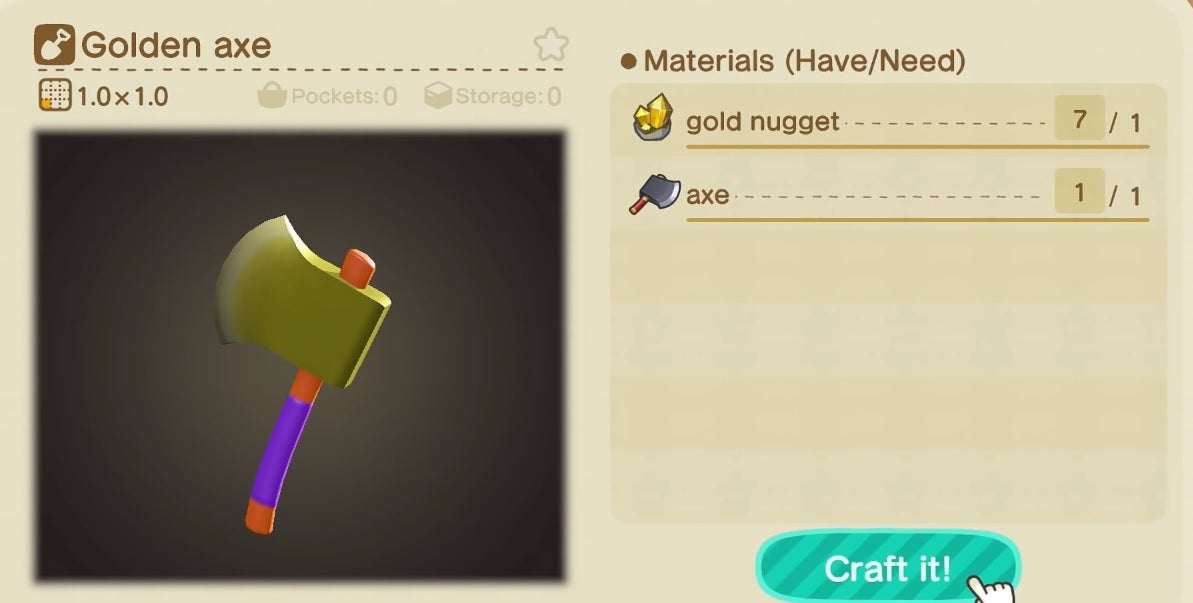 Sick of your equipment falling to pieces in Animal Crossing: New Horizons? Here's how to find gold nuggets to make almost unbreakable golden tools.
Most of the gear you craft in Animal Crossing: New Horizons has a set shelf life, but if you manage to find enough golden nuggets on your island and beyond, you'll be able to craft golden tools which last for a much, much longer time. Don't waste this gilt edged chance to gather precious resources!
Regular tools break after just a few uses, but some golden tools are good for hundreds of swings.
However, let's get one thing straight: gold nuggets are a rare item in Animal Crossing: New Horizons, so don't expect to find them in abundance. If you get one early on, store it away in your house for a later date. You can sell these nuggets for around 10,000 Bells if you so wish, but if you hold on to it, you can use it to create incredibly durable tools (as well as interesting furniture).
Despite their glittering, aurelian appearance, these golden tools will eventually break. But they're as close to unbreakable as you can get - like finally getting a diamond pickaxe in Minecraft. In this guide, we'll take a look at how to get said gold nuggets, as well as the steps needed to create unbreakable golden tools.
Animal Crossing: New Horizons - How to get gold nuggets
Gold nuggets spawn randomly from hitting rocks on your island, or from rocks on Nook Miles Ticket islands.
Doing things the traditional way will probably only net you a couple of nuggets (if that) a week.
Your best chance of finding a gold nugget is by eating 10 pieces of fruit to power up your villager and destroying a rock. While this means you sacrifice the chance at other items - like iron nuggets, stone or clay - there's a better chance you'll get your hands on a gold nugget.
If you've already got pockets full of iron, clay, and don't even get us started on Bunny Day Eggs, then consider smashing the rocks. This works particularly well on Nook Miles Ticket islands.
Animal Crossing: New Horizons - How to craft near unbreakable Golden tools
After finding a gold nugget, there are a few other steps you'll need to go through to get specific items, such as the Golden Axe.
To get the Golden Axe you'll need to break 100 regular or flimsy axes. Build a bunch of them and hit every tree and rock you can find until you break 100. You can track how many you've previously crafted in your Nook Miles Achievement record from your phone.
Eventually, your character will come up with the recipe for a Golden Axe. You'll need a gold nugget and a regular axe in order to craft it.
To get gold versions of other tools, it's a bit more time consuming and difficult. Basically, you'll need to fill up your museum by:
Golden fishing rod: Complete the Fish Critterpedia
Golden bug net: Complete the Bug Critterpedia
Golden watering can: Earn a five-star island rating
Golden shovel: Help Gulliver 30 times
Golden Slingshot: Shoot down 300 Balloons
If you're just getting started with Animal Crossing, you can check out our guides on how Nook Miles and Nook Miles Tickets work, how to earn lots of bells fast, how to climb up ledges by crafting a ladder, how to get all of the shops, move buildings and more and increase your inventory space.
We've also got detailed guides on how to sell turnips to play the stock market, how to get iron nuggets, clay, stone and wood and how to earn thousands of bells from catching creepy tarantulas.