Animal Crossing: New Horizons Festivale | Everything we know about Festivale, feathers, and more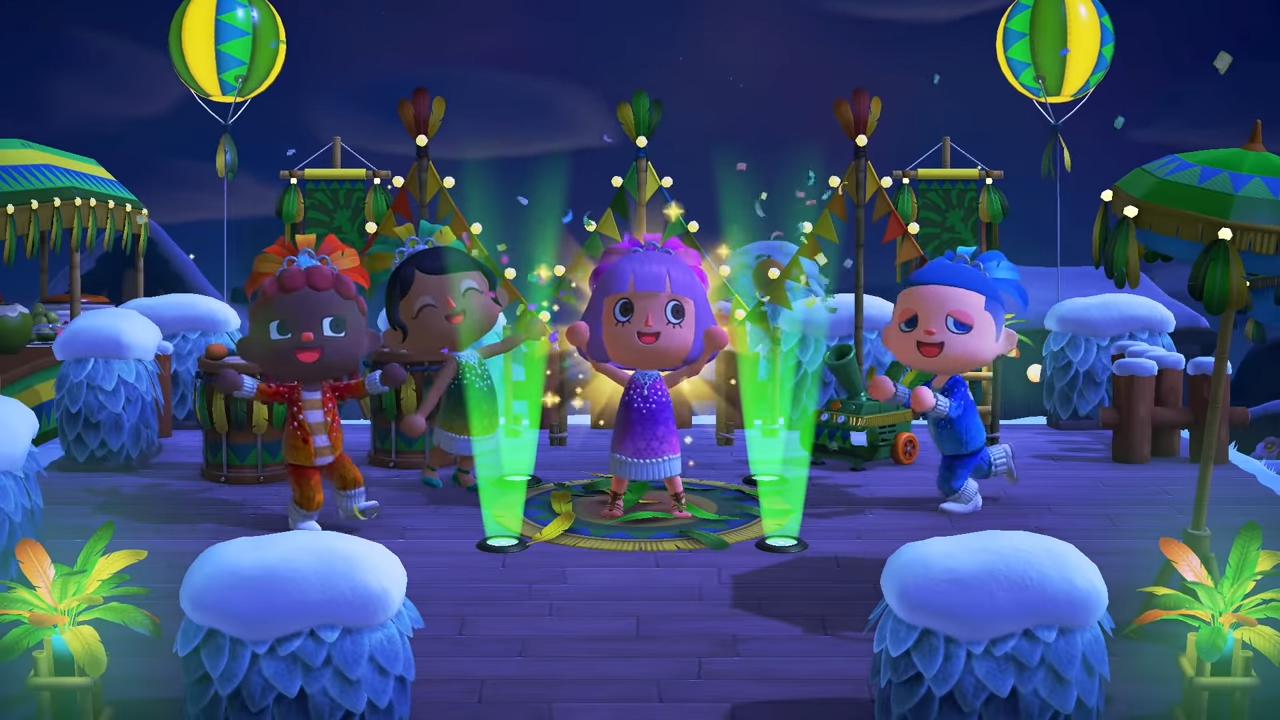 Festivale is a returning event in Animal Crossing: New Horizons, having previously been celebrated in City Folk and New Leaf.
It's also likely to be the last special event in ACNH's first year before we're back to Bunny Day and Cherry Blossom Season in early April. There have been indications that further substantive content updates are planned due to the game's success, but if you've been playing from the start, Festivale is still pretty symbolic of Year One rapidly drawing to a close.
Festivale would usually fall in the Spring in the northern hemisphere, which in Animal Crossing world officially starts somewhere between the 18th and the 25th of February. However, the real-world calendar is a factor here, and Festivale takes place the day before Shrove Tuesday (that's Pancake Day to us Brits) — so this year, the big in-game day is February 15th.
However, chilly temperatures shouldn't be an issue, as in Animal Crossing games the day of Festivale comes with a magical guarantee of clement weather — no snow or rain in sight.
Read on for everything you need to know about Festivale, feathers, and returning NPC Pavé the Peacock in ACNH:
What is Festivale in Animal Crossing: New Horizons? Who is Pavé?
Festivale is inspired by real-world celebrations like Carnival and Mardis Gras. Described by Nintendo as "all-day festival of color, costumes and craziness!", Festivale is an opportunity for you and your animal friends to have some fun and celebrate the imminent turning of the seasons.
Past Animal Crossing titles have included candy exchanges and a variety of games during Festivale, but in New Horizons the order of the day is all about collecting feathers. You'll then give them to Pavé in exchange for Festivale-related goodies.
In case you haven't had the pleasure in the past, Pavé is a flamboyant and exuberant peacock who sets up in the plaza on the day of Festivale. Much like Zipper on Bunny Day or Franklin on Turkey Day, he's there to exchange your seasonal collectables for unique rewards like furniture and recipes.
What are feathers for in Animal Crossing: New Horizons and where do I get them?
Feathers in Animal Crossing: New Horizons are a crafting resource. Like many other seasonal resources in the game — including snowflakes, maple leaves, and cherry blossoms — they are found floating through the air during a limited number of days. They can then be caught with the net.
There are five colours of feathers in ACNH:
Blue
Green
Red
Purple
Rainbow
In addition to their value when trading with Pavé, feathers are required if you want to customise the new Festivale-themed furniture set. More on that below.
How to collect feathers: catching, crafting, and trading
There are three ways of getting the feathers you need during Festivale:
Catch them with your net
Craft rainbow feathers at a crafting table
Trade with your villagers for them
Feathers will appear on your island from 5a.m. on February 15th, and stick around until Festivale ends at 4:59a.m. the following day. You can see them floating through the air, and they also make a distinctive booping sound when there's one nearby.
The sound gets louder the closer you get, so run around a bit to locate them if you can hear but not see them. They also don't seem to de-spawn as quickly as snowflakes or maple leaves, even if you fail to catch them on the first swing of the net.
Blue, green, red, and purple feathers are quite common, and you'll usually collect a few of each just running around your island for a little while. Rainbow feathers can also be caught, but they're extremely uncommon — I only saw two in 90 minutes — and your character reacts to catching one the way they would if they'd caught an ultra-rare bug or fish.
A much more reliable way to get rainbow feathers is to craft them. Talk to Pavé for the first time and he'll give you the DIY recipe for a rainbow feather. You need one of each of the common feather colours to make one rainbow feather.
In addition, talk to your animal neighbours and they will offer to trade you for the feathers you catch. Each villager has a common colour of feather they're specifically on the look-out for — not-so-subtly hinted at by the colour of the Festivale outfit they've donned for the day. They'll randomly trade you any of the other three common colours for the feathers they want.
A couple of words of warning regarding trades. Villagers will only trade for feathers as they're stacked in your inventory. Common feathers of the same colour stack in threes, so if you only want to trade a single feather with your villager, you'll need to go into your inventory and separate out the stack before talking to them. Otherwise you'll have to call off the deal.
Villagers disappointed in this way won't hold a grudge, though. They will happily agree to another trade if you approach them again, but it can take a few tries to get them to propose the colour trade-off you're looking for.
The second point to bear in mind is that not every trade a villager proposes will be in your favour. It's not much use trading your sole remaining green feather for a blue feather if you need the green as much or more.
If you're someone who can't bear to deny your sweet little animal friends anything they ask for, it's probably best to hold off on trading feathers until you're approaching the end of the event, when your needs will be more specific.
What to do with the feathers you collect: how to get the Festivale float
Pavé feels about feathers the way Flick does about bugs. To call it an "obsession" would be an understatement. If there are feathers in your inventory, he won't be able to talk about anything else.
Like most special NPCs, Pavé is incredibly eager to trade what you've collected for his unique event swag. There are a couple of trades he's willing to make:
Three feathers of any common colour: Pavé will give you a piece of Festivale furniture in this colour.
One rainbow feather: Pavé will give you a piece of Festivale furniture from the rainbow colour set.
If you have one or more rainbow feathers in your inventory, Pavé will ignore any other colours and ask to trade for those. If you want to keep a few rainbow feathers back for DIY customisation, consider depositing them somewhere before talking to Pavé. However, if you flatly refuse to trade a rainbow feather with Pavé, he will reluctantly accept your three common feathers instead.
To get every piece of Festivale furniture, you need to trade feathers with Pavé ten times.
The first nine times, Pavé will randomly give you one of the nine Festivale furniture items available from Nook's Cranny (see below for the full list).
After you've delivered that ninth bundle of feathers, Pavé will offer you something special. This time, he wants three rainbow feathers. In exchange, he'll promise you the unique Festivale float item. This item never appeared in Nook's Cranny, so the only way to get it is from Pavé.
Since crafting multiple rainbow feathers is more resource-intensive than the rest of the event, now is a good time to consider trading with your animals. If you've accumulated excess feathers in a particular colour, look for a villager wearing that colour and trade with them for any colours you're short on.
Return to Pavé with three rainbow feathers and he'll give you the Festivale float (as well as performing a special dance animation as a grand finale). Interacting with the float causes it to light up, dance around, and play the Festivale theme music — it really is one-of-a-kind.
Once you've got the Festivale float you've seen everything the event has to offer. However, Pavé will continue to trade feathers for repeat items until the island resets at 5a.m. and ends the event.
What special clothing, furniture, and reactions can I buy ahead of Festivale?
Starting on February 1st, you can buy Festivale-related clothing and furniture from the Able Sisters' tailor shop and Nook's Cranny, respectively.
These items will be available until February 15th, when they'll go away until next Festivale. They'll also be available in rotation meaning not everything will be for sale every day, so if you see something you particularly like it's worth buying straight away.
Festivale furniture items will be displayed on the seasonal items stand in Nook's Cranny. After making your first purchase from this set, the Nooklings will direct you to look in the cabinet, where a new Festivale Reactions set is on sale. (You don't need to buy any furniture to get the reactions, however; just look in the cabinet and they should be there already. It's just the Nooklings trying to upsell.)
The set costs a hefty 19,800 Bells for four reactions (Feelin' It, Let's Go, Viva, and Confetti) but they are great fun — and let's face it, if you've been playing ACNH for any amount of time since launch, you can pretty definitely afford it. Performing these reactions in front of special NPCs such as the Nooklings or Blathers will cause them to react in some cute and funny ways, so it's well worth the cost.
Festivale furniture
There are nine items of Festivale furniture available to buy. They are:
| Item Name | Cost in Bells |
| --- | --- |
| Festivale Flag | 1,300 |
| Festivale Lamp | 1,500 |
| Festivale Drum | 2,100 |
| Festivale Parasol | 2,500 |
| Festivale Stall | 3,000 |
| Festivale Balloon Lamp | 4,000 |
| Festivale Garland | 4,000 |
| Festivale Confetti Machine | 5,000 |
| Festivale Stage | 6,000 |
With only one on sale per day and only 15 days in which to buy them, you can probably work out that some of these will only be in Nook's Cranny once. However, these are the same items Pavé gives out on the day of Festivale, so there's no need to worry about buying them all from the Nooklings.
Furniture items come in four colours as default — blue, green, red, or purple — and can be customised to change their colour. There's also a rainbow colour scheme that can only be applied through customisation. Like other seasonal furniture sets, however, you won't be using customisation kits — instead, you'll need multiple rainbow feathers for each item you want to customise.
Incidentally, it seems like the Festivale furniture for sale in your island's version of Nook's Cranny will be all one default colour — mine are always blue, but I've seen other players with all red items, for example.
Festivale clothing
There are three Festivale inspired items of clothing on sale at the Able Sisters'. They are:
| Item Name | Cost in Bells |
| --- | --- |
| Festivale Accessory | 2,240 |
| Festivale Costume | 2,600 |
| Festivale Tank Dress | 2,600 |
Clothing items come in four colours — blue, green, red, or purple — and all four variants should be available to buy whenever each item is on sale. With no way to customise existing clothing, there doesn't seem to be a rainbow variant like there is with the furniture.
Generally the Able Sisters will stock one or two out of the three every day, so unlike with the furniture, it's not time-intensive to collect the full set if you want to.
If you're looking for more on Animal Crossing: New Horizons, check out our guide to our favourite Dream Islands you can visit right now.
Or if you're looking for funds to pay for all those pricey Festivale items, read our guide on selling Turnips and playing the Stalk Market.