A Way Out: can you play single-player, how does the free trial work, and how many endings are there?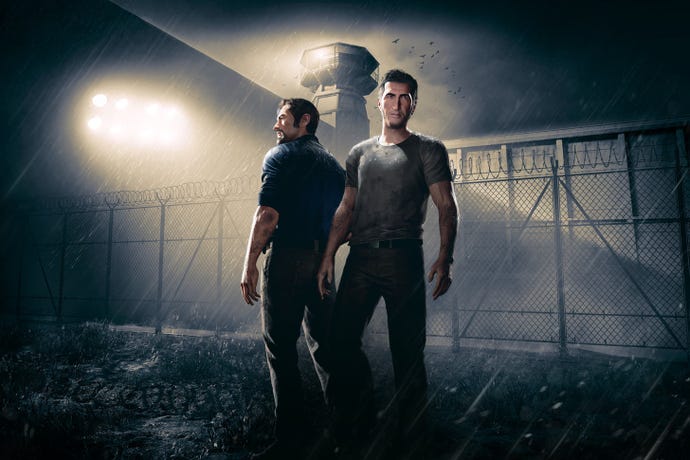 A Way Out is the new co-op game from Hazelight Studios, and focuses on two prisoners attempting to break out of prison.

The game is released this week and critics reviews for the game are encouraging. There is some confusion as to how it works as this type of co-op game has been rarely seen before, so we're going to help clear up the most asked questions.
Can you play A Way Out single-player?
No, you can't. A Way Out is designed as a two-player experience that requires two controllers. You can play with another person in couch co-op or online co-op.
The only way to play A Way Out as a single-player is to use two controllers. That's not as a daft as it sounds to begin with - certainly, the open sequence and first major event is playable on your own with two controllers, but soon after it becomes unmanageable. In short, you need to get a friend.
How does A Way Out friend pass free trial work?
Only one player needs to buy the full version of A Way Out. That player can then invite another player to play for free. The second player will need to download the free trial and then both can play the game together.
Firstly, Player One with the game chooses the Play Online option, and then the option to Invite A Friend.
Player One can now choose a friend from their friends list on Origin, PS4 or Xbox One.
This prompts Player Two to download the A Way Out Free Trial from the Origin, PS4 or Xbox One online store.
Once the Free Trial has downloaded, both players can play through the whole game together.
If you only have the Free Trial you cannot invite yourself to someone else's game. The Free Trial doesn't work unless you are invited by another player and you will just see the message "Ask a friend with the full version of A Way Out to invite you, or buy the full version."
How does the Save system work in A Way Out?
The player who owns the game can invite a player with the Free Trial to join in any of the chapters he or she has unlocked. So if you want to invite someone to Chapter 3 you can, without them having played through the previous chapters. This also means you can play to a certain point with one player, play further with another player, and then go back to the earlier point with the first player and pick up where you left off. You cannot play a chapter unless the owner of the full game has reached that section.
Chapters in A Way Out are usually short, so saving progress happens often, allowing you to dip in and out with different players as required.
Is there matchmaking in A Way Out?
At the moment you can only play A Way Out with friends. There is no matchmaking for A Way Out.
Is there a secret ending in A Way Out?
There are two endings in A Way Out, each geared towards one of the two main characters and players. The ending you get depends on the actions you choose during the final chapter of the game, Conflict. As this happens right at the end of the game, if you want to see both endings you can just reload your most recent save. There is no third ending for A Way Out.