3D Motorstorm Pacific Rift track pack hitting Wednesday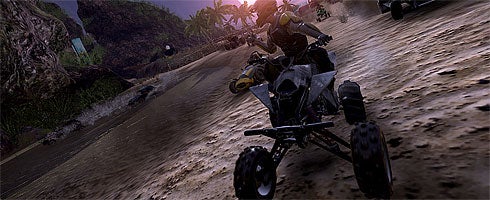 MotorStorm 3D Rift, a pack of ten 3D tracks for the last Motorstorm title, will be released via PSN next week.
"MotorStorm 3D Rift lets you experience 10 MotorStorm Pacific Rift tracks in stunning 3D and features a selection of festival-favourite off-road vehicles: Bikes, Buggies, Racing Trucks and Monster Trucks – the latter being my personal weapon of choice when racing across the dangerously unpredictable jungles, beaches, waterfalls and volcanic wastelands served up by this particular tropical island," said Evolution's Simon Benson, speaking on the EU PS Blog.
The pack includes ten events - one for each track - and features the full range of competitor difficulty levels through the races.
See it as a precursor to the fully 3D MotorStorm Apocalypse, which releases next year.
It'll cost £9.99 or €12.99. It's out on Wednesday, August 25.