Destiny 2 Solstice of Heroes launches on August 11
The Destiny 2 Solstice of Heroes event is due to kick off next Tuesday, August 11, and will run until September 8.

Destiny 2 Solstice of Heroes is returning as the next event in the Season of Arrivals series, which was originally supposed to run until September 22, but has since been extended to November 10 due to COVID-related delays.
You can check out the official Destiny 2 Solstice of Heroes trailer below, which manages to pack a whole lot of chaos into a relatively short clip.
We're four seconds in and somebody's already rocking neon dumbbells. Now that's a way to get people off their arse and exercising.
To be honest, the trailer as a whole is a wonderful mix of space people dancing in impractical armor while other lads launch fireballs at one another in a field. This is Destiny 2 Solstice of Heroes.
For those who aren't quite sure what to expect, Solstice of Heroes is a free event that will run from August 11 until September 8. Details about the event were recently explained in an official Bungie press release.
"Eva Levante returns to the Tower to encourage Guardians to gather and celebrate the resilience of humanity's foremost defenders," it reads. "All Guardians who finish Eva's quest, 'The Solstice Begins,' will unlock a free Solstice of Heroes music track, which they can claim by logging into their Bungie Rewards account online."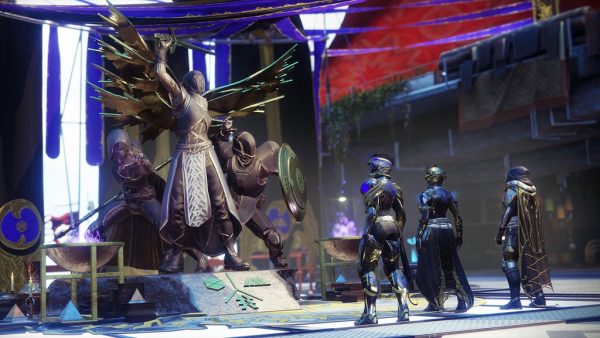 The press release mentions that the European Aerial Zone is returning alongside the Solstice of Heroes, which will allow Guardians to challenge Hive, Cabal, and the Fallen. Defeating these baddies will give you a chance of netting some special Solstice of Heroes armor.
You can also get some decent gear by unlocking Solstice Packages, for which you'll need to collect Solstice Key Fragments.
For those looking to download the next series, Destiny 2: Beyond Light, you can now pre-order it on Xbox One, PC, PS4, and Google Stadia.
The press release also confirms that Destiny 2 will be coming to PS5 and Xbox Series X. If you already own it for Xbox One or PS4, you'll get your next-gen upgrade for free.
Destiny 2 Solstice of Heroes launches on August 11 and will run until September 8.