Zombie Army 4 interview: expanding the Dead War on all fronts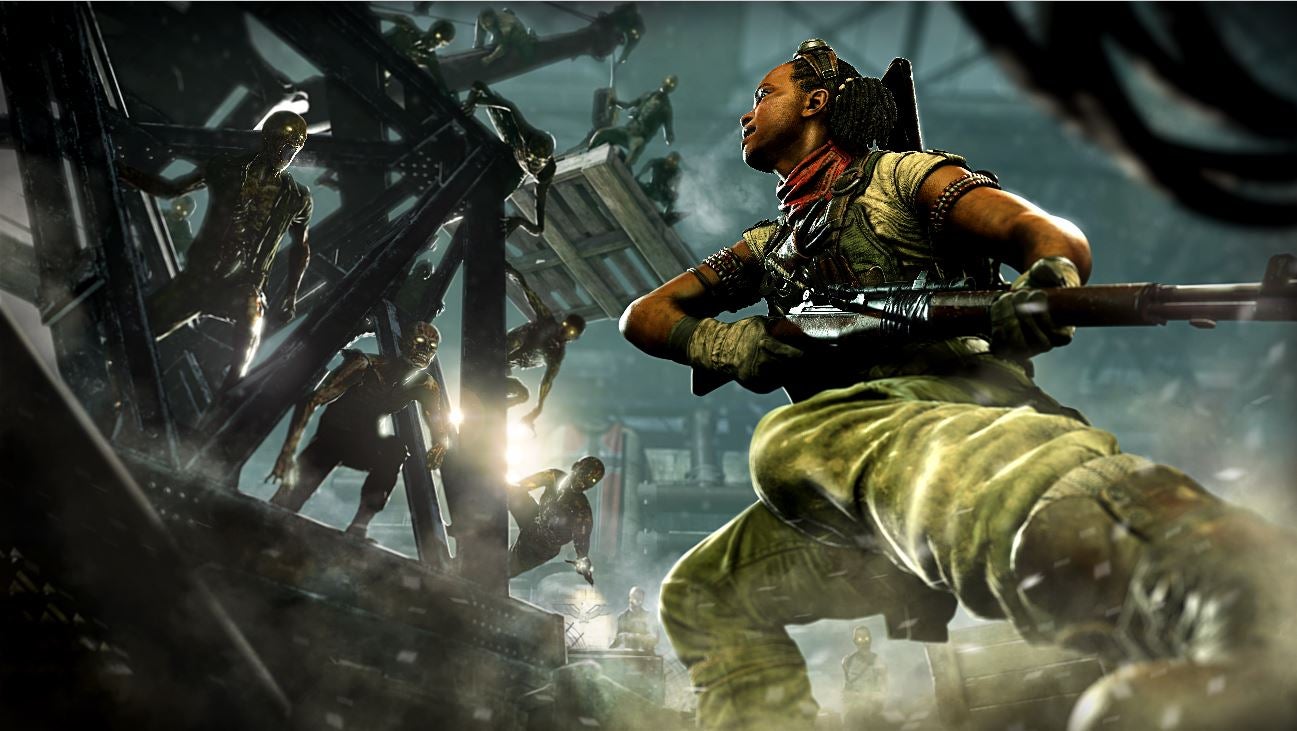 Transforming a spin-off into its own franchise is a tough job. How do you turn a starter into a main course, turn slaughter into wine? Turns out it's all about the feta… erm, meta.
With Zombie Army 4, Rebellion is solving this problem by expanding its Dead War on all fronts, packing in not just more zombie-pounding action, but new systems, modes, and terrifyingly powerful members of Hitler's Nazi zombie legion.
"One of the first things we wanted to expand on was the metagame," lead designer Ryan Baker explains. "Well, not expand, but add in, because there wasn't really anything in the previous games.
"I think that's one of the big areas that makes [Zombie Army 4] stand out as its own big game, and stepped away from being just a spin-off of the Sniper Elite series."
This time around, as you battle through infected Europe you'll have 100 ranks of unlocks to progress through, giving you a near-constant supply of deadly toys to play with, upgrades to deploy, and perks to build out your characters with.
"Having the ranking system allows us to stagger the progress of your character so that it doesn't get stale," Baker says. "Just as you've gotten used to using your Machete Swipe attack, you'll unlock the Electric Punch which changes the way you play, then you'll unlock the Divine Impact which again gives you a whole new style of play.
"There are several things drip-fed throughout a large amount of gameplay, so you'll need multiple playthroughs to get all of those unlocks, so you can keep playing and finding new ways to do things."
The lurking spectre with progressive systems like this though is grind. It's all well and good to unlock the best zombie-busting equipment as your knowledge and familiarity grows, but that's not a lot of consolation when reanimated nightmares have their teeth clamped around your neck right now.
Thankfully, this is at the forefront of Rebellion's design, so you're not going to be slogging for hours on end just to access some new shoelaces for your combat boots.
"We try and keep the ranks coming fairly frequently - especially early on," Baker tells me. "We want people to rank up every safe room or so. Each rank will unlock something different, and that's how we keep things interesting for the player so it doesn't feel too grindy. One rank you'll get a weapon upgrade which lets you add the explosive attachment to your weapon, then the next rank you might get a new perk.
"Then you've got cosmetics that unlock, or something like a new perk slot which gives a bunch of options to mix up what your character is. All these little things staggered out through ranking hopefully means it'll stay interesting for people. They're not thinking, 'Oh, it's another one point I can spend,' it's something a little bit different each time."
The boons you unlock aren't always static once they reach your inventory either. Perks come in Bronze, Silver, and Gold varieties. You pick up Bronze abilities from XP progression, then have to complete gameplay challenges - like killing special enemies types in a particular way - to reach the higher tiers. These can be things like shooting an occult-weiding Officer - who uses magic to summon powerful attacks - five times through the heart.
Zombie Army 4 also builds on the characterisation of your crack team of Resistance fighters, who kept mostly schtum throughout the original trilogy. Between Zombie Army Trilogy and 4, the Resistance has been moving around Europe in clean-up crews, taking out the remaining undead after the events of the last game. Early on in the story, the zombies start to become more organised again, and things only get worse from there. It's a bit like Black Friday on the high street.
Outside of cutscenes your characters emote and comment on the action, as well as revealing tidbits of info about your surroundings in conversations with each other. As you play with different combinations of characters, you'll hear different lines and stories, and more people will chime in depending on your party size. It's another small incentive to work back through the game's lengthy campaign, and further builds Zombie Army's style as its own entity.
"It's closer in length to the whole trilogy," Baker estimates. "We've got a large campaign, and each campaign level is made up of multiple sections as well. If you're playing solo it can take a bit longer because you have to plan more carefully with no one there to help revive you.
"Added in with all our ranking system and upgrades, there's a huge amount replayability and things for you to unlock. So size-wise, it's at least matching Zombie Army Trilogy - it's a lot of content."
On top of the campaign, you can also thin out the Zombie Army further in Horde mode, which takes inspiration from the best in the business.
"With the Horde, once you reach a certain point you can decide to escape or keep on going until eventually you die - which will probably happen at some point," Baker laughs. "You can still use your perks and special melee attacks, but you can't choose your weapon - you get given a random pistol when you start. You're on the back foot from the very beginning.
"The map will always be the same and it'll open at the same times, but the enemies that you get there, the encounters, and the items that you get are random. And our spawn manager doesn't always spawn things in the same place either. So depending on where you and other players are, it'll mix things up that way too."
Any XP that you earn in Horde feeds into the same unlock system as the campaign, and vice-versa, so you're not siloed into playing one mode or the other, and are always making progress towards your next goal.
There's a lot going for Zombie Army 4, and Rebellion is already looking towards the future, with additional DLC planned post-launch, along with free updates for Horde.
"We're looking at various different post release content," Baker says. "So we'll have new campaign levels, new characters, new character outfits, new weapon packs, that sort of thing.
"For the Horde, we'll be releasing free maps every now and then so there will be new areas for people to explore and replay many times hopefully. We just want to keep giving to the players, keep people coming back, enjoying the game, and finding new ways to kill the enemies."
Zombie Army 4: Dead War releases on February 4, 2020 on PS4, Xbox One, and PC via the Epic Games Store.
For more, here are our initial impressions from fighting zombie tanks, popping heads, and slaying hordes in Zombie Army 4.