The best games on Wii U
It's a-me, Wii U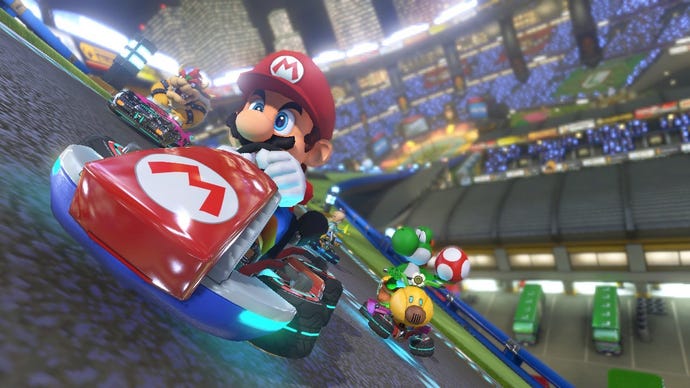 Mario Kart 8 is out today and you just bought a Wii U for it, where do you go from there? Dave Cook runs down the cream of Nintendo's current-gen crop with some thoughts on new games coming down the line.
It's quite easy to poke fun at Wii U and call it a joke of a machine. It's also quite lazy.
Sure, you'd have to be nuts to say that Nintendo hasn't suffered a wobble while transitioning into the current generation but the fact is that the Japanese giant is trying to get back on course, and there's actually a suite of solid Wii U games out there if you care to look.
---
Mario Kart 8
As I said in my Mario Kart 8 review, the latest Nintendo racer is an absolute delight to play and it's comfortably the most visually pleasing first-party title on the hardware. Do you recall days spent racing your pals on Mario Kart 64's local multiplayer? Those days are back again, seriously.
Except now the racer benefits from exemplary track design, that utterly impeccable handling that Nintendo has made its own and now, online multiplayer for the masses. This is absolutely the best reason to invest in a Wii U console today, and judging by the noise among our community today, we're guessing a lot of you have bought one for this game. We hope you wont be disappointed.
---
Super Mario 3D World
'Oh great. Another Mario game.'
You know, I see people saying this all the time online and I really don't get it. Yeah, Mario games all share a similar aesthetic to the point that they look the same, but you could say that about Call of Duty too. I'm a big fan of those shooters, and although they look similar, they absolutely do handle differently if you dig into the nuances.
But Super Mario 3D World is a superb title. The reason there are so few 3D platformers out there today is because Nintendo still does it best. They're near untouchable. The point is that every single level in this game - and there's like a million or something - has a new mechanic that is unique to that stage and is rarely repeated again. That's a monumental effort, and it makes for a truly fresh and fun experience. Get on it, seriously.
---
The Wonderful 101
When I reviewed this at launch, I asked if it was a pretty waste on Wii U. The point was that the console's audience was really small at the time, and that was a shame because Platinum's action game deserves to be played by many, many people. A lot of readers misinterpreted that as Nintendo-bashing. It wasn't. At all.
I often describe this game as Bayonetta, but if your weapons were made up of a hundred little super heroes. It's a bizarre game that sees every day citizens teaming together to defeat an army of giant alien robots by linking up to form colossal swords, pistols and other weapons. It's big, loud and hilarious fun that sees whole sections of its city setting levelled during megaton battles. Above all, it's a unique premise and a new IP. It just feels fresh, you know?
---
ZombiU
During my ZombiU review I kept on comparing it to Dark Souls, but purely because it really does play like a first-person rendition of From Software's opus in a survival horror setting. They share many common threads such as their brutal difficulty, a lack of blatant signposting, savage enemies, and a respawn system similar to Dark Souls bonfires.
It's a great stab at the whole zombie apocalypse fantasy, as you scavenge for weapons and supplies, while exploring dark areas as quietly as possible for fear of rupturing the horde. Also, cracking undead skulls with a cricket bat never really gets old. If anyone tells you the Wii U is for infants, prove them wrong by showing them this game. Then let them play it and watch as they die miserable.
---
The Legend of Zelda: The Wind Waker HD
Yep, it's a re-master, but if you haven't played this game before then you really should. Although the GameCube original was met with disdain from some gamers at its initial reveal - partly due to its revamped art style - critics heaped massive praise on Wind Waker back in the day, and they did so again when the HD version launched. That proves it's a game capable of withstanding the test of time.
Those kind of experiences don't come around every day, and in Wind Waker, not only have you got one of the most charming and vibrant games of the GameCube era, it's also an incredibly-designed game that keeps up the Zelda tradition of, well, incredibly-designed games. From the sea exploration to that sad little face Link makes - you know the one - this is another Nintendo game that'll leave a lasting impression.
---
Pikmin 3
Hmm. Well, I wasn't too kind to poor Pikmin 3 during my final opinion blog, but that wasn't a sleight against the game itself, just my inability to multi-task in strategy games, because that's what this is at base level. It might sound odd to say, but fans of Command & Conquer and other RTS games will probably enjoy this, no joke.
It's a cracking game that sees a trio of space-faring explorers marooned on a succession of hostile planets teeming with wildlife and funny little creatures called Pikmin. These little tykes can be herded into groups and used to overcome obstacles and battles throughout the lovely world, and there's also an interesting time format that requires a degree of strategy. Victory is hard-fought on later planets but when you succeed, man does it feel good.
---
Donkey Kong Country: Tropical Freeze
This is yet another challenging and varied platformer from Metroid Prime developer Retro Studios that 'apes' (sorry) Rare's classic SNES outings. Essentially, it's another competent Donkey Kong Country game, but this time in glorious HD. It looks superb and brings the sweet tempo of all good classic platformers to the table, with plenty of jumping, enemies to clobber and stage mechanics that put your reflexes to the test.
It can be infuriating to die at the end of a stage only to go back a fair distance - as it was in DK Country Returns on 3DS - but that's just another reason that the Wii U isn't just a console for kids. It can still provide a solid challenge for adults and children alike. Throw in DK and his family of likeable chums, gruelling boss battles and plenty of hidden collectibles and you have another solid entry to the series.
---
Rayman Legends
If Nintendo has the platform genre sewn up with the Mario series, then Ubisoft's Rayman Legends is the closest contender for the crown. It really is a superb modern take on the classic platform genre that brings oodles of cartoon charm and a genuine challenge to the fore. This is no cakewalk - especially if you want to find and unlock everything - but above all of that it's just a bloody good time.
Rayman and his pals are a hilarious, dopey bunch, and the visual style of Ubisoft's UbiArt Framework is just exemplary. There are stages dedicated to musical, almost rhythm-action sprints through medieval castles, a world dedicated to Dia de los Muertos and other wacky settings. Chuck in some light GamePad co-op and other features, and you have yourself a big, bold step into platforming. Hit it up.
---
The GBA collection
I know these are old games but they're brilliant, honestly. Nintendo's slate of Game Boy Advance titles has started coming to Wii U, and this includes some of the finest handheld experiences money can buy. The turn-based brilliance of Advance Wars is a must for all strategy fans, while Mario & Luigi: Superstar Saga is a hilarious RPG that was sort-of ripped off by the still awesome South Park: The Stick of Truth.
Then you've got the twitch mini-game nonsense that is WarioWare Inc. coupled with the haunting isolation and platform ingenuity of Metroid Fusion, followed by SNES classic Yoshi's Island for added nostalgia. Future hits include The Legend of Zelda: The Minish Cap, which is a must-play for fans of Link's top-down adventures. It's a colourful game with expertly-designed dungeons and a neat shrinking mechanic that makes for many ace puzzles. Most of these games demand your attention.
---
New Super Mario Bros. U
This was the big Wii U launch game but it still stands up as a fine Mario game. It's no Super Mario World of course, but what you get is that classic Mario Bros. pace and momentum that comes with deliberately-paced pitfalls and blocks, along with new mechanics every other stage. The bonus here is co-op and PvP modes, which make for fun local play, along with that traditional series charm that never fails to make your heart glow.
What's more, it's a big game with many stages each housing hidden coins and the occasional challenging section that causes you to sit up and pay close attention. If there's one criticism, it's that this feels really easy compared to the original NES games, but if you're looking for something that dispenses solid gameplay without demanding the shirt off your back, then this is the game for you. In a word: 'delightful.'
---
And more to come
Dudes! The Wii U isn't exactly dead, it's just that Nintendo is gathering itself after a shaky start. There's still projects worth getting excited about on the horizon. You've got the new Super Smash Bros. from Sakurai and his team to look forward to, along with Platinum's Bayonetta 2 which I've played and it's honestly looking brilliant without skimping on the harsh difficulty.
Then there's GBA Castlevania game Aria of Sorrow which - yes, is a re-release - but it's widely regarded as one of finest pieces of handheld software ever released. I agree. Then there's Monolith's 'X', which promises to be another stellar RPG from the Xenogears team, Zelda hack-and-slash game Hyrule Warriors from Omega Force, and even that brand-new core Zelda we've heard rumoured for ages now, not to mention the next Mario title.
With E3 2014 looming, Nintendo's pre-show broadcast promises to give us a look at the company's road-map after finding its feet once more. With a little luck, we'll see plenty of new games revealed that we haven't even heard about yet. Plus, where's Metroid? There's has to be a new one in the works by now surely?
Let us know what you're looking forward to from Nintendo below, and we'll add to this list as more games make the cut.
---