What are you playing this weekend?
So long, work.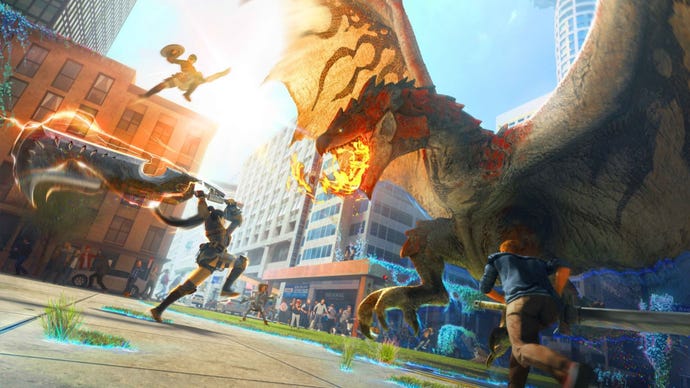 The weekend has come, and it's time to dust work off our shoulders and get down to the business of relaxing.
This weekend, we're fighting monsters, driving really fast, playing an alternative version of ourselves, delivering things in a dangerous world, and more.
Here's what we're getting into:
Dom Peppiatt, Editor-in-Chief – Monster Hunter Now, Monster Hunter Rise
I'm back on my bullshit, sorry. I am currently out at EVE Fanfest (evidence of that here and here) in the wonderful, utopian little city of Reykjavik. When I'm not in a sports hall (yes, really) enjoying the hospitality of CCP Games, I'm wandering around in the freezing sea air, hunting for Anjanath and Rathian to slay in order to bash their bones into my new sword and shield. The game has deeply taken hold of me; I have not played a mobile game quite this ferociously in years. I still have issues with the gating and the time-blocking in it, but hey – when you're playing it casually, it's fine. A real solid implementation of Monster Hunter Now on your phone… what more could you ask for!
Well, you could ask for more. Monster Hunter Rise. I also have my gaming laptop on me, so when I'm not slaying Pukei-Pukei in the streets, I'm battering Nargacuga in the sheets. We all need to unwind a bit after a long day at work, and propped up in a hotel bed harvesting medulla for my high-critical sword and shield… well, it does a great job of helping me unwind.
James Billcliffe, Guides Editor - Death Stranding
Maybe it's the drizzle and chilly nights rolling in, maybe it's the endless wait for the MGS 3 Remake that I want more than anything in the world, but in the last week or so I've had fresh impetus to go back and finally finish Death Stranding.
It's as stylish, incomprehensible, and meditative as it always was, but I can't help thinking that its massive clunkiness gets a pass simply because of our collective love for Kojima-directed games. The way that you chug around and slide off of objects during the more cinematic sections toward the climax of the game is definitely not intentional - and I think that proves it's not wholly intentional in the rest of the game either.
But at the risk of sounding too negative, there's an undeniable bravery in some of the interesting things it tries to do mechanically. It's a game I really like, even if the performances sound like the actors are reading aloud in English class.
Jim Trinca, Video Producer - The Crew Motorfest
It's easy to dismiss The Crew Motorfest, as I did upon its unveiling, as a bit of a soulless Forza Horizon clone. All the bits are there: the glossy Instagram-fresh presentation, the optimistic sunshine, the infinite-budget "motoring festival" that takes over an entire territory for an indefinite amount of time... somehow? It couldn't be more Forza Horizon if it tried. And it's trying very hard indeed.
But wait. Hold the bus. Er, car. Because, as it turns out, we were all incredibly hasty: The Crew Motorfest isn't remotely soulless, nor is it a clone. Sure, it takes some obvious inspiration from Horizon, but in many ways, it actually improves on the formula: its racing events are divided into groups of themed races called "playlists". They're usually centred around a particular style of vehicle, a type of race, or some niche facet of car culture. One particular playlist is the Hawaii Scenic Tour, which leverages the game's real-world location in a sort of high-octane version of one of those open-top tour buses. Except you're driving a bunch of supercars and competing against all the other tourists. It really takes the brilliant digital tourism aspect of Forza Horizon to a new level, showcasing the incredible world detail on offer, and also, crucially, providing some much-needed direction for the player.
See, although it's not like Forza Horizon (the later games in particular) is lacking in things to do, but it often feels a little overwhelming. It's one of those open-world games that has a real "Well, what now?" drag factor that sets in after the opening few hours. The Crew Motorfest's playlists really help stave that off, and though you can still go off the beaten path to explore or play side activities, the playlist system (which seems so daft and simple on the face of it) ensures that there's always a big obvious dangling thread to come back to.
The racing is actually pretty good too. The driving model isn't as good as Horizon's, but it's much more fun to race against the AI, and compared to the original The Crew games (which were absolutely rubbish as racers, but great as driving games), it feels like a huge step up.
I'll be putting together a video or two about why I think Motorfest is not only a decent alternative to Horizon for PlayStation owners, but also why it's a worthy successor to the beloved Test Drive Unlimited, with which it shares its pedigree (and setting). But until then I've got some racing to do. Vroom!
Rebecca Jones, Guides Writer - The Sims 4, Animal Crossing: New Horizons
I'm off on holiday next week, but since I don't actually depart for my top-secret millionaires-only luxury resort destination until Monday, that still leaves me the weekend to play some games in between bouts of packing and panicking about packing.
There doesn't seem to be much point in delving too deeply into anything massively story-based, considering I won't have access to anything except maybe Detective Pikachu on the 3DS for the next week, so I think I'll mainly just chill with The Sims 4, probably.
There's also the last Bug-Off event of 2023 taking place in Animal Crossing: New Horizons this Saturday (I'll miss you, Flick, herald of summer!). Plus I very rudely haven't checked in with my villagers in nearly three weeks, and I should probably go give my colleagues at Paradise Planning a heads-up not to expect me to show up to work next week either.
That's us for the weekend. What are you planning to play?