Warner Bros. clarifies whether its Wonder Woman game will be live service or not
Wonder no more!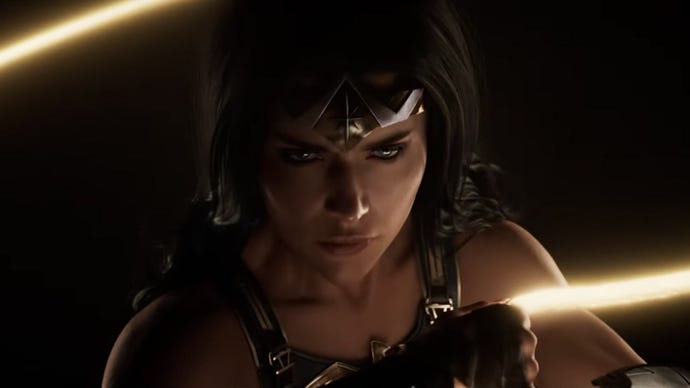 Recent reports have claimed the Monolith's Wonder Woman game will be live service, but Warner Bros. has said that that won't be the case.
Last week, Wccftech spotted a job listing at Monolith (the developer behind Middle-earth: Shadow of Mordor) which mentioned having the ability to "maintain a live software product or game," as nice to have skill. The role was to specifically work on Wonder Woman, so it obviously raised some eyebrows as to whether the game would be live service or not. But, in a statement provided to IGN, Warner Bros. has clarified that it's not the case, and that it will be a single-player action-adventure game after all.
"Wonder Woman is a single-player action-adventure game set in a dynamic open-world," reads the statement. "This third person experience will allow players to become Diana of Themyscira and introduce an original story set in the DC Universe, while also featuring the Nemesis System. Wonder Woman is not being designed as a live service."
Another part of the reason that many thought the Wonder Woman game might be live service is that Warner Bros. Discover CEO David Zaslav did recently share in the company's recent earnings report that it plans to release more titles with live service elements. But as this statement from Warner Bros. makes clear, at the very least Wonder Woman won't be included in that.
Monolith's Wonder Woman game was announced back in 2021, and will see the return of Shadow of Mordor's Nemesis system, a gameplay feature that Warner Bros. has patented. Cool that we get to see the system again, as it is an interesting one, but man, gameplay patents suck!
Of course, there is one big DC game that's out soonish that will be live service: Suicide Squad: Kill the Justice League. We got another look in at the co-op game earlier this week, and yeah, it looks like pretty much exactly the same game that we saw earlier this year despite a lengthy delay to February next year. Sure, you can put a funny hat on King Shark, but at what cost?
Monolith's Wonder Woman game doesn't currently have any kind of release date, and hasn't been confirmed for any particular platforms.