Valheim boar taming | How to tame, breed, and farm boars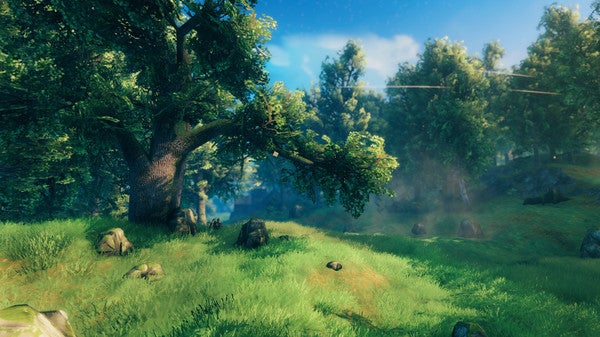 Wild boars are a hostile creature you'll encounter early on in Valheim. Since their aggressive behaviour can cause you problems at the start, it can be tempting to kill them on sight, especially since they drop valuable food and crafting resources.
However, boars are one of three animals in Valheim that can be tamed and domesticated by the player.
Naturally, in this brutal survivalist world, this isn't something to do just out of the goodness of your heart. It's simply easier to farm them for raw meat and leather scraps if you have them housed in your base.
On this page:
How to tame boars in Valheim
Boars are found exclusively in the Meadows biome. Since this is the first area in the game, it's very possible that a boar will be the first creature you meet in Valheim.
Valheim's lore entry for boars gives a few hints on how to tame them:
"Look also to the wild boar who roam these lands. They fear fire and the hand of man but they can be taught to obey it. Go quietly to them and let them eat of your stock. Roots of the ground are their pleasure."
As hints go, it's not particularly cryptic. To tame a boar in Valheim and gain their trust, you need to use food from your supplies — namely carrots and turnips ("roots of the ground"), though mushrooms, raspberries, and blueberries actually work as well.
The tricky part is working out how close you need to be to the boar when you place the food down. Too close and the boar will become frightened, refuse to eat, and probably start attacking you instead. Too far away and it won't notice the food at all.
Boars also spook within six metres of a fire, including bonfires and torches. Be sure to leave any fire producing items a decent distance away while taming a boar.
Once the boar begins eating the food you laid down for it, wait for yellow hearts to appear over its head. Slowly approach the boar and you should see a percentage status of how acclimatized it is to your presence. Stay at a respectful distance while it finishes its meal to increase its trust further.
The boar is tamed once this status reaches 100%. This will require multiple feedings. Staying in range of the boar at all times while it eats helps to speed up the process.
You can interact with a tamed boar to receive the message "Boar loves you" and a shower of pink hearts. Awww.
How to construct a boar pen
Boars, even when tamed, can't be directed by the player, making it very difficult to move them to where you want them. There are a couple of ways to get around this.
One is to build a caged area with fences and a gate, wait for a boar to enter it, and then throw food in until the boar becomes tamed. (This is also a good way to avoid getting attacked during the taming process.) Once the boars are tamed, you'll probably want to keep them in a pen like this anyway.
If you don't want to construct your boar pen in the place where you happened to find the animals, you can actually move them with the right equipment. The abyssal harpoon, while technically a weapon, does very little damage, and can be used to leash a boar. You can then lead the boar to the pen and release it inside.
How to breed boars in Valheim
If you have multiple tamed boars displaying the 'happy' status, they will occasionally mate with each other. A short while after this happens, one of them will give birth to a piggy.
Ensuring that your boars are happy enough to procreate is a simple matter of keeping them fed when they display the 'hungry' status, and keeping them away from fire to avoid the 'frightened' status.
You also don't need to worry about pairing a male and a female boar: animals in Valheim don't have set genders, so any two boars who decide to mate with each other will manage to get the job done.
Other than being an unbelievably adorable addition to your utilitarian Valheim settlement, piggies do actually serve a purpose. Over time they will grow up into boars, and can be killed and harvested for meat and crafting items just like the ones you tamed.
Selective breeding for better farming resources
Piggies bred in captivity will inherit the traits of one of their parents. Boars come in three types, indicated by a star rating system under their health bar:
No stars: The boar has 10 HP and 10 Damage
1 star: The boar has 20 HP and 15 Damage
2 stars: The boar has 30 HP and 20 Damage
A piggy bred from two boars with matching star ratings will always have the same rating. A piggy bred from two boars with different star ratings has a 50/50 chance of inheriting either parent's traits.
Most importantly for breeding purposes, higher-starred boars drop more leather scraps when killed. They are also guaranteed to drop raw meat (zero star boars have only a 50% chance of yielding food), with 2 star boars giving greater quantities.