Valheim: The Kraken | How to harvest and craft with abyssal barnacles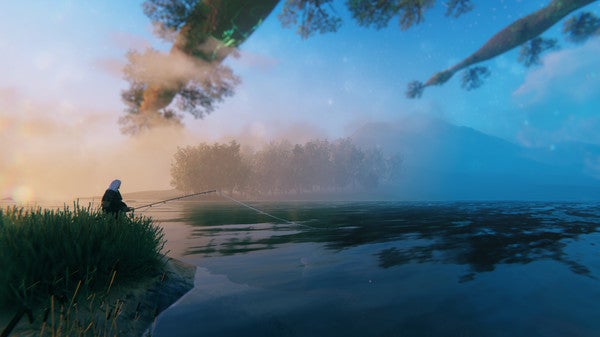 The ocean in Valheim is more than just an obstacle to exploration. It's a biome in itself, and while there's less to uncover than in the land-based regions of the game, there are still a few unique encounters to be had here.
Excitingly, you might find you run into a Kraken — also known as a Leviathan or Giant Turtle — while sailing the seas.
So craft yourself a boat and set sail if you're hoping to catch a glimpse of this unusual creature — or harvest it for resources.
Where to find the Kraken in Valheim
The Kraken is, unsurprisingly, unique to the Ocean regions of the game's map.
Since Valheim takes place on a procedurally-generated archipelago, there are bound to be oceans somewhere nearby, and at some point you're probably going to need to cross them.
Krakens won't appear near to the coast, but can only be found over deep water. This is because they are really quite huge — in fact, you might mistake one for a small island when you first see it. And yes, you can disembark from your boat and climb all over it.
If this sounds like it might be a bit much for you to take on in combat, there's good news. Krakens are a passive creature type in Valheim, meaning that they won't attack you. You can get attacked on the ocean, but it'll be the serpent — the only hostile creature type in that biome — that's responsible. Don't go blaming the innocent Kraken, now.
Perhaps because Krakens are just so huge, or perhaps because they're too mellow to aggro, you can't actually kill one. But you can mine it.
Mining the Kraken for chitin
Yes, mining. The Kraken isn't just island-sized and island-shaped, it's got other land-like properties as well. This includes resources you can gather, just like you would if they weren't on the back of a quite-probably sentient creature. Specifically, the abyssal barnacles on a Kraken's surface are the game's only source of chitin, a crafting resource.
Mining in Valheim requires a tool of some kind. Your default hammer will often do in a pinch, but it's highly recommended you use a pickaxe. This is especially important when mining the Kraken, because you only have a limited amount of time to do it in.
Surprisingly, mining doesn't seem to hurt Krakens, but that doesn't mean they're comfortable with you taking a pickaxe to them. The island seems to be more of a shell that the creature itself lives within, but having Vikings scrambling around on your back is bound to make you itchy eventually. Once a Kraken notices you mining it, it'll start to move in an attempt to shake you off.
The good news is that you won't be dumped unceremoniously into the water, no matter how far the Kraken swims. The less good news is that if you're not careful you could end up quite a long way from your boat. Keep an eye on how far you've travelled and depart with your haul of chitin before things quite literally go too far.
Crafting with chitin: abyssal weapons
Currently there are only two craftable items that call for chitin, but they're both pretty rad looking and one of them has a unique use.
The abyssal razor is a knife made with 20 chitin, plus a nominal requirement of two leather scraps and four pieces of fine wood. Knives aren't the most powerful weapons in the game, but they can be useful for stealth attacks. The abyssal razor is second only to the blackmetal knife when it comes to base damage, so players who favour the stealthy approach would do well to obtain one.
The real headline, however, is the abyssal harpoon. Made with 30 chitin (plus eight pieces of fine wood and three leather scraps), this is the only harpoon in the game. While it actually deals less immediate damage than the razor when used as an offensive weapon, the harpoon has the unique utility of ensnaring an enemy.
A successful hit with the harpoon causes it to latch on to a creature for a period of time, during which they're unable to run away out of your range. This makes landing follow-up attacks on them a lot easier, since they're pinned in place. This might be of limited use to solo players since you can't dual wield in this game, but co-op teams might well benefit from having a harpooner in their crew.
These recipes will be added to your repertoire the first time you mine for chitin. Just be aware that your workbench needs to be at Level 4 before you can craft either of them.
For answers to any more burning questions you might have about Valheim, check out our guides hub page for the game.