Two years later, there's a new episode of Kentucky Route Zero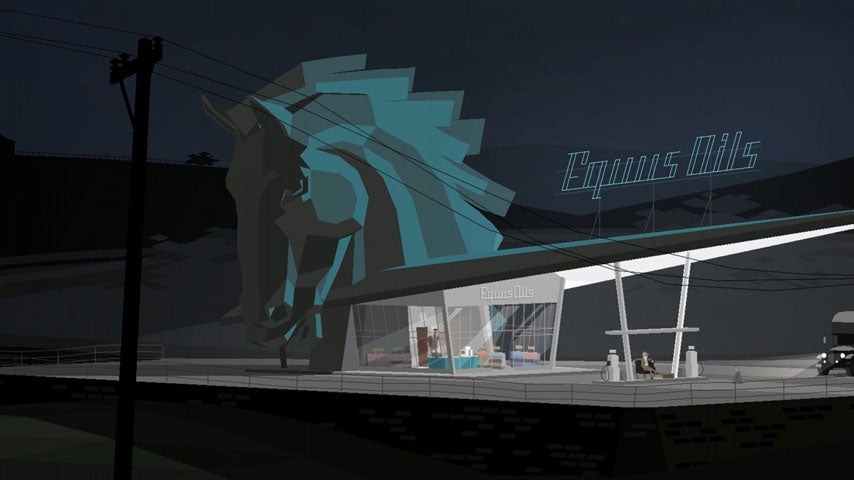 Kentucky Route Zero's release schedule is as mysterious as the highway itself.
Kentucky Route Zero Act 4 is out right now, and because the world is pain I have to sit here at my desk and tell you about it instead of rushing off to enjoy it for myself.
Even after the recent tease, waking up to learn there's a new episode of Kentucky Route Zero is like finding out someone made chocolate-chip pancakes for you as a special surprise, except that unlike delicious breakfast treats, new Kentucky Route Zero episodes are a limited resource we only see at lengthy and seemingly random intervals.
Kentucky Route Zero Act 3 released in May 2014, over two years ago. Prior to that it had been a full year since Kentucky Route Zero Act 2 in May 2013, which followed a comparatively short four months after Kentucky Route Zero Act 1 in January of the same year. At this rate we can expect the fifth and final episode in 2020.
Developer Cardboard Computer is a team of just three people and has very wisely stopped giving release windows to avoid disappointment, and at this stage it seems like the Kentucky Route Zero fanbase doesn't mind the wait. A couple of spin-off experiences have helped their patience, but the staggered releases and silence rather complement the slow burn pace and surreal themes of Kentucky Route Zero.
Kentucky Route Zero has won stacks of awards and is one of my very favourite point and clicks, ever. You can grab it via all the usual digital distributors; the website has links.