Spider-Man Suits: how to unlock every outfit and costume in Parker's PS4 adventure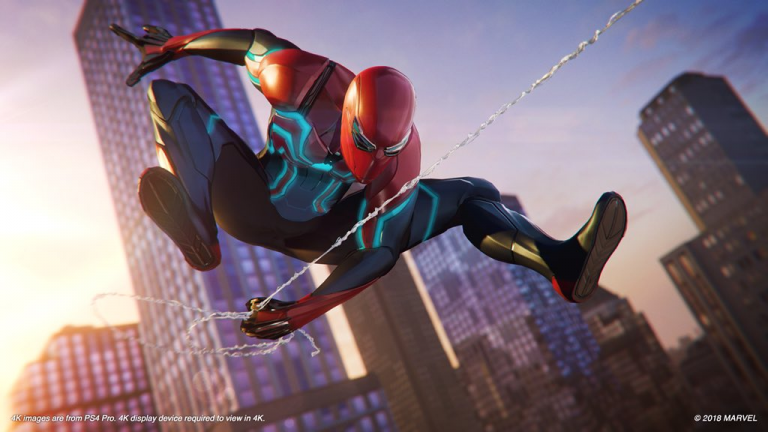 Any good super hero needs a good costume, and over the years Spider-Man has had a lot of them. Marvel's Spider-Man on PS4 features a variety of suits for Spidey - but you'll need to know how to unlock them. Luckily, we've already found 'em all.
We won't waste any time getting down to brass tacks here: most of the Spider-Man suits are locked behind your player level. As you progress Spider-Man himself levels up, and while that suit governs things like your melee damage output, it also controls your suit unlocks. Once a suit is unlocked either through leveling up or another method, as listed below, it'll have a crafting cost associated with it using tokens gathered by completing side activities. If you need help completing some of those side quests, check out our Spider-Man tips and tricks guide.
Once a suit is unlocked and crafted you can use it and its unique suit power as and when you wish. We've listed every suit, suit power, unlock method and crafting cost below. Handy!
Naturally, this guide contains SPOILERS for every outfit in the game - and some outfits might reveal some spoiler details, too. Read at your own risk.
Marvel's Spider-Man: how to unlock every suit
Once a suit is unlocked through leveling up, most of them typically have to then be crafted from Spider-Man's suits menu in game. The crafting costs Tokens - and these tokens are based off the various side activities in the game.
They come in a few flavors: Crime tokens from small crimes, Base tokens from defeating enemy strongholds, Landmark tokens from photographing New York landmarks, Research tokens from research station missions and Challenge tokens from completing task challenges. All of these are marked on your map to find. Simple!
A couple of other Spidey suits also unlock naturally through story progression, while a couple of others are tied to completing side quests. Three are available through a pre-order bonus, but can also be unlocked through naturally leveling up.
Each suit also comes with a Suit Power. This is a skill unique to that suit, but once unlocked you can mix-and-match suits and powers as you wish. All of that is listed below in detail, anyway, plus a screenshot giving you a look at what each suit is like. So, here's how to unlock all the Spidey suits in Spider-Man for PS4:
Advanced Spider (White Spider) Suit
Unlocks naturally throughout the progression of the main story of Spider-Man.
Unique Ability is Battle Focus - "Hybrid biomembrane rapidly generates Focus for a short time" - press L3/R3 to activate.
Classic Suit (Repaired)
A classic-looking, iconic Spider-Man look. Just like the comics you remember!
Suit skill unlock is the Web Blossom - a skill that makes Spidey leap into the air and web everything in sight.
Available once you get the White Spider suit, but costs 2 Backpack Tokens and 2 Crime Tokens to unlock.
Classic Suit (Damaged)
The same suit as above, but bearing the rips, tears and scars of an intense battle against the Kingpin.
Available after the opening section of the game, with no unlock cost.
Noir Suit
A special Spidey suit based off the appearance of the character in the Spider-Man Noir comic series.
Unlocks the 'Sound of Silence' skill, which means that enemies no longer call for backup once they're alerted. Shhh...
Available for crafting unlock from the very start.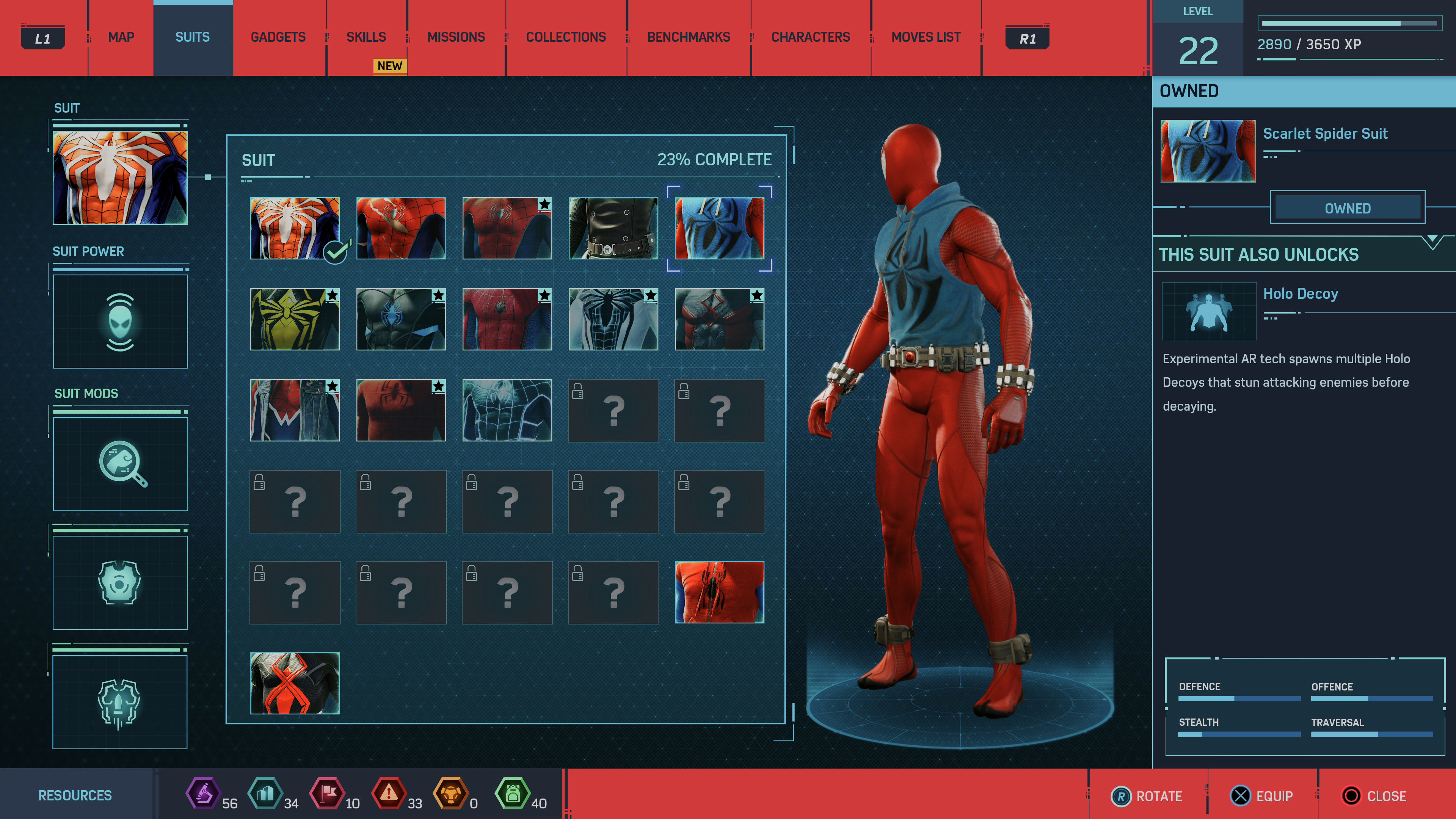 Scarlet Spider Suit
In the comics the Scarlet Spider was at first the secret identity of a Peter Parker clone known as Ben Reilly, but later several others would don this uniform.
Unlocks the 'Holo Decoy' suit skill, which uses Experimental Augmented Reality tech to spawn hologram decoys that enemies will attack - and it stuns them when they do!
Unlockable with tokens from Level 4 and up.
Spider Armor MK II Suit
At one point in Marvel History, Peter loses his Spider sense - and that leaves him very vulnerable to bullets. He created this armor to be more survivable.
Appropriately this armor comes with the 'Bullet Proof' armor skill, where the armor plating of the suit can be used to make the suit bullet-proof against all enemies - even sniper shots.
Available at Level 5, and costs 1 Base Token, 1 Landmark Token and 2 Research Tokens to craft.
Secret War Suit
Worn by Spider-Man during the much-loved Secret War phase of the comics - and let's be fair, this suit looks amazing.
Unlocks the 'Arms Race' suit ability. This discharges an amplified EMP build-up which then stuns enemies and disables their weapons.
Available from level 7 and up. The Secret War suit costs 2 Backpack Tokens, 1 Base Token and 2 Research Tokens to unlock.
Stark Suit (MCU Homecoming Suit)
This suit has been all over the place in recent years - it's the suit designed by Tony Stark and worn by Spider-Man in Captain America Civil War, Spider-Man Homecoming and briefly in Avengers Infinity War by the MCU's Peter Parker.
Unlocks the 'Spider Bro' ability - which calls in a Spider-Bro bot that temporarily aids you in combat.
Once available from Level 9 and up you can grab this suit with 1 Base Token, 1 Research Token and 3 Crime Tokens.
Negative Suit
The closest comic counterpart of this suit is known as the Negative Zone costume, and was gained when Spider-Man traveled to the Negative Zone. With Mr. Negative being such a large part of this game, it's a natural fit...
Suit skill is 'Negative Shockwave', which when unleashed lets rip with a huge wave of negative energy.
From Level 11. Costs 1 Base Token, 1 Research TGoken and 2 Landmark Tokens to build once unlocked.
Electrically Insulated Suit
Back in the Amazing Spider-Man issue #425, Spider-Man deployed this suit to battle Electro... and it does exactly what you'd expect to electrical currents.
This suit's skill is the 'Electric Punch' - which electrifies your gauntlets to shock enemies you hit.
Unlocked at level 13, or after when you first battle Shocker. Once it's available, it costs 1 Base Token, 1 Research Token and 3 Crime Tokens to create.
Spider-Punk Suit
In one Marvel universe Hobart Brown took on the role of the Anarchic Spider-Man - AKA Spider-Punk. This was his costume.
Unlocks the 'Rock Out' suit ability, which appropriately blasts enemies with 'waves of righteous sound'.
Available via pre-order bonus or at Level 16. Once available unlocked with 2 Backpack Tokens, 3 Crime Tokens and 2 Landmark Tokens.
Wrestler Suit
The earliest iteration of Spider-Man's suit in the comics was as a Wrestling Suit that Parker then adapted into his first costume - and this suit is a tribute to that.
Suit skill is 'King of the Ring' - granting the useful ability to throw enemies without first webbing them up
Once unlocked at Level 19, requires 2 Backpack Tokens, 2 Base Tokens and 2 Research Tokens to use.
Fear Itself Suit
The Stark Suit isn't the only one made by Iron Man on this list - the Fear Itself suit also was, back in the comics. It features a very unique blue, black and neon look.
Grants the 'Quad Damage' suit skill, allowing Spidey to deal absolutely huge damage briefly.
From Level 21. Requires 2 Base Tokens, 6 Challenge Tokens and 3 Research Tokens to use.
Stealth ("Big Time") Suit
In the comics the Stealth Suit was first created by Spider-Man to combat the Hobgoblin's Sonic Screams. It appears here in its neon green design.
The 'Blur Projector' suit skill creates a distortion field that obscures you from any non alerted enemy's vision - a stealth mode.
Costs 2 Base Tokens, 4 Challenge Tokens and 3 Landmark Tokens to create once unlocked at Level 23.
Spider Armor - MK III Suit
Comic book Peter Parker would occasionally make back-up plans, and that's what the MK 3 Spider-armor is - a contingency plan for fighting the Sinister Six.
Unlocks the suit skill 'Titanium Alloy Plates', which when activated reflects all bullets but sniper rounds back at the enemy that fired them. That's karma.
Once available at Level 26, you'll need to spend 2 Base Tokens, 4 Challenge Tokens and 4 Crime Tokens to get this suit.
Spider-Man 2099 Black Suit
In the year 2099, Miguel O'Hara is Spider-Man. He wears a unique costume that is replicated here for Peter.
Unlocks the super cool and future-appropriate 'Low Gravity' skill - which when activated decreases gravity for better aerial acrobatics.
Once it's available from Level 28 and up, you can unlock it properly with 2 Base Tokens, 4 Crime Tokens and 4 Research Tokens.
Iron Spider Suit (Avengers Infinity War)
The Stark Suit isn't alone - the current cinematic Peter Parker's other suit gets a look-in here too, with the Iron Spider design from Infinity War.
Grants you the 'Iron Arms' ability, which - you gussed it - temporarily gives you those extra Iron arms. They're only used in combat, however.
Available via pre-order bonus, or at Level 31 and up.
Velocity Suit
Designed by Adi Granov, this is an all-new suit for Spider-Man for PS4 - and it's nothing to do with the story.
Grants you the 'Blitz' ability, which allows for faster sprinting and easier knock-down of enemies - just web 'em up when they're down.
A pre-order bonus, or appears for crafting at Level 33. Once you can access it, unlock it with 2 Backpack Tokens, 4 Challenge Tokens and 2 Landmark Tokens.
Spider-Armor MK IV Suit
A suit so good that Parker once suggested Stark would lose control of his bladder if he saw it, the 4th Spider-Armor iteration is a powerful one, and it's the armor that looks most like the traditional suit.
Comes with the 'Defence Shield' suit power unlock. This basically makes you invulnerable for the duration of the skill - super useful, obviously.
Once you can grab it from Level 35, it'll be purchasable with 4 Base Tokens, 4 Challenge Tokens and 3 Landmark Tokens.
Spirit Spider Suit
The mysterious, creepy Spirit Spider Suit comes with the 'Spirit Fire' ability, which unleashes waves of damaging energy. It looks a little familiar to another Marvel character, right?
Requires 6 Base Tokens, 6 Challenge Tokens and 6 Crime Tokens to create and use once unlocked - it does so at Level 37.
Spider-Man 2099 White Suit
Also known as the All-New, All-Different Spider-Man 2099 Suit, this white, red and grey suit was again worn in the comics by Miguel O'Hara.
Unlocking the suit gets you the 'Concussion Strike' ability, which sends enemies flying with every attack when active.
Once the suit is made available at character Level 39, you can buy it for 4 Base Tokens, 4 Challenge Tokens and 4 Crime Tokens.
Vintage Comic Book Suit
This is an absolutely classic-looking Spider-Man suit with a twist - it features a special shading that makes it look comic book accurate. It's cool.
This has a great suit power - 'Quips'. This does exactly what you'd expect when active - unleashes classic Spidey quips, jokes and adomishments.
Once available from Level 41, unlock the Vintage Comic Book Suit with 4 Backpack Tokens, 4 Challenge Tokens and 4 Crime Tokens.
Last Stand Suit
In one alternate history in the comics, Peter Parker took another path, killing his enemies and eventually being expelled form the Avengers as a criminal. His story has a dark ending - but you can now dress up as him.
The suit power is 'Unrelenting Fury', which renders enemies unable to block - even if they have shields.
This suit appropriately costs 20 crime tokens to unlock once it's available, and it appears at Level 45.
Undies
This outfit makes the briefest (pun unintended) of appearances in the main story of the game, but that doesn't actually unlock it.
It has a brilliant suit power: 'Equaliser'. This power makes enemies go down in one hit... but so will you, if they hit you. Keep hitting that dodge button.
This suit is unlocked by hitting 100% district completion in the game.
Homemade Suit
The Homemade Suit is the third and final Marvel Cinematic Universe inspired suit in the game, this one based on Spidey's home-made outfit used in some of Spider-Man Homecoming.
This suit doesn't have a power. It is home-made, after all.
To unlock this suit, Collect All Backpacks.
Anti-Ock Suit
The last of the original Spider-Man suits for PS4, the Anti-Ock suit will be unlocked in a pivotal scene later in the game.
Its suit power is 'Resupply' - a great power that makes your gadgets all recharge uses very quickly.
To unlock it, progress the story.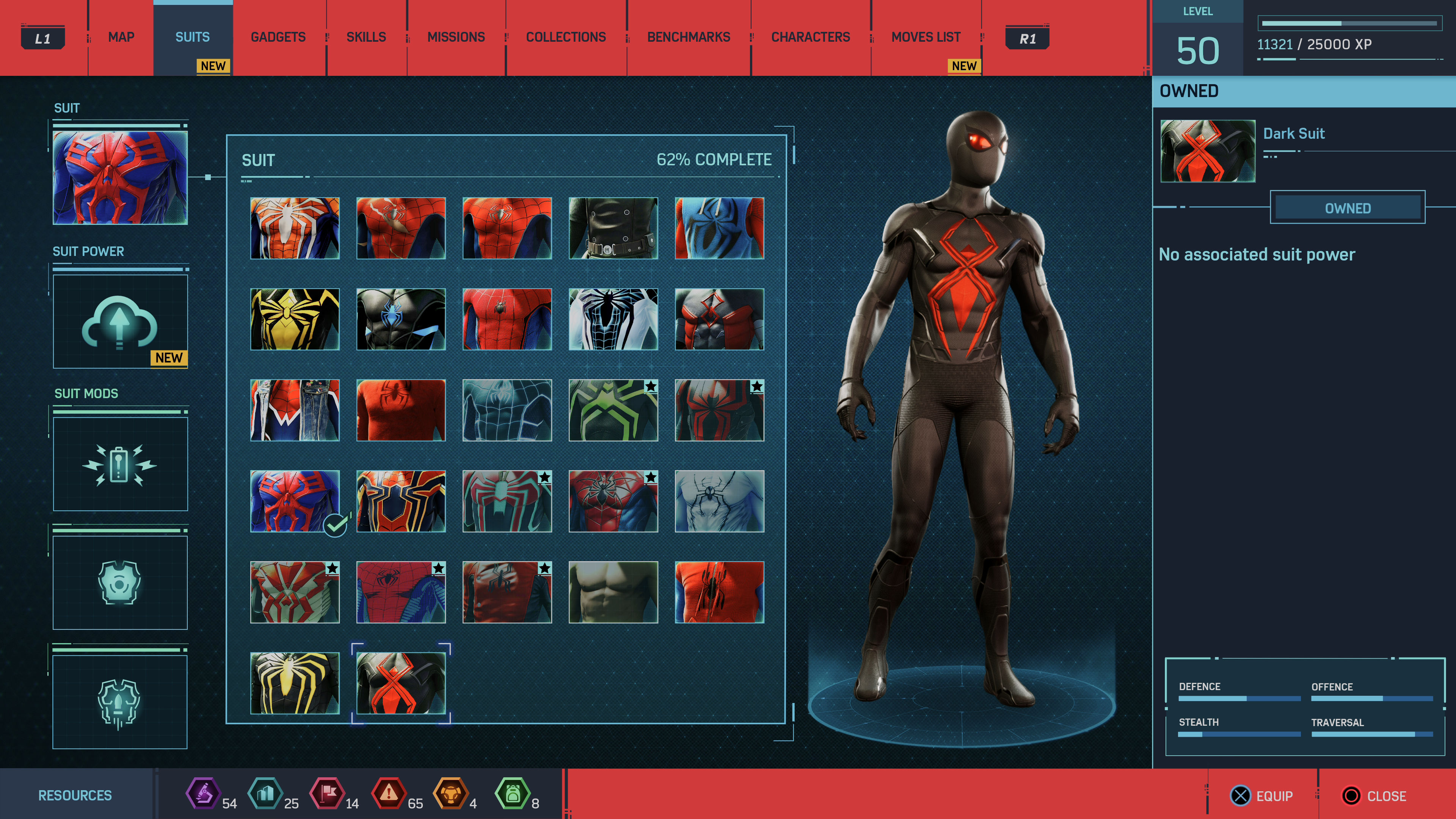 Dark Suit
The Dark Suit is associated with Black Cat, and so a skin-tight, black number seems rather appropriate.
This suit doesn't have a power.
Unlock this suit by photographing Every Black Cat toy in the game world, thus completing her side mission.