Shadow of the Colossus: how to beat Colossus 8 - Scaler of the Colosseum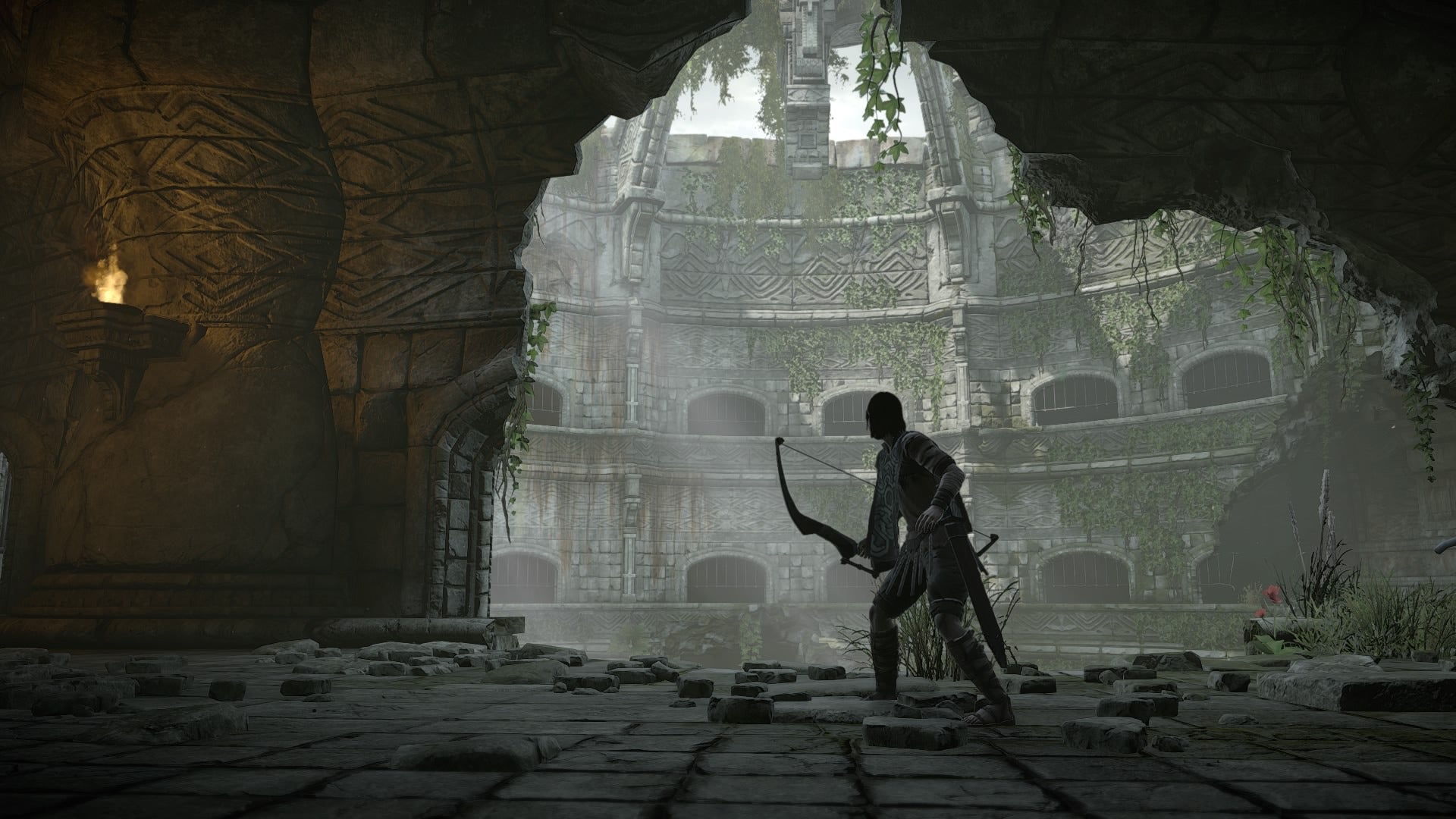 To take this Colossus down you'll need quick reflexes and sharp bow skills.

You need to head out to the South East of the Shrine to find this Colossus. Head towards the canyon to the left of the canyon you explored to find the very first Colossus.
Where to find Colossus 8: Wall Shadow, Scaler of the Colosseum
Map location: G6
Once you get through this canyon continue straight ahead to see a gap in the rocks which will lead you briefly into the dark to find a waterfall.
Continue along the path and you'll arrive at a small lake with a small building. You can't miss the entrance, so ride over there and enter.
Now head through the corridors, climbing a few obstacles where necessary to arrive in a big circular colosseum. You'll see the Colossus at the bottom of the chamber.
There are a few things to note here. This Colossus has two attacks, both of which are easily avoided. The first is its spits a cloud of acid at you which lingers in the air as a yellow fog. Stay in this area of effect and you'll take damage, so roll out of the way. The other is a tail whip that it will try up close, but you shouldn't be hanging around it when it's that close anyway.
Before you attempt to get the Colossi's attention, turn right and go down two flights of steps to arrive on a floor with a massive gap smashed out of it. This split in the colosseum goes all the way down on opposite sides, and it's where you going to get the Colossi's attention and jump down on to it when you've flipped it onto its back.
So firstly, take out your bow and fire a few shots at its legs. You'll notice its legs are glowing. These are you first targets. Avoid the Colossi's spit attack and fire a few arrows at it again until it climbs the walls. As it climbs you need to shoot an arrow into two of its legs. A direct hit will cause the glow to fade, meaning you're good to fire at the next one.
Once you damage two legs the Colossus will fall to the chamber floor on its back and you'll see two weak spots on its underside. Jump down (you may take some damage but you won't die), climb up onto it and hit a weak spot with full power.
After a couple of hits the Colossus will right itself and try to attack. Don't hang around, just sprint up the nearest steps to the gap in the wall and repeat your strategy; get its attention, dodge the spitting attack, fire at it again, wait for it to climb, hit the legs with arrows and jump down to attack its weak spot once it's on its back.
You'll probably have to repeat this process four or five times before the Colossus dies and you gain the Trophy: Scaler of the Colosseum.
Back to How to beat Colossus 7: Lightning Fish
Return to Shadow of the Colossus walkthrough and guide
Forward to How to beat Colossus 9: Lurker of the Cave