Red Dead Redemption PS3 install only 600Mb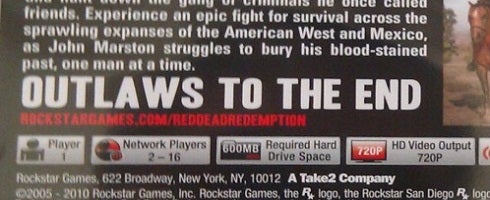 The hard drive space requirements for the PS3 version of Red Dead Redemption has been revealed, courtesy of a snap of the game's box art.
PS3 install requirements have varied quite a bit over the past, ranging from very small all the way up to 5Gb. Thankfully for PS3 gamers, the ransom this time isn't so serious: it comes in at only 600Mb.
The PS3 version of Rockstar's western's looking like a nice catch. It already been revealed that the PS3 SKU will be receiving extra content, exclusive to the system.
Red Dead Redemption is due for release for the PlayStation 3 and Xbox 360 on May 18 in the US and May 21 in the UK.