Overwatch: your new favourite game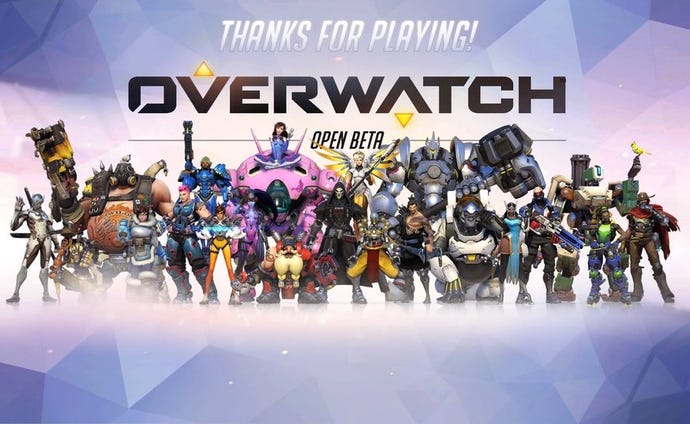 Blizzard's noob friendly, esports-hungry shooter is a masterclass in the manufacture of pure joy.
"The compulsion to keep on playing owes so much to a constant feedback loop that rewards every XP milestone, celebrates performance through dramatic kill-cams and showcases the best plays in the game."
To stand tall in 2016 is one thing, but to tower above the competition, that's phenomenal. The Overwatch public beta recently pulled in 9.7 million players, more than double that of Destiny, a third healthier than The Division and nosing ahead of Star Wars Battlefront. It's like somebody flipped a switch; suddenly everybody loves Overwatch. How'd this happen?
A strategy FPS from the makers of World of Warcraft and Hearthstone was always going to turn heads, and the marketing reach within those colossal and thriving communities will be huge – a major plus in the Overwatch arsenal. And, hey, 9.7 million people played the Beta, but those 9.7 million people now get to decide whether they love it, hate it or wait and see.
Cutting to the chase, based on conversations we're having among friends and colleagues, Overwatch just feels like the Next Big Thing. "Because Blizzard" maybe, but our time spent with the game so far deserves more of an explanation than just that. And so here, in our opinion, is where Overwatch is succeeding where others (yes, Battleborn) not so much.
First of all, the user experience (UX) of Overwatch is like walking on rose petals, the journey from menu to game is so slick. No doubt it will be further refined before launch, but even in the beta there was no hanging around, it was easy to browse, inspect and select characters, and matches fired up fast. Game mode selection will surely alter navigation in the full game, but as an indication of how we'll scoot around menus the beta was extremely promising. It meant that everybody could get straight to the business of experimenting on the battlefield.
With 21 heroes divided between Offense, Defence, Tank and Support classes the choice may be overwhelming. To overcome this psychological obstacle, which yells 'too much, too soon' at normal people, Overwatch allows you to swap characters at every respawn. Since you're dying quick and often during early games, freedom to yank another guy from the roster and see how they go points to the considerate - make that common sense - design of Overwatch.
You might wonder why we didn't start on character design, visual effects and so on, but the user experience aspect of so many games is too often overlooked. Blizzard knows that this concept is completely new to millions of players, meaning that every second of on-screen time must make it easy to grasp. Heck, the beta even had a game mode that randomised character selection so that everybody was thinking fast on their feet. The only thing we were locked into were the game modes: Assault, Escort and Control – familiar, objective based encounters in which success was built on team balance and combined effort.
"Overwatch harkens back to the days of the Dreamcast, when it was important to grab and hold the attention, not only with colour and noise but a clear-cut gameplay message that was hard to resist."
Now we can talk about character design. The roster is very clearly divided among the four classes, making it easy off the bat to understand ballpark where you're headed. Another UX consideration here is that on-screen prompts advise you if the current team set up is weak in certain areas, although it doesn't force/prevent character selection in any way. If you like, you can go ahead and try to win using only Tanks, or specialise in snipers. We don't need to sit through a tutorial, we're learning it all on the fly, which works out happier for everyone. But... character design! They're so damned colourful, cool and cute so the likelihood is that you'll choose mainly by appearance to begin with, adapting to class attributes while playing. These attributes are clearly communicated by movement style and special-moves available, Overwatch feels similar to Street Fighter in this regard in that basic understanding is gained so fast, appealing to your taste or not. After settling on a handful that feel right, only a small investment of time is needed to realise how rock-paper-scissor attributes benefit your team.
While there are spooky characters among the cast, such as Reaper and Widowmaker, the general mood in Overwatch is bright and go-getting across the board. Tracer is the epitome of this, but it's evident in the cockiness of D.Va and the practiced hardiness of Torbjorn. For folks who are too young to remember, this harkens back to the days of Dreamcast with such glorious experiences as Namco's Soulcalibur and Capcom's Power Stone. Their origins were the arcades/game centres in which it was important to grab and hold the attention, not only with colour and noise but a clear-cut gameplay message that was hard to resist. Even while spectating Overwatch, we can appreciate the purpose and effectiveness of each character: Roadhog's chain, that pulls opponents towards him; Mercy's healing and support powers, and Genji's ninja style swiftness building toward all out katana carnage. Yes, we'll take that.
Locations, presented as brightly-lit theatrical stage sets, are characterful too and distinct from one another so that they are soon committed to memory. They pander to the heroes' capabilities, in particular those whose agility, allowing them to traverse maps in exciting ways – whether Pharah's aerial assault, Hanzo's clambering or Widowmaker's grappling hook. Simply observing is entertaining and educational, making Overwatch ideal for esports too.
For players, the compulsion to keep on playing owes so much to a constant feedback loop that rewards every XP milestone with dazzling loot. It also celebrates performance through dramatic kill-cams and end-game stats that showcase the best plays in the game, plus an opportunity to vote on star players' tours of duty. When your name is up there in lights it's intoxicating; you feel duty bound to keep on playing in the hope of keeping the spotlight. As for those left out, again you're watching and learning, admiring the show.
Every game wants to be what Overwatch has apparently achieved in a short space of time: easy to pick up, hard to put down; simple to learn, much harder to master. This is why the thirst for Overwatch is real. How compelling Overwatch remains over time; how much scope there is for teams to push its potential to support legit League of Legends and Hearthstone-like tournaments for years to come, of course we cannot tell. But as debuts go, holy heck.