NPD March 2020: Animal Crossing: New Horizons tops software, hardware sales up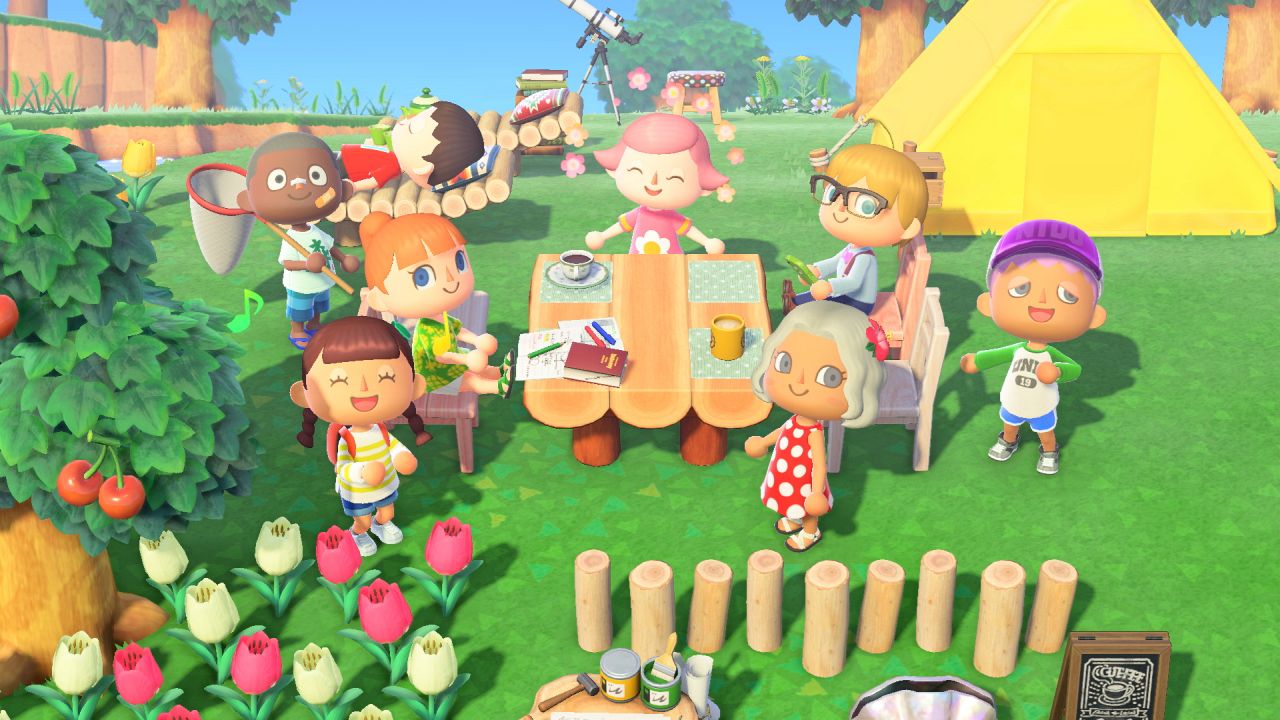 The NPD has released its analysis for the month of March 2020, noting a 35% increase year-over-year across hardware, software, and accessories in the US.
For the month of March 2020, NPD reports software was up 34% to $739 million compared to March 2019. March tracked software spending reached its highest total for a March month since 2011 when it hit $787 million.
The quarter, spanning January - March, saw a decline of 8% to $1.4 billion.
Animal Crossing: New Horizons was the best-selling game for the month and the second best-selling game of 2020 year-to-date. Launch sales of the title have exceeded lifetime sales of all other sales of Animal Crossing franchise games.
According to the NPD, it "achieved the third highest launch month" in physical dollar and unit sales of any Nintendo published game "in tracked history."
Only Super Smash Bros. Ultimate and Super Smash Bros. Brawl debuted with higher physical software sales during a launch moth for Nintendo in the US.
Call of Duty: Modern Warfare was the second best-selling game in March, and remains the best-selling game of 2020 to-date.
Sony's MLB The Show 20 was the third best-selling game and the fifth best-selling game of 2020. The game's launch month sales "significantly" exceed those of MLB The Show 19.
Rounding out the top five, Resident Evil 3 Remake debuted in fourth place, followed by NBA 2K20.
NPD March 2020 - Top 10 best-selling titles
Titles noted with an asterisk do not include digital sales.
Animal Crossing: New Horizons
Call of Duty: Modern Warfare 2019
MLB: The Show 20
Resident Evil 3 Remake
NBA 2K20
Doom Eternal*
Persona 5: Royal
Grand Theft Auto 5
Borderlands 3
Mario Kart 8: Deluxe*
Best-selling games by platform can be found in the images below.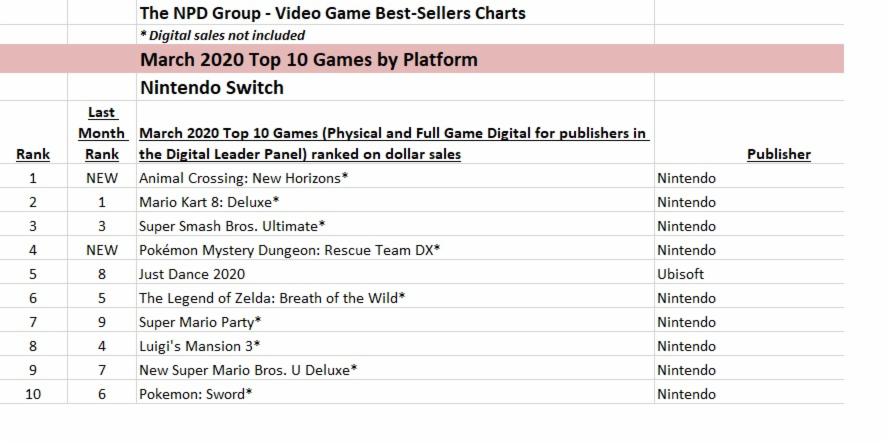 Hardware spending for the month saw a year-over-year increase of 63% to $461 million. Nintendo Switch hardware sales more than doubled year-over-year and set a record for a March month besting the console's previous high during its March 2017 launch month. It also generated the "highest first-quarter unit sales for any hardware platform" since Nintendo DS released during the first quarter of 2010.
PlayStation 4 and Xbox One sales grew 25 % during March.
For the quarter, hardware spending was up 2% year-over-year to $773 million.
In accessories and Game Cards, total spending hit $397 million, up 12% year-over-year. Spending reached a record high for acompared to the previous high in March 2008.
Year-to-date spending declined 3% to $905 million.
Game controller spending reached a new all-time high compared to last year's previous high. The Nintendo Swtich Pro Controller was the best-selling controller, while PlayStation 4 generated an "all-time single platform high" in gamepad spending during a March month.
The Xbox One Ear Force Stealth 600 Wireless Headset from Turtle Beach was the best-selling headset for the month and the quarter.
Overall, March 2020 spending across the board was up 35% year-over-year to $1.6 billion. This is the highest reported spend for a March month since the $1.8 billion achieved in March 2008. Year to date, spending declined 4% to $3.0 billion, declining 4 percent when compared to a year ago.