Kotani "willing to bet" Patapon 4 ideas are incoming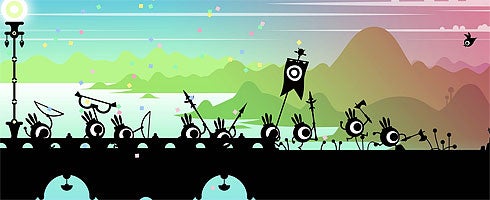 Doesn't sound as though Patapon director Hiroyuki Kotani is finished with the PSP drum thing quite yet.
Gamasutra managed to drag an admission from the developer that he's bound to start thinking about a fourth game soon.
"When the first Patapon was completed, my thoughts were, 'I'd like to make a second one, but we probably shouldn't, really, because I don't want to create this big, complex thing and I'd probably have to.' So it's really up in the air right now.
"I thought Patapon 1 and Patapon 2 were both going to be the last ones, so it's hard to say yet. I'm willing to bet, though, that once I start chatting with my family around the New Year holidays, I'll probably start thinking up more ideas again."
Shock. Patapon 2 released in late 2008 and early 2009, with the original coming a year earlier. Patapon 3 was announced at E3 this year, and will release imminently.
Patapon is a first-party PSP game where you hit-out beats to fight stuff.