Interview - Ready at Dawn's Ru Weerasuriya on God of War: Ghost of Sparta, Wii development, piracy and more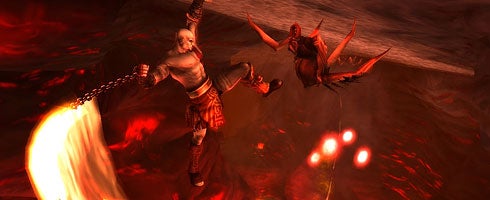 Having taken on the God of War IP for a second time with Ghost of Sparta, developer Ready at Dawn is getting set to work on a new project: a game hinted at this morning.
Creative director Ru Weerasuriya chatted with Keza MacDonald about the PSP spin-off as well as development on Wii, piracy issues for PSP and DS, new IPs and what the future holds for the developer.
[Interview by Keza MacDonald]
VG247: How was developing Ghosts of Sparta different to the experience you had with Chains?
Ru Weerasuriya: Chains of Olympus was a big learning curve for us.
It was our first time making a God of War game and we didn't know how to do it at the time, so we spent half of its development making the mistakes that the team at Santa Monica had made.
Ghosts of Sparta was more of our chance to show what we are capable of on a title like God of War.
How did you manage to squeeze more out of the PSP?
Ru Weerasuriya: After two games on PSP with Daxter and Chains of Olympus, we thought that was it for us. We even sent our dev kits back. It took us about three or four months to really look at what we'd done, what we'd had to cut out of Chains of Olympus, and determine that we might be able to just push a little bit more.
So we started off thinking we'd change one or two things here and there, maybe pushing the graphics, whatever we could basically.
After we talked to Sony – we signed again in August 2008 – we started with one system and before we knew it, every aspect of the game started changing – gameplay mechanics, navigation, combat. The way we did that was brute force. There's no better way sometimes.
We were trying to beat up the PSP as much as possible, get the most out of it.
Did Sony persuade you to sign back on for another God of War game after you had sent back your dev kits?
Ru Weerasuriya: No, it was kind of a mutual thing. After Chains shipped we weren't really sure where we were going to go; a lot of people were asking us what our next-gen or current-gen stuff was, and as we were pondering on what we should do.
It became a mutual decision – we talked to them, they talked to us, they definitely wanted a second game. It was a push on both sides that made this happen.
Has it changed much aesthetically?
Ru Weerasuriya: It absolutely has. You can see that from the opening sequence alone. We do a lot more in-game stuff as far as cinematics go. Kratos's game model is probably close to the PS2 model that they used on GOW2, though we did our own take on it.
But with the graphical quality alone, the full-screen effects, we've done things that I don't think you can find on PSP normally. I'm talking about depth-of-field, full-screen bloom, things that normally you would expect of a PS2 or PS3 game.
Is this definitely the maximum you can do with PSP? Are you finished now?
Ru Weerasuriya: This time – I know this is like the boy who cried wolf, but this time we are definitely done. We have pushed the PSP as far as possible; we've even had to scale back because some things were not doable.
We've done the absolute maximum with it. As a team we believe we have leveraged 100 percent of its power.
Do you plan to work with home consoles next?
Ru Weerasuriya: We've got a bunch of plans, we definitely are moving forward with other consoles right now. We have some things in the works that it's hard to talk about because it's very early.
Which consoles would you like to work with?
Ru Weerasuriya:,Any and every one of them – as long as there's something good to do on them. Whether you're making a game for the PSP or something else, it's the same thing – we're ready to make a great game for any console, as long as we think we can prove something.
Ready at Dawn has worked on the Wii before with the Okami port. What was that like?
Ru Weerasuriya: In all honesty we'd never thought of doing a port – I don't think we built the company for that, but we just decided to do that as a passion project.
I loved Okami, I think that artistically it's one of the most amazing things to come out of the industry. Working on it was more of a technical challenge - we started with no assets and literally reverse-engineered the whole thing back onto Wii. It was not your typical port, but it was fun.
But it's not something we would do again, I think.
Would you make your own game for the Wii?
Ru Weerasuriya: To tell you the truth, I don't think it's something we would do.
I understand the power that the Wii has out there, but at the same time, I've tried to be a Wii gamer, like all my friends, but most of us have picked it up and dropped it after a few months. I think it wears off.
I think the whole novelty wears off with the Wii, and that's one of the big reasons why we wouldn't tackle a Wii game.
Is the novelty wearing off across the board? Do you think it will affect sales?
Ru Weerasuriya: I think so. I think you're already seeing that now. The novelty is wearing off, and the only people who are really successful on the platform is Nintendo. It's not like anybody else out there is really happy with the games and the sales that they make on that platform.
So it's going to work well for [Nintendo], as all of their platforms usually do, but even in America we're seeing now that it's slowly dwindling down.
Purely from personal experience, I can tell you that most of the people I know who have bought a Wii have it sitting on a shelf somewhere with dust on it, and they haven't used it in a long, long time.
All of your games so far have been collaborations. Are you keen to start work on your own IP now?
Ru Weerasuriya: We do have some ideas. When we started the company it was really to do our own stuff. We've done three games with Sony, and one with Capcom, but we definitely had our own ideas and we started building IPs from the day that we founded the company – that was one of my personal tasks from the get-go.
The games we've picked and worked on were very much learn-by-experience – it was us trying to perfect our skills in a certain genre. For instance I can tell you that the team we've built is an action adventure game kind of team.
That's what we're going to do and that's what we're good at. And we're going to put those skills to use with our own IPs in the future.
God of War must have been a good training experience.
Ru Weerasuriya: Absolutely. It's always good to be able to learn something from the best IPs.
We have a great relationship with Sony Santa Monica, because not only have we learned from them, they've learned from us, we've brought a different perspective to God of War.
It's been a great experience being able to build our skills on something that was always such a good idea.
Ready at Dawn had to downsize back in July. Are things especially hard right now?
Ru Weerasuriya: Yeah. I think across the industry you can see that things are difficult.
We saw things happening at Australia not too long ago, we've got teams at Disney dying here and there, they took a pretty big hit about two weeks ago. It is hard; it's tough that the industry is not at a very healthy level right now, and especially for the last few independents.
If you're a developer right now and you're owned by a publisher it's hard enough, so imagine what it's like if you're an independent covering all your costs yourself. I don't think it gets easier at any time, but the last two years have been particularly hard.
What keeps you afloat?
Ru Weerasuriya: I wouldn't say that we're smarter than anyone else, but we've always had a very different perspective from other developers out there: it's do or die.
We've tried to manage our expectations, make sure that we shoot high but that we don't ever get to a point a few weeks away where we have to make a [harsh] decision. We've always made sure that we're stable.
Even the downsizing we had to do [in July] was a healthy one for the company – it wasn't just because times are hard, we wanted to make sure that we started off again from a healthy beginning. But there's no magic solution to this.
Try not to put all your eggs in one basket and end up having to make a really harsh decision for your company.
What's next for Ready at Dawn?
Ru Weerasuriya: There are so many things we can do. We've got a lot of opportunities with different people – there are a lot of people out there looking for good teams to work on their stuff, so to tell you the truth right now I want to see what the team wants.
We haven't had time for a postmortem on Ghost of Sparta yet, but after every game, we always talk with the team and we decide what people are passionate about. I can tell you, for example, that after Daxter, that's how GOW happened – we finished Daxter, and everyone was so gung-ho about God of War 1 at the time that we jumped on the project, that's why we proposed it to Sony.
I think it's going to be the same at this point. We have to figure out where all are heads are, and where our hearts are, and where we want to go.
Are you feeling positive about how Ghost of Sparta will be received?
Ru Weerasuriya: I think critically, yes. We're very proud of it – what team isn't proud of the game that they make? – but at the same time, it's a great God of War experience.
One thing we've brought to this one is that it's a more complete entertainment experience – the story is really well intertwined with the game. I think critically it's going to be well received.
The biggest problem we're fighting against at the moment is seeing how piracy is going to affect sales on PSP at this point.
How bad do you feel the piracy situation is on the PSP and DS?
Ru Weerasuriya: Both of them have problems. I'm not very familiar with how it is on the DS, but on the PSP it's pretty rampant now all around the world.
It's getting to the point where it doesn't make sense to make games on it, if the piracy keeps on increasing. It's a tough call right now to say what's going to happen to it and where it's going to go, but it definitely hurts a lot of developers out there who are trying to make great games.
Do you feel it's as bad as PC piracy has been, now?
Ru Weerasuriya: Yes, and actually more so, even.
The PC market has had connectivity and multiplayer, which brings down the piracy, and a lot of the PC games right now, the big ones at least, require you to be logged into a specific network – like Battlenet, when I used to work at Blizzard – that controls it, and has made it easy to curb some of that.
On portable platforms it's definitely more rampant right now. You can go to Hong Kong and get one cart for the DS with practically every single game that's ever come out for it.
It's pretty scary to think that it's got to this extent.
God of War: Ghost of Sparta releases on November 2 in the US and November 4 in the UK for PSP.