How Tekken 7 Rose to the Top of Competitive Fighting Games
Modern Tekken is all about the storylines.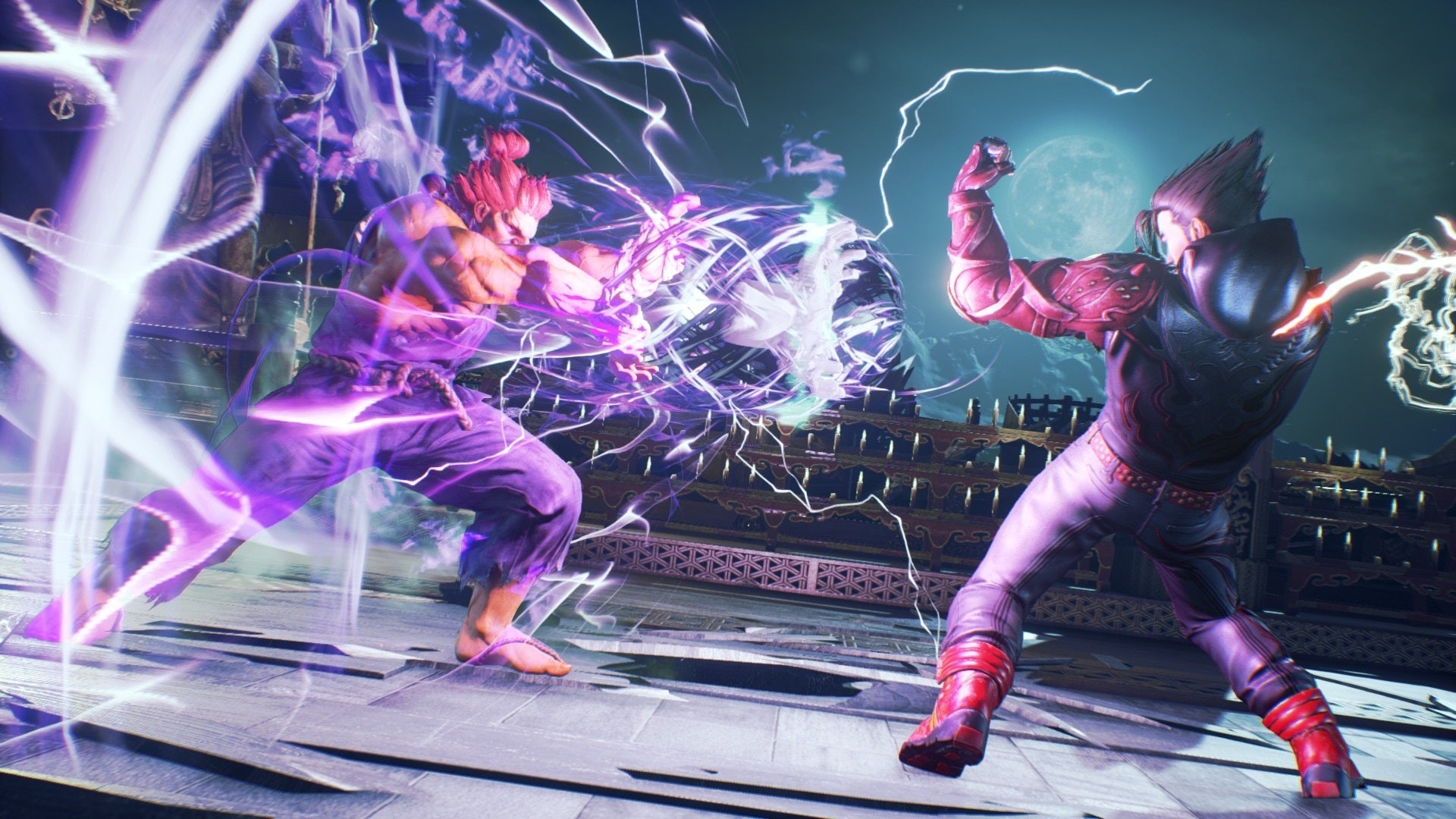 This article first appeared on USgamer, a partner publication of VG247. Some content, such as this article, has been migrated to VG247 for posterity after USgamer's closure - but it has not been edited or further vetted by the VG247 team.
No one seemed ready for "Arslan Ash" at Evo Japan 2019. Arslan Siddique had just undergone a grueling multi-day journey to get from his home country of Pakistan to Japan, to compete in a pretty stacked Tekken 7 tournament. Despite hailing from a region not known for Tekken compared to the likes of South Korea, Arslan made a run through the loser's bracket all the way to the finals, eliminating a who's who of Tekken along the way.
Only Jae-min "Knee" Bae, an Evo champion himself, had an idea of what was coming. He'd lost to Arslan a few months prior at a smaller tournament held in the United Arab Emirates, and in both their meetings, Arslan emerged victorious. Still, the stonewall defense of Arslan Ash's Kazumi was too much to deal with, and a win at Evo Japan cemented him as one of the favorites going into this weekend's Evo 2019. Ash's victory is like a 16-seed making it to the finals of March Madness, but for Tekken, this isn't an anomaly. Tekken 7 seems almost built to not only encourage, but elevate these incredible storylines, and this weekend isn't looking any different.
---
In the realm of 3D fighting games, Tekken is a pillar, a series that has dominated arcades around the world for years. Yet in Tekken 7, the competitive community has found a vehicle that's elevated it to an all-time high. It's hard to think of a time Tekken has been more visible in the fighting game scene, and its spot as the third of four games on the grand finals stage this Sunday feels like a recognition of its ubiquitous appeal.
Understanding why Tekken 7 is so good means, at first, diving into the basics. At its core, Tekken is about punches and kicks. Its control scheme even mirrors the human body, with two punch buttons and two kick buttons, one for each limb. This foundation is then built up in the various styles of each fighter, like Soviet martial arts, drunken boxing, Taekwondo, and even wrestling.
To put it simply, you know what's happening when you watch Tekken 7. There are no flashy abilities or ultimates to memorize that drench the screen in effects; no special rules or game types. There are only two competitors, facing each other in a one-on-one martial arts brawl. It's instantly readable to spectators, which is one of Tekken 7's major advantages. Versus-style or anime fighting games are certainly fun and popular, but at times a casual viewer won't be able to pick apart what's happening. It's very easy for even the most mainstream spectator to see what's happening in a Tekken clip.
Tekken 7 adds a lot to the viewing experience as well. One major upgrade it makes over previous Tekkens for spectators is the slo-mo cam: if two players input an attack that could end the match at the same time, the in-game camera zooms in and slows down the action. You get to watch as each fighter slowly lurches toward victory or defeat, carefully watching the exact pixels and which attacks will collide first. It's like going heads-up in poker. The cards and chips are on the table, and both players essentially take their hands off the controller and sees where everything lands.
Other mechanics, like the Rage Art and Rage Drive, give Tekken 7 a lot of comeback potential. Even if your back is against the wall and you're eating combos, like in the clip above, there's still the chance to find a way out. A low parry, a Rage Art, a throw escape?—no round in Tekken is over until it's over, as pro player Jeannail "Cuddle_Core" Carter tells it.
"It makes rounds look like they're going in one player's favor completely change into a 60% combo comeback from nothing," Carter says. It's hype that the crowd feeds into. It's what commentators like "Tasty" Steve Scott call "good-ass Tekken."
For players like Carter and others at the highest level of the Tekken World Tour, a real benefit is the parity seen in the roster. Some games can get bogged down in meta-defining characters, stifling the variety you get to see played at the highest level. But Tekken 7 has incredible balance across the board, with even a Panda main winning the most recent World Tour Finals. Carter tells me that it's not about your character, it's about what you know.
"The players use who they want because Tekken, I think in itself, is so balanced," Carter says. "We've got [Hoa "Anakin" Luu], [Arslan "Ash" Siddique], [Jeong "Rangchu" Hyeon-ho] all using the characters that they love, right? They don't say, 'Oh well, this is the most broken thing in the game, I'm gonna use that.' They're successful in their own way, in multiple tournaments, and they use their own characters because what matters is their knowledge."
Luu, a consistent presence in top-tier Tekken, echoed this sentiment. "In Tekken, you play against your opponent, not against their character," Anakin writes in an email to USG. "Nobody is limited almost."
These are all building blocks. Any fighting game can have one or all of these elements: even parity, compelling mechanics, or a great spectator experience. You can have a lot of support from the publisher and time in development like Tekken 7 did, gradually upgrading from arcades to consoles, where it's still being patched today. At the upper-most level, where Tekken 7 shines, however, is how all these pieces come together to emphasize the narrative.
Storylines propel competition to new levels. The Chicago Cubs winning the World Series in 2016 is fun to watch, but it's the fact that it ended a 108-year championship drought that gets fans out of their seats. The same applies to competitive games like Tekken 7.
I've long held the belief that fighting games at the highest level are about player expression, comparable to a boxer's preferred stance and style. So when Terrelle "Lil Majin" Jackson started taking sets off top players in a Cinderella run through last year's Evo, it wasn't just that he was winning?—he was winning as King, Tekken's leopard-masked wrestler who slams and grapples opponents in style. He was showing the world that the U.S. could compete on the main stage.
.@Lil_Majin BEATS @TKJDCR 2-1 to advance to Winner's Finals! America has a representative in Top 4!https://t.co/pRm0CRLp4y #EVO2018 #TEKKEN7 pic.twitter.com/ak8j7Rkemq

- EVO (@EVO) August 5, 2018
These narratives are what takes a competitive scene to greater heights, in the same way SonicFox and GO1's rivalry elevated Dragon Ball FighterZ. But not to be seen as a one-off, Tekken 7 seems to constantly churn out beautiful match after match. Tournaments end up seeing a variety of fighters compete, and the skill level keeps rising. Yet this increase in competition isn't scaring away potential entrants; in fact, Tekken 7 has garnered more entrants at Evo with each successive year since its debut in 2015.
There are a lot of excellent fighting games on display this weekend, with vibrant communities showing up to a hopefully grasshopper-free Mandalay Bay in Las Vegas to compete and celebrate the year in fighting games. There are countless competitors, from pandas and wrestlers to Arslan Ash himself, who can all make a run for the throne. The most exciting part of Tekken 7 is that it always feels like anyone's game. There are no guarantees, and every win and loss is another step in someone's story. Tekken 7 is an engine for compelling tournament narratives, and I have no doubt this Evo will produce another treat. It hasn't failed yet.