Hajime Tabata Pulls Back the Curtain on Luminous Productions
Square Enix's latest splinter project appears to be striking out in new yet familiar directions.

This article first appeared on USgamer, a partner publication of VG247. Some content, such as this article, has been migrated to VG247 for posterity after USgamer's closure - but it has not been edited or further vetted by the VG247 team.
Hajime Tabata has become Square Enix's fixer. His first leading roles at the company saw him managing three high-profile PlayStation Portable releases. Two of these PSP projects (Final Fantasy Type-0 and The 3rd Birthday) began life as mobile titles and ended up shifting track to PSP somewhere along the way. Despite these complications, they still made it out the door on their originally intended hardware platform—something the company struggled with during the changeover to high-definition consoles. In fact, Tabata moved to the Final Fantasy XV project soon after wrapping Type-0 and got that troubled production out the door, too.
Tabata aptitude for turning rocky productions into solid products has yielded great results for the RPG giant. One need only look at his results with FFXV—which has shipped nearly eight million units to become the fastest-selling Final Fantasy title in the series' three decades of history—to understand how he landed his newest role at Square Enix: managing the company's new offshoot, Luminous Productions.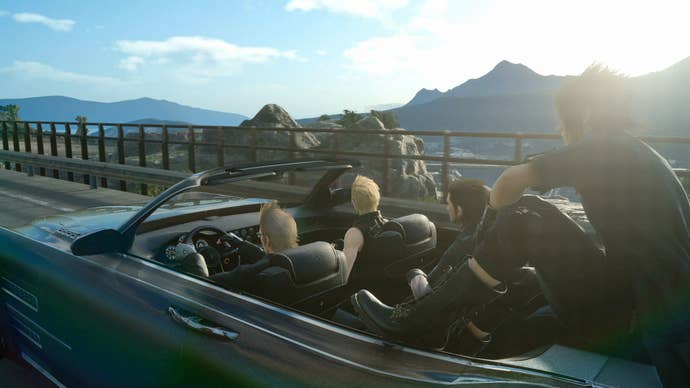 The name Luminous Productions should strike a chord with Final Fantasy fans, of course. The Luminous Engine has powered several of the company's games, including Final Fantasy XIV: A Realm Reborn as well as Final Fantasy XV. Tabata confirms that the connection isn't a coincidence: "The origins [of the name] come from the Luminous Engine, which was developed by the advanced technology division at Square Enix," he says. "It was something that we polished up during the production of Final Fantasy XV, and it kind of became our own engine at that stage.
"With Luminous Production, we kind of wanted to keep that momentum and keep that meaning—the significance of the word luminous—in a cohesive way."
The name Luminous Productions appears not only to be drawing a connection to the Luminous Engine's role in Final Fantasy XV, but also to the tech's origins. The engine made its debut in a behind-closed-doors demo at E3 2012. At that point, Luminous didn't power an actual game but rather a real-time CG movie called Agni's Philosophy. Though some fans correctly speculated that Agni's Philosophy offered a taste of Final Fantasy XV, they were thinking in terms of the story content and visuals. Of course, the game released as FFXV turned out to a rebranded Final Fantasy Versus XIII, and its narrative had nothing to do with Agni's Philosophy. But the graphical tech that made the demo so arresting in 2012 made for a game that looked lovely in 2016—and even better once the higher-spec PC version shipped a year and a half later.
Fittingly, Tabata says Luminous Productions will be focusing on both games and non-game applications, building on the role the Luminous Engine served for both FFXV and, presumably, Agni's Philosophy. It's hard to say precisely, as Square Enix remains mum on the full details of Luminous Productions' mission, and Tabata can only speak in generalities for the time being.
"I can't really disclose everything in a lot of detail at the moment," he says, "but [will we be working on] games? Of course. That's our area of expertise, and we're going to be creating triple-A games for the world, like we did with Final Fantasy XV. Regarding the other areas that we're considering, we're not experts in those fields, so there's only so much I can tell you at this stage. But in terms of creating new IP, everything is all tied in. It's going to be a brand new experience."
Still, it's not too much of a stretch to assume Tabata's vague allusions encompass multimedia content in the vein of Agni's Philosophy. Not only has CG production been one of Square's core strengths since the debut of Final Fantasy VII two decades ago, Tabata has also been heavily involved in video-related projects in partnership with broadcaster NHK, which he describes as "the BBC of Japan."
"I'm not sure if you're aware," he says, "but we did the CG video portions of an NHK documentary called Out of the Cradle. NHK created a documentary about the evolution of mankind for which we were produced the CG portions of ancient man evolving through time, and it's creating quite a bit of buzz.
"That's something we can do only because we are experts in creating CG—experts in the game realms. If we have opportunities to go into other areas using our expertise this way, we'll probably go for it. Out of the Cradle is an educational program, so it's kind of a new area for us to delve into, but it's very exciting to think about the different possibilities."
While Tabata is happy to embrace the prospect of becoming involved in CG work, the educational aspect of Out of the Cradle probably doesn't speak to his future plans—though he does admit to being intrigued by ventures like the education-focused Discovery Tour Mode of Assassin's Creed Origins. "I actually haven't got hands-on experience with that yet," he admits. "But what I find to be the significance of what [Ubisoft] is doing, and what I really respect about what they're doing, is that they're not only creating an entertaining experience that's fun for the players—they're also creating something that's edifying. You can learn a lot about history and such, and that's something I really like.
"With the NHK documentary that we were involved in, the only reason we got involved was because they requested us. They said, 'You guys have all the CG technology and you're able to express these worlds that don't really physically exist for the eye. You have to create that world.'
Ultimately, though, Luminous Productions sounds less likely to focus on collaboration for external projects than on building something fresh from the ground up. Though his 15-plus-year career at Square Enix has been entirely connected to Final Fantasy or adjacent properties, Tabata seems interested in moving on to new ideas.
"Square Enix Japan has a history of managing very powerful intellectual properties, which I've been a part of," he says. "However, with the new company, I want to kind of create my own structure for creating a brand new IP. That's the only way to do it—to create my own studio. This new company is actually in alignment with how Square Enix Holdings wants to progress as a group, and also with what I want to do personally, for my own career. The studio is going to be focused on creating a brand new IP."
Interestingly, Luminous Productions' efforts beyond gaming seem to line up with Square Enix's longest-running extracurricular ventures, which to date have been largely unsuccessful for the company. The company's attempts to use its CG expertise to venture into the film industry have been checkered, to say the least, with moderate successes (Final Fantasy VII: Advent Children) balanced by staggering setbacks (Final Fantasy: The Spirits Within). Similarly, Tabata's comments about creating properties that extend beyond gaming call back to the company's grand ambitions of "polymorphic content" over the past decade and a half, the idea of buoying game content with supplemental material. While that's hardly a unique strategy—it could be said to apply to everything from Halo novels to Nintendo's amiibo—the company has rarely managed to stick the landing.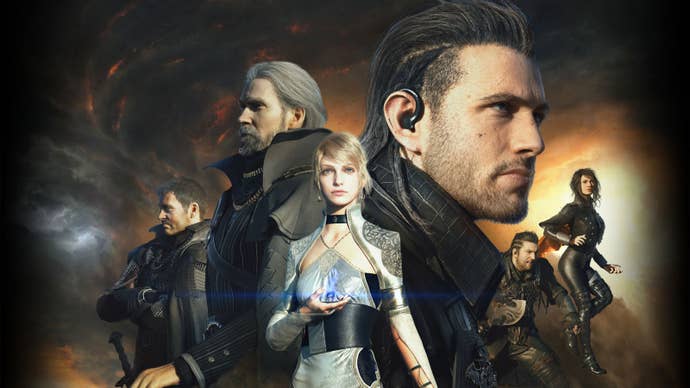 It could well be that Square Enix hopes Tabata, who has demonstrated a remarkable knack for getting things done where others struggle, will put his talents as a fixer to work on this front, too. He's already overseen a CG-based multimedia tie-in project in the form of Kingsglaive, a short movie seemingly created to shore up the gaps in Final Fantasy XV's in-game narrative (which resulted in the triage Tabata's team had to perform to get the game out the door). Kingsglaive didn't set the world on fire, but it was fairly well received by fans, and it certainly helped flesh out the game's backstory in a meaningful way. If nothing else, it will be interesting to see what Tabata's team can come up with by working from a fresh slate, unburdened by the need to build off several years' worth of someone else's unfinished plans. And though he won't necessarily be as actively involved in Luminous Productions ventures as he has been with game projects in the past, Tabata won't be leaping entirely into a pure management role—at least, not right away.
"The actual launch of the independent studio happened in April," he says, "but up until that point, we had a lot of other things to handle as well, like how we're going to carry Final Fantasy XV into the future, as well as creating our new IP and studio.
"Development-wise, logistically speaking, I don't have any time to get my hands dirty. However, with the initial phase planning, all the important specifications that are going to be implemented into the game, I designed myself. I discuss all the other art and other development aspects at the core of the game with the lead artists and developers. After a certain point, it's going to be up to them to make the game. The same as before, basically, but even more so."