Inside GTA 5's thriving sneakerhead mod scene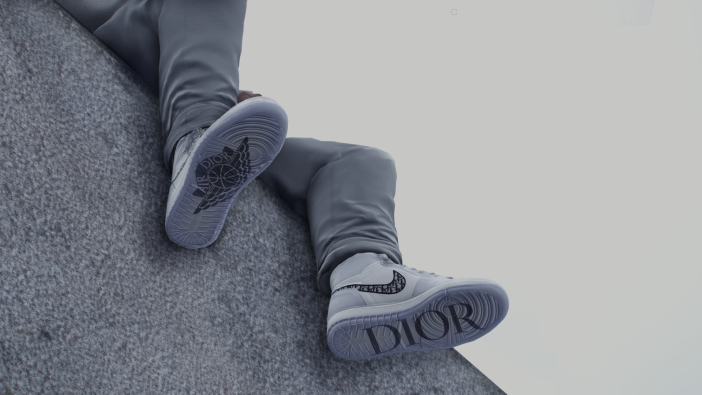 What's the most you've paid for a pair of sneakers?
Weird question I know, but my latest pickup was a pair of 'Retro High Spider-Man Origin Story' Jordan 1s, which, if you've seen the 2018 superhero film Spider-Man: Into the Spider-Verse, you'll have spotted on the feet of affable protagonist Miles Morales. They're cool as fuck. In fact, they're the coolest item of clothing I own, and they cost my girlfriend £250 as a Christmas present last year. And she got a good deal.
Let me be clear: this ain't a brag. I'll invariably pair those shoes with ten quid Primark jeans and an H&M t-shirt that cost the same as a pint of lager. Sneakers are my vice, and underlining the price of this style is more to contextualise the money involved in sneakerhead culture, even at its lower end. Most cutting-edge sneakers retail for around £100 – £200, yet on sites like StockX (the foremost recognised stock market for sneakers), they can go for umpteen times that figure.
For example, another variation of the signature red and white Jordan 1 sneaker – the 'Retro High Off-White Chicago', which to the untrained eye may look similar to my prized footwear – is reselling at the moment for between £3,000 and £10,000. And I sure as shit cannot afford those.
What I can afford, however, are Grand Theft Auto 5 mods.
That there, is how the Off-White Chicago Jordan 1 features in GTA 5.
From vehicle cannons to graphics enhancers, VR overhauls to super hero models, giraffes driving motorbikes to alien invasions – GTA 5 is well-served for weird and wonderful PC mods. The best of the crime sim's sublime-to-ridiculous projects live on GTA5Mods.com, whose community has birthed a number of thriving niche-interest subcultures tied to everything from performance culture to sports, cars, high fashion, and, yup, you guessed it, sneakers.
Sneaker culture, whose disciplines bill themselves as sneakerheads, came to prominence in the USA in the 1980s. The movement coincided with the rise of hip-hop music and the Air Jordan brand, a collaboration between Nike and basketball legend Michael Jordan, and has been latterly embraced by the rest of world wholesale from 2010 onwards. These days, new sneaker styles are released in the real-world on a weekly basis, which keeps its GTA 5 contingent busy – with some single sneaker models hitting over 24,000 downloads, and some sneaker collection packs hitting upwards of 72,000.
Ze-Krush began crafting his own San Andreas-set projects in 2016, and is now one of the most prominent sneaker modders on the scene today. As an admin, he helps run a 2,100+ Discord server built exclusively for keen sneakerhead-meets-GTA modders, whose users share new ideas and open-source models, and make requests on particular shoes they'd love to see recreated in-game.
"Myself and a few friends started hitting the newest shoes and the most hyped drops, making them in 4K and making sure the details were crisp and as sharp as they could be," explains Krush. "We own most of these shoes in real-life, so we wanted to do them proper justice in-game.
"I'm a big Travis Scott fan, and I own a lot of his sneaker collaborations with Nike. To this end, I can look at the finer details on the real-life shoes, and am then in a better place to transfer those minor points to the in-game shoe using Photoshop.
"I've modded real-world clothes and shoes into GTA 5, I've checked out how they look on my in-game avatar, and then I've bought them in real-life. I once paid $600 for a pair of custom-made pants. I knew the creator and the guy that makes them – they usually retail for $3,000 – and while they were still being made, I actually made them in GTA and matched them with the sneakers and other clothes that I might want to wear them with when I eventually received them.
"It was pretty cool to eventually get them in real-life and start pairing them with what I'd already been wearing in GTA 5 for so long."
For Krush, the fact that streetwear and sneaker culture fit seamlessly with GTA 5's faux-Los Angeles cityscape only adds to the appeal of what he and his peers do, and while he's eagerly modded his real-world wardrobe into Rockstar's sprawling crime world, he's also enjoyed the process in reverse.
As outlined above, sneakerhead culture can lighten your wallet, particularly when chasing re-sells, therefore it makes perfect sense to use GTA 5 as a sort-of interactive dressing room, where players can trial the latest trends in-game, before splashing their hard-earned cash on real-world garments.
"My friend Paris was working on a pair of Raf Simmons/Adidas collaboration Ozweegos for GTA 5, and while I hadn't seen them on-foot in-person, I'd seen them on-foot in a number of images and photos online. I wasn't too sure of them, to be honest, but then when he modded them into the game, I started to think about how they'd match up with different fits I had in real-life.
"I ended up picking myself up a pair, and they're sitting right next to me now – I love them! I almost certainly wouldn't have bought them had he not modded that model into the game."
Today, the standard of Krush's work is so high that he's grabbed the respective attentions of popular US rap stars Chief Keef, Trippie Redd and YBN Nahmir on social media. He pays abiding homage to GTA modders 420 and Polkien who, while less active nowadays, blazed the trail for the likes of himself and his closest modding allies Paris and Protrikk, who he met online.
With a shared passion for streetwear and sneakers, Krush and Paris hit it off after exchanging pleasantries in the comments sections of each other's GTA5Mods pages. Before long, they began helping each other out, making tweaks to one another's projects, and collaborating on existing and up and coming real-world drops as they filtered through fashion sites such as Highsnobiety and Hypebeast.
"The GTA 5 sneaker mod community is filled with lots of talented and creative people," says Paris. "It's always nice to see people start from where we were a few years ago and see them improve more and more over time.
"Everyone's open to help and tips as well, and I think GTA is a great sandbox for people to express their creativity and make amazing things – whether that be films, mods, whatever, especially with the recent attention our community and other fashion and performance subcultures in Grand Theft Auto 5 have been getting."
Paris explains most of his shoe designs in-game are inspired by his real-world wardrobe, which he feels adds a new level of immersion that the base game and other mods cannot provide. Of all his projects, his Travis Scott Jordan 1 pack that he worked on with Krush is his favourite, and while keeping his cards close to his chest, hints that the pair are working on something special down the line.
"I don't know how much I want to give away," he adds. "Just know it's some heat coming."
As much as Krush's other mod buddy Protrikk loves sneakerhead culture, his work is focused on streetwear clothing to complement the kicks on players' feet. After cutting his teeth on clothes retextures in late 2017, Protrikk graduated to modelling clothes from scratch on ZBrush halfway through last year, and continues to hone his skills in tandem with the latest drops and mods that enter the shoe mod scene today.
He admits that paying top dollar for sneakers or clothing in real-life isn't really his thing, but said he loves the boundless creativity GTA 5 affords him, as he hailed the innumerable communities the crime sim has spawned throughout its seven years of existence.
"It's amazing how many communities there are for this game," says Protrikk. "Damn, even the modding community has sub-communities for almost everything.
"There are so many core groups that even splinter into several other smaller ones within – for example, some people make lore-friendly cars, while others exclusively build models that reflect the real-world and not the GTA universe.
"As for our community, it's cool. It can be kind of toxic at times, like any community, but overall, it's pretty chill. It is, for sure, the best place you can come if you want to start making clothes for GTA. Although, don't expect to make anything special after watching one YouTube tutorial, no one will take you seriously. It's hard work to hit the high standards the community and its users now expect."
With the volume of new real-world collaborations and special edition sneaker releases greater now than ever, Krush says he still gets as excited by the prospect of modding a new and hyped pair of shoes into GTA 5, no matter how many projects he's got under his belt.
Everything he does is at hobbyist level, which he argues makes him even more passionate about what he does. He says that after modding some clothing items from indie skateboarding label Gnarcotic into the game, the company came across it, tagged him on their Instagram, which in turn opened him up to a whole host of new people keen to learn more about his work. In turn, this underscored what GTA 5 means to him and so many other creatives who use modding as an outlet for expression.
"GTA is not all about the whole violence and drugs thing at all," says Krush. "It's just a cool place for us to hang out, walk about, chat, show off our clothes and everything like that.
"Currently, there are 2,158 members in our server, and it's gaining members every day. We have an exclusive chat in there wherein we release mods for GTA just for the server, including fashions items such as hoodies, belts and other stuff. We have request chats, where other players can request specific drops.
"We have work-in-progress chats, where people can drop in and see how one specific project or other is coming along. It's a pretty nice place for anyone who's into all of that to communicate with other people and also get help on other stuff. It's great."
And when those moments arise where Krush is adamant a real-world drop will look good in-game, he's straight onto Paris and Protrikk, working out who's best-placed to work on specific elements and assigning timelines and deadlines ahead of the item's real-world launch.
Sometimes, Krush and his pals even have their projects in GTA before the real deal has landed, which gives their work an element of exclusivity within the bounds of San Andreas.
"When the Nike Off-White Dunks came out, I instantly messaged Paris straight away, like: 'Yo, you need to start making this Dunks, because they would look so good in game!' Most of the shoes we do, we're working on them in-game before they've even been released. Talk about exclusive must-have sneakers, it doesn't get much better than that."
At the time of writing, those gorgeous Nike Dunk Low Off-White Pine Greens are reselling on StockX for £455. Even if I combined my birthday, Christmas and next birthday after that, I don't think my girlfriend could be convinced. My piggy bank sure as shit comes up short.
Ah well. In the meantime, I'll be looking fly as hell on the streets of Los Santos.