Fortnite Creative guide: everything you need to know
Fortnite Creative is now live for Battle Pass owners only for its first week.

"Design games, race around the island, battle your friends in new ways and build your dream Fortnite. It's all happening on your own private island where everything you make is saved," Epic said.
Fortnite Creative will be the third major mode for Fortnite, alongside Battle Royale and Save The World. Fortnite Creative will open up to all Fortnite players on December 13, with Epic promising to update Creative on a regular basis.
Here's the first look at it in action.
The patch notes for v7.00 have been released and there's a disclaimer stating that "this is an early release so you may experience client crashes, loss of progress, or other unexpected errors", so there's every chance the new Creative mode could be pulled due to some weird and wonderful bugs, long queue times or other unforeseen problems.
Fortnite Creative
Fortnite Creative overview
The latest patch notes give a decent general description of what we can expect from Creative, as well as what will be available at launch.
You'll have access to your own island, islands of friends who have joined the server and islands selected from the community, whether that's from top streamers or from the team behind Fortnite. Fortnite players on all platforms will have access to Fortnite Creative, both for the first week for Battle Pass holders and beyond.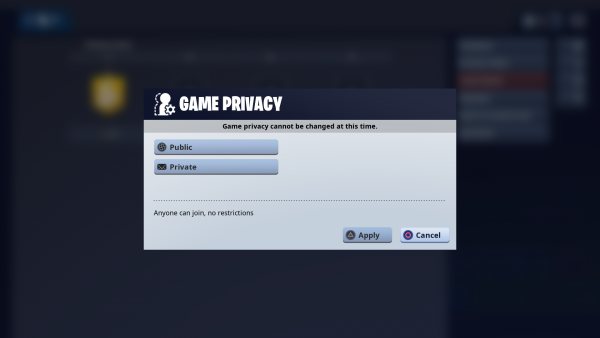 Player Islands will automatically save your creative space and you'll be able to keep your server active for up to four hours at a time. Battle Pass owners will have four islands, to begin with, allowing you to experiment with different layouts. On December 13, when Creative becomes available for everyone, all players will have four islands to use.
You can set permission parameters to allow friends to edit or build your island whilst visiting, or lock it off so that only you can make changes. You're able to build while you're in a match and it's a good laugh trying to build new features while outsmarting your pals. If you give them permission to edit the map too, then you're in for a good match.
To access the My Island menu, just open up the Main Menu in-game while on your island. The Game tab starts and stops player-created games, which reverts your island back to its pre-game, undamaged state.
The Game Settings tab sets things like health, fall damage, spawn location and can be changed at any time through the My Island menu. You can also use the Island Tools tab to reset your island back to its original state and you can set your edit permissions here, too.
The Creative Inventory can be accessed from the inventory menu, allowing you to spawn prefabs, devices, consumables and weapons. You can create and fill your own chests and supply llamas, being as generous as you like. Alternatively, you could create real weapon scarcity and only have a limited number of items stored per loot drop, which would make for an exciting and difficult Battle Royale.
Prefabs save you the hassle of making your own structures, which will be useful whilst getting to grips with the new mode. Once you've got the hang of things and have a chance to plan out every last detail of your island - we know some of you will - you can start to build your own buildings and structures. There aren't many options to freebuild just now outside of the usual walls, floors and stairs though there is a wide choice of prefabs on offer.
To get around the map quicker, you can double jump to fly. What we didn't know was that you can fly around the map during a match and shoot opponents at the same time, so we can definitely see matches taking place mid-air as opposed to hiding in buildings and timing your shots.
There are eight obstacle courses, 25 buildings from Battle Royale island and 34 galleries of building tiles and props, which is more than enough to get you started.
You'll also be able to create Devices for your island which you could use to make your own personal daily/ weekly challenges. These include Ice Blocks, Damage Rails, Speed Boost, Timer, Scoreboard, Player Spawn, Spikes, Chiller, Bouncer, Launch Pad, Mounted Turret and the Cozy Campfire.
There will be a memory usage cap initially in an attempt to avoid overloading the servers. As more players take part in Creative, the memory limit will increase. For now, there will be a memory bar at the bottom of the HUD that shows how much you can build on your island.
Once you've created your masterpiece of an island, you'll want to share it with others. Even if you're not in a party together, you'll be able to join games with your Epic friends. In the social panel, select Join Creative Server to join your friends on a private island. You must have your Privacy options set to Friends or Public to allow players to visit your island if they aren't in your party.
As we said earlier, you can keep your server live for a maximum of four hours. Replay will record the entire play session as 30-minute individual files, so if anything particularly brilliant or bizarre happens, rest assured it will be stored for your viewing pleasure. Replays are off by default, however, so make sure you go into the settings and switch them on.
Fortnite Creative mobile and Nintendo Switch players
As we said earlier, Creative is open to Battle Pass players on all platforms including the Nintendo Switch and mobile from December 6, then to all players from December 13.
If you're playing on a Mobile device, there are also new Creative visibility settings that have extra functionality in the HUD Layout Tool. Creative visibility is off by default, so the buttons won't be visible until you turn them on.
YouTuber Lachlan revealed the new mode in a recent stream, showing off the different terrain options, weapons and buildings that will be available, as well as how to access these new maps. In the video, we were able to spot a hub-like area with rifts leading to Featured and Personal Worlds.
The Season 7 update file is a little over 5 GB and is available to download now. The latest trailers for Season 7 and the Battle Pass are now available, showing a buff looking Santa called Sgt. Winter atop a glacier, wielding a sword and commanding planes over the Fortnite map. Weapon and vehicle wraps, new skins and pets will be coming over the next few weeks, so you better watch out.
Fortnite Season 7 Weekly challenges