For Honor: Marching Fire review - burning away the game's troubled past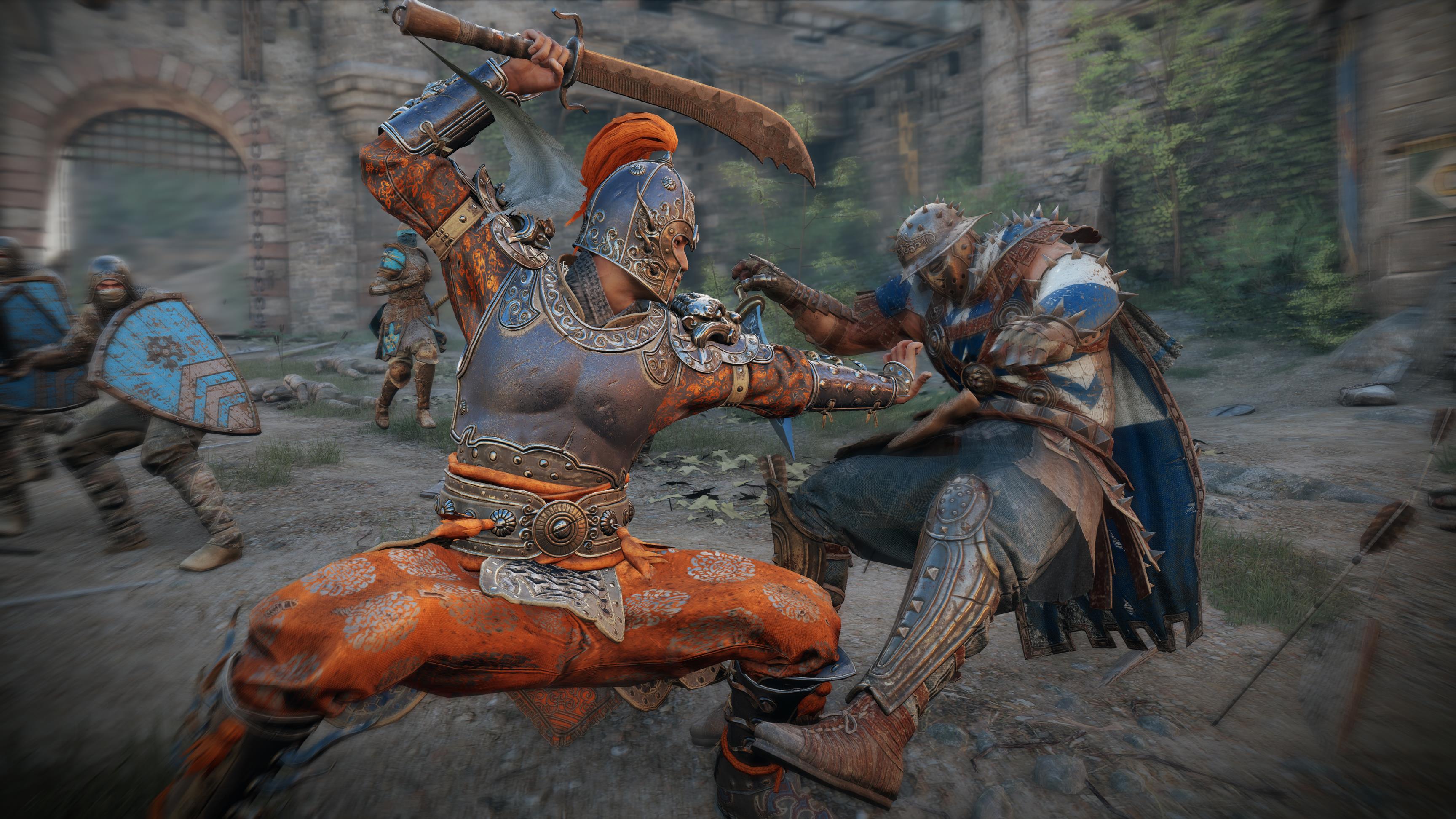 For Honor may have had a shaky start but it's now the strongest it has ever been with the arrival of Marching Fire, Ubisoft Montreal's first major expansion.
When the medieval duelling sim launched last Valentine's Day, it was met with mixed reviews and scores averaging in the high 70s. The peculiar combat system with its over-the-shoulder camera isn't for everyone, and even fans would agree that it had serious server issues and a disappointing dearth of game modes.
However, as is the case with most Ubisoft games, these big budget AAA titles aren't left to fend for themselves after release. The publisher practically defined what we've come to know as the games-as-a-service model with its persistent, clever reworking of Rainbow Six Siege. At launch, For Honor was far from perfect and saw a good number of players immediately bounce off. However, the team at Ubisoft Montreal set about tackling the game's issues, refining those elements players enjoyed, and maintaining a steady trickle of new content and features.
Leading up to Marching Fire we've seen six new heroes, eight new maps, and a glut of significant add-ons, from ranked play and the rehauled Faction War to a comprehensive training mode and better onboarding for newcomers. That's not to mention the constant behind-the-scenes balancing and communication between the studio and its community - all of this has been key in getting For Honor to its current 15 million player milestone.
Compared to previous content drops, Marching Fire takes a different approach. Before the expansion, For Honor offered a season pass in 2017, giving players immediate access to new heroes with some added bonuses to boot. Those who didn't opt for the pass still received a windfall with each passing season; new maps, modes, and game features being available to everyone. Those willing to grind out enough Steel could also unlock the new heroes without needing to dip into their wallets.
So Marching Fire is both an expansion and the name of For Honor's latest free update. Those who pay £24.99/$29.99 will instantly unlock the four new Wu Lin heroes and receive exclusive access to the game's Arcade PvE mode. However, anyone launching into the game will be able to play the siege-like Breach mode, also benefiting from a number of changes and improvements made across the board. Freeloaders can exchange their hard earned Steel for the Wu Lin heroes but only after a two-week exclusivity window.
So, what is Arcade Mode and is it worth buying the expansion for? Since For Honor launched, there's been a focus on adding new ways to play competitively though fans have also been hungering for more PvE and co-op content. The aptly named Arcade Mode mimics the ladder-style modes seen in more traditional 2D fighting games. Played either solo or with a friend online, you'll run through a gauntlet of randomly generated opponents and modifiers, leading to a huge variety of combat scenarios. In one round you might throw down against three Warlords with double health, the next you might be set on fire, susceptible to blindness, or have increased stamina consumption. Or maybe all three at once.
The idea behind Arcade Mode is to give players an endless series of challenges to complete, dishing out better rewards as you bump up the difficulty. While varied, battling against bots has never been For Honor's highlight: they alternate between brain dead and untouchable, never quite replicating the thrill of facing a human opponent.
Likely to receive more attention are the Wu Lin, Marching Fire's four new heroes. Inspired by famed warriors of ancient Chinese lore, they include the Tiandi, Shaolin, Jiang Jun, and Nuxia, each with their own unique weapon and moveset. Expanding the character roster in For Honor has just the same impact as it does in games like Street Fighter and Tekken with new mechanics and strategies to learn, affecting the current meta.
The Tiandi is an agile vanguard class hero and, out of the four Wu Lin, is the easiest to learn. Wielding the dao - a falchion blade that can be use with one or both hands - he makes for an adaptable all-rounder who has a couple of tricks up his sleeve. With the Tiandi we see some of that Wu Lin martial arts influence start to seep in, his palm strike and awesome dragon kick helping to push opponents and create some distance.
He may look out of shape and past his prime but the Jiang Jun can make a deadly addition to your line-up. His guandao affords more reach than most weapons and can easily punish hesitant opponents who aren't able to close the gap with this veteran Wu Lin general. His slow and easily telegraphed attacks create a learning curve, however, as does his unique stance that allows him to regenerate stamina while doubling up as an effective dodge.
The Nuxia is the Wu Lin's answer to the Shinobi, Berserker, and Peacekeeper - a nuanced assassin that requires focus and sharp reflexes to master. Using her hooked blades, she can "trap" an opponent who is blocking or attempting to parry/deflect, leaving them open to a follow-up. It's a strange mechanic and those fighting a Nuxia will be forced to rethink their defensive tactics should they come up against her one-on-one.
If there's one hero that screams Wu Lin, it's the staff-wielding Shaolin. This shaven-headed monk also happens to be the most complex of the four new fighters thanks to his unique Qi stance. Instead of releasing an attack button, you can hold it, supercharging the next move in your combo. This can be an unblockable overhead strike, a deceptive side sweep or even a monkey kick, though such attacks require precise timing and being able to judge your opponent's next move.
Whether Wu Lin, Viking, Knight, or Samurai, For Honor's Breach mode is now open to all. Siege battles have long been a dream for fans but, until now, they've had to stick with duels, duos, deathmatches, and Dominion, none of which have felt overly thematic.
Breach is bound to become the go-to mode for many: at a glance it may seem complicated but it's fairly straightforward once you grasp a few basics. As the attackers, you must escort a battering ram and destroy two sets of castle gates before attempting to slay the enemy commander. Meanwhile, the defenders will aim to reduce their number of spawns to zero before they can break through.
There's a MOBA-like quality to Breach thanks to the larger, multi-lane design of maps and an increased number of AI grunts battling against one another. It's by far For Honor's most cinematic game mode too as heroes clash upon the ramparts, defenders desperately holding the gates as the siege ram looms ever closer. It definitely feels inspired by the kind of game mode common in DICE shooters. On one hand they succeed in making you feel part of a bigger, overarching battle but, at times, it's hard to judge whether you're actually winning or losing.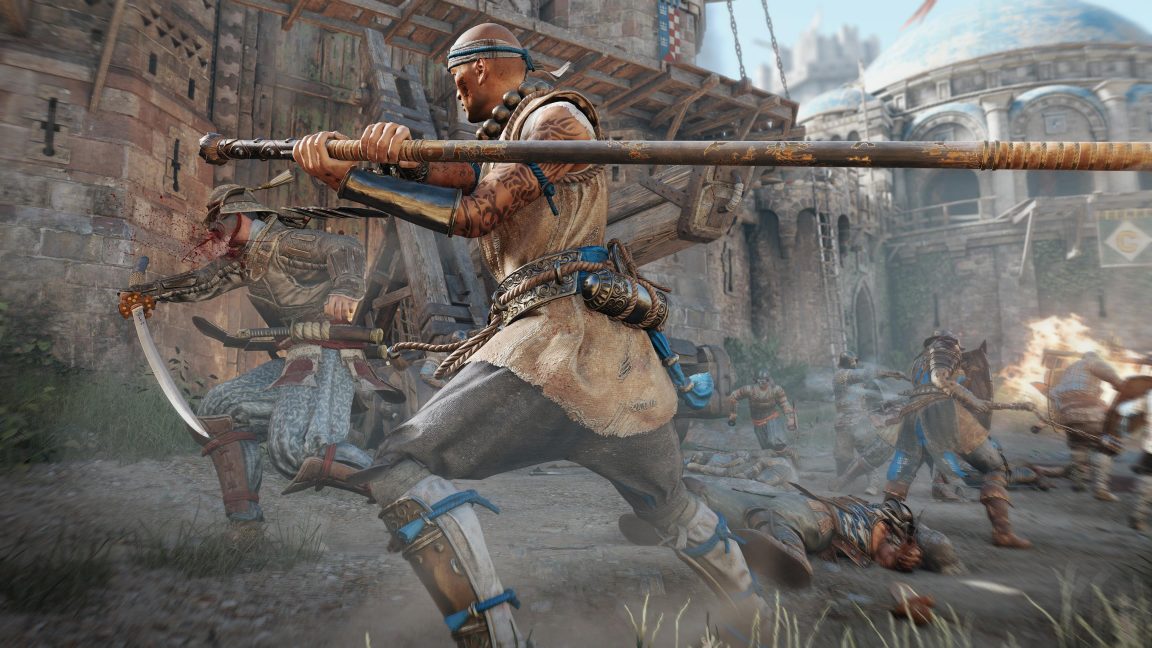 The Marching Fire update also touts game-wide improvements to visuals, with For Honor now rocking more high detail textures than ever as well as better dynamic lighting and weather. Graphical enhancements aside, Marching Fire has also allowed Ubisoft's art teams to flex their talent, weaving a ridiculous amount of detail into each stage, character, and piece of gear. The Wu Lin weapon designs are a particular highlight and need to be viewed up close, the Montreal team collaborating with Ubisoft Chengdu to make them look fascinating yet authentic.
Building For Honor into the game it is now has been a long and arduous journey for both the developers and their dedicated fans. To an extent Marching Fire feels like a celebration, capping off all that hard work with For Honor's biggest and best content drop ever. At the same time, it marks another fork in the road and one the game is ready to approach with vim, having shrugged off those spectres that haunted its fledgling days. Ubisoft Montreal is already looking ahead to 2019 and although For Honor may never have the same widespread appeal without a Tom Clancy prefix in its name, it just keeps getting better and better.