EA: Don't like women in Battlefield 5? Don't buy it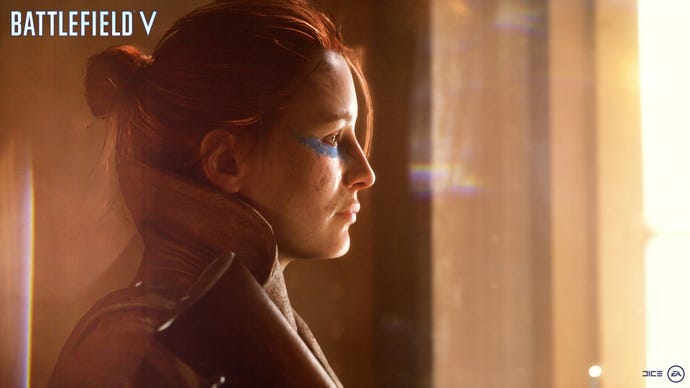 EA's chief design officer Patrick Soderlund says Battlefield 5 is the game DICE wanted to make, full stop.
Have you heard? Battlefield 5 has women-folk in it. Now instead of talking about gameplay, we need to have conversations about troop compositions and historical accuracy in games.
Unless you're Electronic Arts chief design officer Patrick Soderlund, who is far more direct. In short: Battlefield 5 is the game DICE wanted to make. If you don't like the creative decisions that went into the game, you don't have to buy it.
"This is something that the development team pushed," Soderlund told Gamasutra during an E3 interview. "Battlefield 5 is a lot about the unseen, the untold, the unplayed ... The common perception is that there were no women in World War II. There were a ton of women who both fought in World War II and partook in the war."
After explaining the creative reasoning, Soderlund moved into personal examples. "I have a 13-year-old daughter that when the trailer came out and she saw all the flak, she asked me, 'Dad, why's this happening?'" he continued. "She plays Fortnite, and says, 'I can be a girl in Fortnite. Why are people so upset about this?' ... I just said, 'You know what? You're right. This is not ok.' These are people who are uneducated - they don't understand that this is a plausible scenario.
"Listen: this is a game. And today gaming is gender-diverse, like it hasn't been before. There are a lot of female people who want to play, and male players who want to play as a badass [woman]. And we don't take any flak. We stand up for the cause, because I think those people who don't understand it, well, you have two choices: either accept it or don't buy the game. I'm fine with either or. It's just not OK."
This is not the first time Electronic Arts has needed to justify DICE's decision to include women in Battlefield 5, and it probably won't be the last. That being said, it does sound like Soderlund perhaps a little frustrated about having to answer this specific question instead of, you know, gushing about Battlefield 5. Can you blame him?
Battlefield 5 launches for PC, PlayStation 4, and Xbox One on October 19, 2018.
Keep an eye on our E3 conference time guide for all the upcoming conference times and stay on top of all the big E3 2018 announcements.