Does Overwatch, CoD, Halo, Destiny, Battlefield, Fortnite veterans' new studio have what it takes to survive?
There's another game development supergroup out there – Mountaintop Studios – but the question on everybody's lips is: 'is this going to be one of the good ones?'
Before the release of Destiny 2: Beyond Light, there was a very important weapon at the heart of the game – the controversial, amazing, badly-judged grenade launcher, The Mountaintop.
The gun – the sort of thing you'd brag to your mates about once you managed to secure one in your inventory – was one of a few special 'Pinnacle' weapons that Bungie added to the game to enliven Destiny 2's early seasonal content model. You could get one of these special weapons by spending hours, maybe even days, grinding out unforgiving challenges in some of the title's lesser-populated playlists (hello, Crucible and Gambit!). Your reward? A unique weapon with unique utility.
Was it worth it? Yes. Amongst all of the 'Pinnacle' armaments, The Mountaintop was the most (in)famous. It was a one-shot kill in PvP. Its splash damage was absurd. In PvE, it could make chum out of adds in seconds. For the competitively-inclined FPS fan, The Mountaintop is a thing of legend.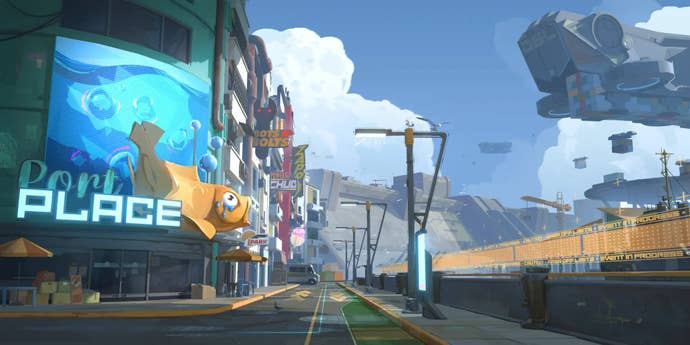 Fitting, then, that Mountaintop Studios has ex-Destiny talent inside it. Its very name feels like a mission statement, then. 'Remember that Destiny gun that you cherished? That you had to compete for? The represented the PvP cream of the crop? You're going to think of that every time you see our name'. This isn't just me clutching at straws trying to find a link, either – the studio's newly-updated website offers a pretty indisputable statement of intent.
"Bringing players together through unforgettable challenges," it says in big letters at the header. "Games with 10,000 hours of depth," it says elsewhere. The team outlines that it wants to "celebrate the pursuit of mastery, and reward players for their time". The old Destiny obsessive in me gets tingles from this. But is it all just lip-service?
Yes, Mountaintop Studios boasts the ex-COO of Double Fine, ex-gameplay leads of CS:GO and Age of Empires, animators from The Last of Us and Uncharted, PvP artisans from LoL and Valorant, community leads from Street Fighter and Overwatch… but often with these 'supergroup' studios, the games they release are less than the sum of their parts.
Remember Marcus 'Halo' Lehto's disappointing Disintegration – the game that caused studio V1 Interactive to shut down less than a year post-launch? Glen Schofield (Dead Space, Call of Duty) over-promised and under-delivered when it came to last year's The Callisto Protocol, which boasted "about 25 to 30 former coworkers from Visceral Games and Sledgehammer Games". Then there was Scavengers; staffed by ex-Halo devs, it was Midwinter Entertainment/Improbable's doomed PvPvE experiment that didn't even make it to console before being shut down.
But, for all the parables against setting up new studios away from the triple-A publishing behemoths, there are examples of how to do it right. Ben Brode and the Hearthstone gang made a massive impact with Second Dinner and Marvel Snap. And ex-Infinity Ward staff created Respawn, of course, which has gone on to be one of the most prestigious names in the FPS genre. And, ahead of us, there's both Immortals of Aveum (Bret Robbins, again, of Call of Duty and Dead Space fame) and Arc Raiders (ex-DICE).
Perhaps, alongside the folks at Mountaintop, this new era of supergroup devs – all striking out and trying something new away from the publishing houses that incubated them – can eke out a new era of gaming, one that proves that you don't need all that Microsoft or Activision or Blizzard or Riot money behind you in order to succeed. For what it's worth, Mountaintop's money, mostly, comes from VC joints like Spark Capital, Founders Fund, and Detroit Venture Partners. So far, the game has raised at least $35 million.
The odds may be stacked against them, but Mountaintop (by its own admission) wants to experience the "highs and lows of overcoming the impossible" to "create friendships that last a lifetime". We'll find out soon whether it's got the chops to do it.