Days Gone isn't great, but Sony was absolutely right to take a risk with it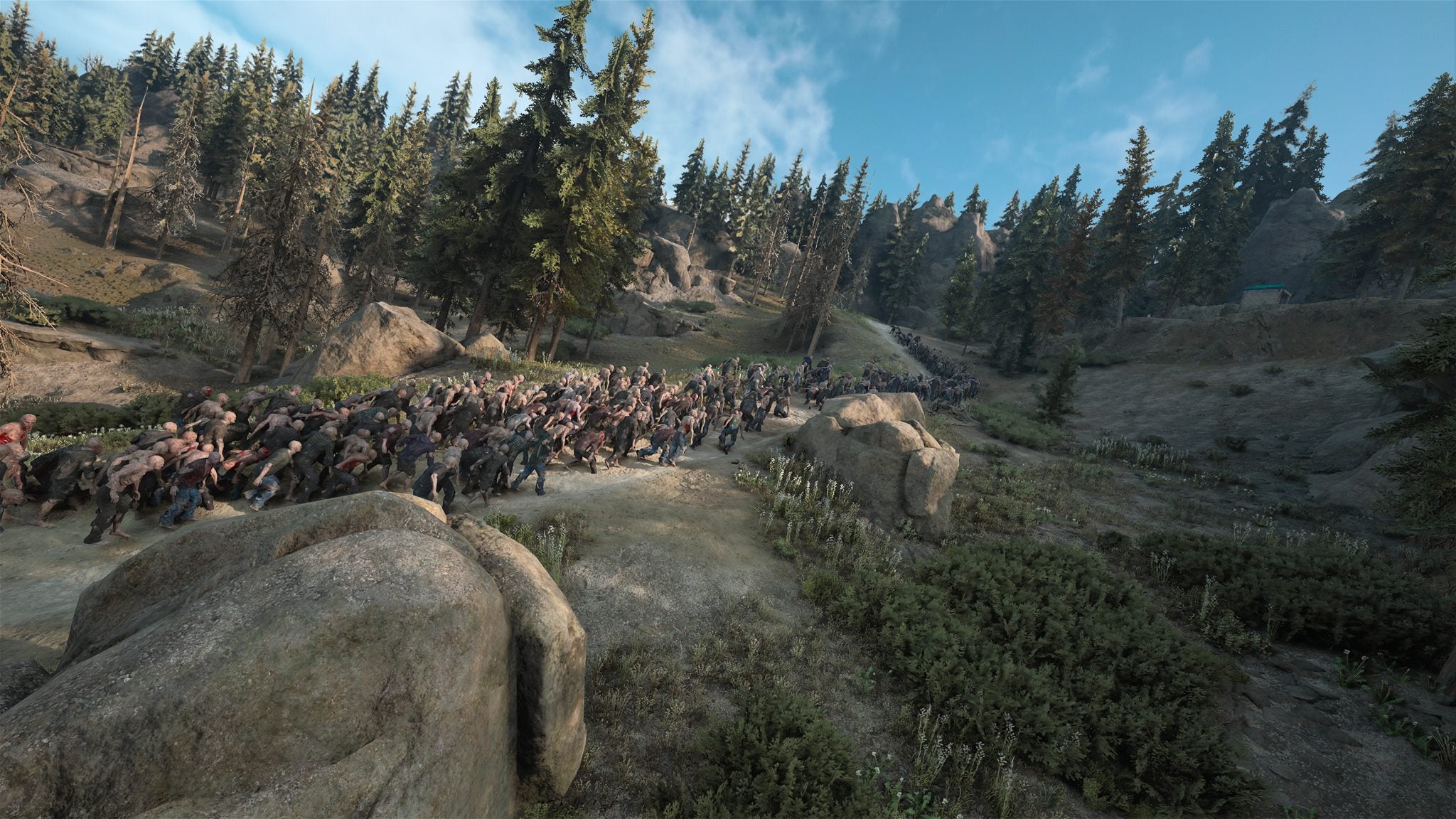 A vehicle that constantly breaks down. A conversation you've already had but are forced to nod along to politely. A resurrected pile of bones that shits itself. That's Days Gone, a game filled with convenient metaphors for how disappointing it is.
At least, Kirk found it disappointing. Others have been won over by its big heart and screens filled with writhing enemies, but it's hard to imagine Sony is happy with that Metascore. Overall, Days Gone is doing more harm than good to the PS4's proud reputation for first-party exclusives.
It's natural to wonder what went wrong, and to ask whether the platform holder made a mistake in throwing so much faith and funding at Sony Bend. The Oregon developer's portable takes on Uncharted and Resistance were well-regarded, but the studio had never tackled a project on this scale before, and clearly it ran away from them.
It happens. As the fidelity and complexity offered by console hardware creeps higher, AAA projects only get more expensive, making investments like these riskier than ever. Publisher follies now occur on an enormous, embarrassing scale.
"For a publisher to rely on the talents of too few teams is dangerous. Contracts run out. Studios can be cannibalised for their best staff"
Even so, I think Sony has the right idea. Yes, it owns Naughty Dog, Media Molecule, and God of War's Santa Monica Studio. But for a publisher to rely on the talents of too few teams is, frankly, dangerous.
Contracts run out, as Journey developer thatgamecompany's did with Sony. Studios can be cannibalised for their best staff. When Infinity Ward's core team left for Titanfall and Activision wasn't ready to fill the gap, Call of Duty began a decline it has yet to recover from. What's more, developers with impeccable critical reputations don't necessarily keep them forever. Let's face it, Polyphony Digital no longer leads the pack when it comes to driving simulation.
If publishers are to future-proof themselves against all these eventualities, it makes sense to invest heavily in lesser-known teams. Days Gone may not have worked out as Sony had hoped, but other, similar, stories are playing out differently right now. Until recently, Saber Interactive was best-known as a back-up studio working on the Halo remasters. But French publisher Focus Home trusted Saber with World War Z, and has been rewarded for it.
World War Z isn't rewriting the rules of co-op shooters - in fact it follows the path of Left 4 Dead straight through the malls of an overrun America. But its production values mark a new high for Focus, whose mid-level budgets have often seen its RPGs and action games fail to meet their creative ambitions. The shooting is slick and satisfying, recalling one of Ubisoft's most expensive properties, The Division. There's a touch of novelty in the tower defence-like trap-laying sequences that take place before the hordes arrive. And there's real spectacle in the moments when zombies clamber over each other, ant-like, to reach the top of the pile - just as they did in the 2013 film.
The investment has paid off. World War Z sold a million copies in its first week, and had 70,000 concurrent players at its peak - "far exceeding expectations". Focus has now set Saber to work on a Warhammer 40K game, and suddenly the studio isn't looking like such an odd choice anymore.
Meanwhile, over in Stockholm, Paradox has unexpectedly handed the job of following up Vampire: The Masquerade - Bloodlines to a little-known outfit. The original game is worshipped in role-playing circles, and commentators expected Paradox to lean on its existing relationships with established RPG studios like Obsidian. But instead the publisher sunk millions into a minority acquisition of Hardsuit Labs, developer of Blacklight: Retribution, because it liked the company's impassioned pitch. A pairing with original Bloodlines lead writer Brian Mitsoda, as well as unstoppable RPG writer Chris Avellone, has even sold fans on the idea.
There's no way of knowing yet whether Bloodlines 2 will be a contemporary classic or another stumble on the scale of Days Gone. But perhaps publishers are realising they have to take risks on unproven talent - otherwise they risk it all drying up. In fact, with enough sales, time, and hard-earned experience, it's possible Sony's next great exclusive will be Days Gone 2. Freakier things have happened.